After reaching a certain rung on the ladder, it's challenging to give long-term clients items they can't buy for themselves.
In this case, you need to step up your game if your aim is to impress them. But how can you do that?
The secret is gifting high-end corporate products that reflect an understanding of the recipient's high-quality lifestyle.
Push your brand into the limelight with this list of our favorite luxurious promotional gifts:
Lasting classics
Premium apparel
High-end tech
Unique home promotional products
Table of Contents
Classic Luxury Promotional Items
Unique Home Promotional Products
Classic Luxury Promotional Items
Classic promotional products never go out of style.
They're timeless pieces that make recipients feel grateful, and that will be kept and used for a long time.
So, when keychains, T-shirts, or water bottles don't fit the bill, you should invest in one of the following elegant choices.
Tips, tricks, and inspiration delivered straight to your inbox.
Subscribe to learn more on how to break through the bustle.
Metal brass pen
The pen is mightier than the sword, as the saying goes.
And it's true—with a pen, we can elegantly express our thoughts and write words that live on indefinitely to inspire other people.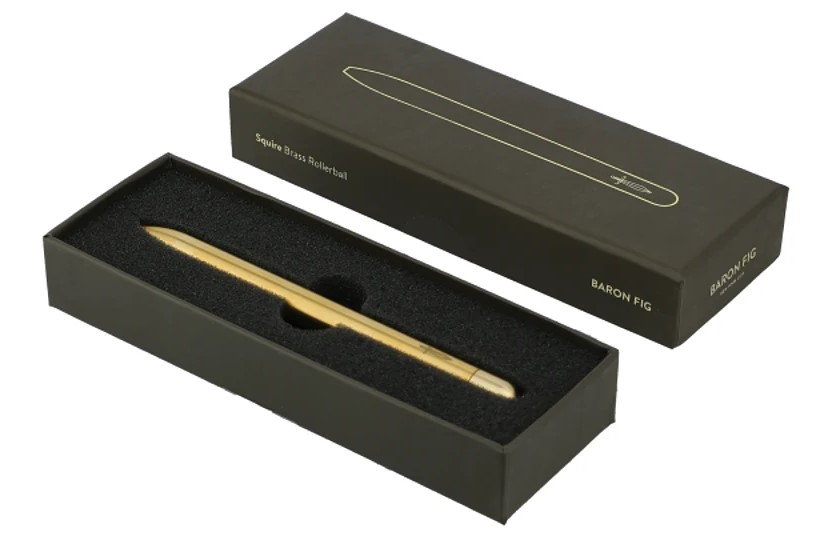 That's why pens are iconic items of unparalleled quality that are perfect premium swag gifts for VIP clients. 
Plus, the sleek, gold-like appearance of brass will make it a unique present.
Author's Tip: Engrave the recipient's name on the pen to add a personal touch to the gift.
Where to get: Contact us
Price range: $35 – $150
Moleskine smart writing set
Have you ever wanted to transport your scribbles from paper to screen without rewriting everything?
Moleskine revolutionizes branded journals and takes handwritten notes a step further.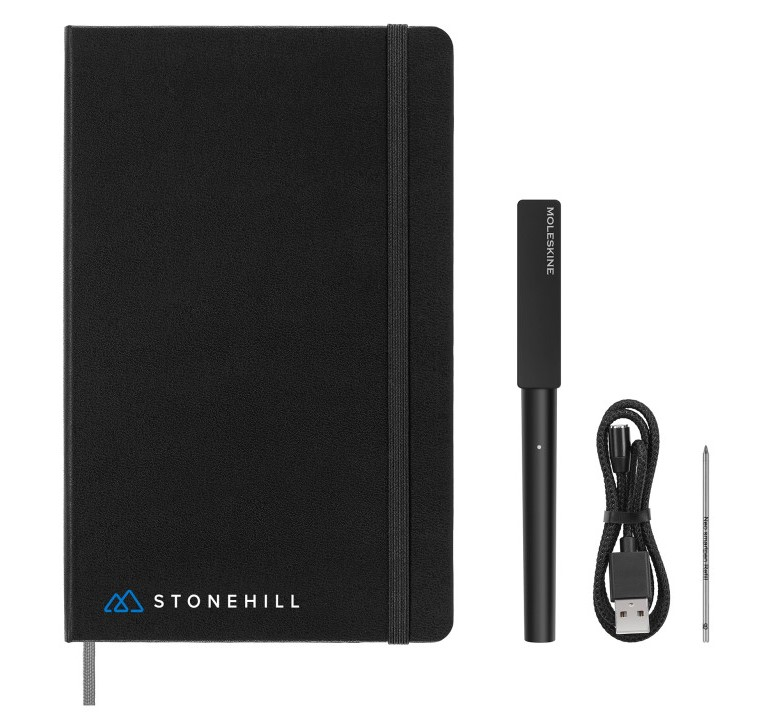 With this smart kit, everything your recipients write on paper instantly appears on their digital devices.
They can transcribe, search, edit, and share all their handwritten content, which gives them the creative edge they need to take their projects to the next level.
The gift set includes the recognizable Moleskine shape you know and love, with its ivory-colored pages, but redesigned with a smart pen and a free Notes app.
Unconvinced?
Every purchase helps fund Moleskine Foundation's program that provides quality education experiences for marginalized youth.
Where to get: Contact us
Price: $279
Executive leather padfolio
Any hard-working business person needs a classic padfolio for storing essentials.
Take this chance to help your recipients stay organized while also looking sophisticated with a modern leather padfolio.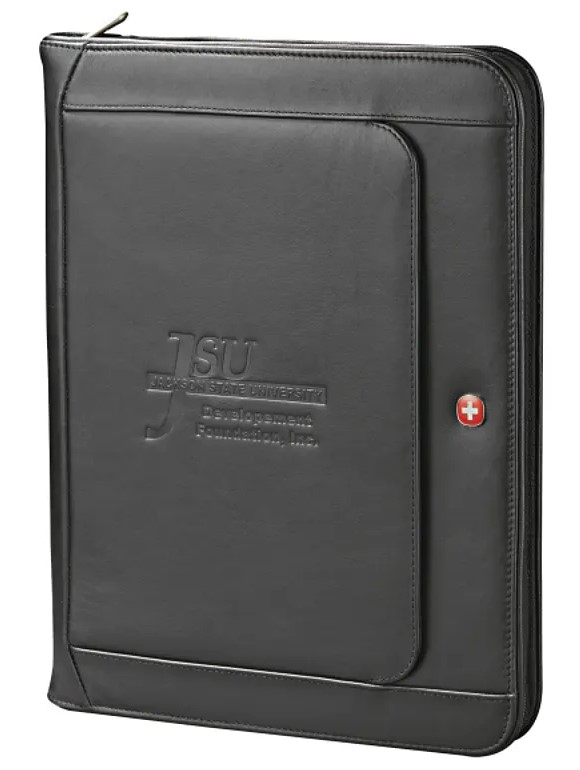 This executive gift crafted from genuine, durable leather is an ideal match for flawless style and functionality.
It features many storage slots that are spacious enough for pens, business cards, flash drives, or documents while also being secure enough to be carried around all day.
Stamp your company logo on it for a stylish look that complements your brand marketing strategy. 
Where to get: Contact us
Price range: $35 – $150
Leather duffel bag
One item that has a universal appeal with business executives is the reliable duffel bag.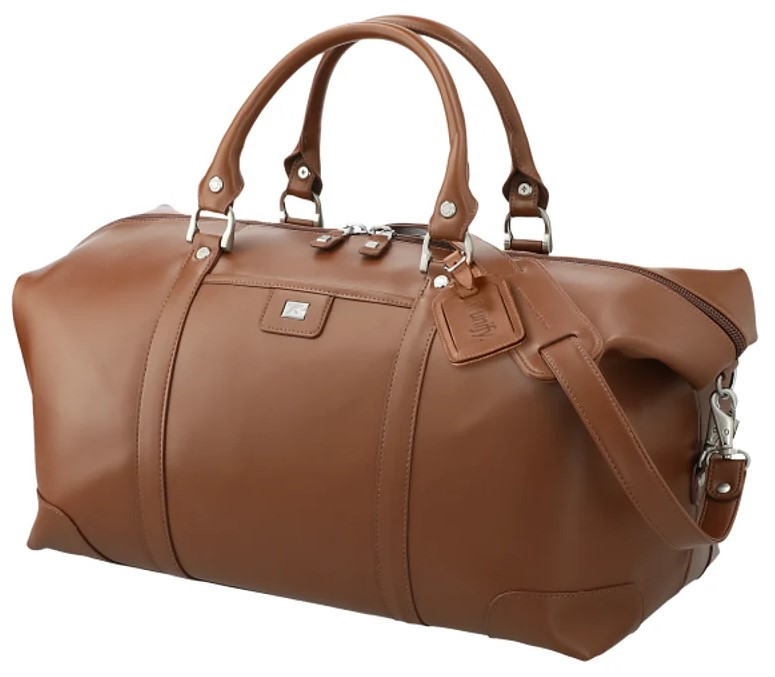 In fact, branded bags have always been a favorite travel swag item for showing appreciation. 
Built for durability and style, this high-end duffel bag gives recipients enough space to store their belongings while traveling on business trips or vacations.
Plus, due to its interior organizer, it keeps essentials all in one place.
Where to get: Contact us
Price range: $34 – $249
Kenneth Cole computer tote
This next item is the perfect appreciation gift for the fashion-forward professional.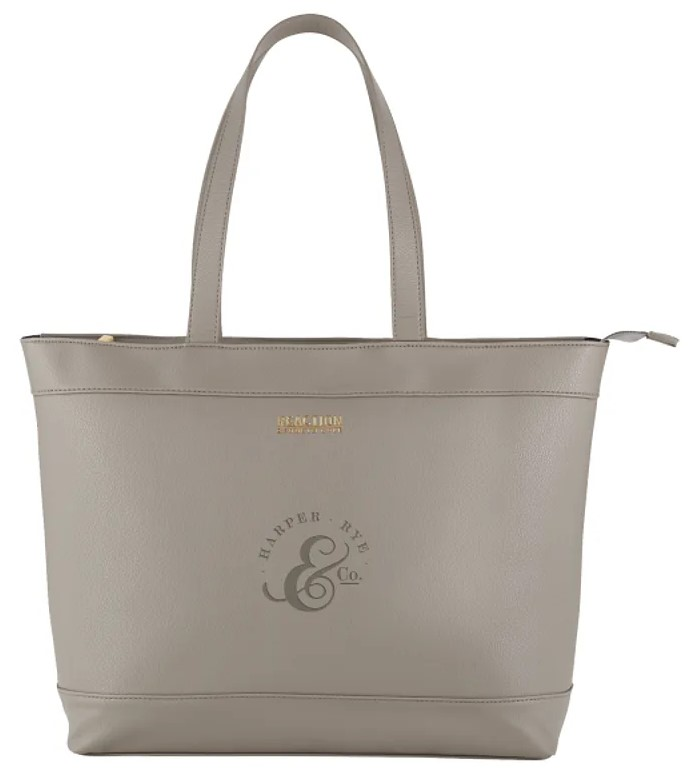 With an elegant pebbled exterior and a Kenneth-Cole-branded interior lining, you'll tickle someone's fancy.
While this tote bag can safely carry 15" laptops through hook and loop closures, it's also a luxury corporate gift that'll turn heads at every step due to its gold accents.
Where to get: Contact us
Price range: $8 – $160
Premium Custom Apparel
Professional-looking clothing items and branded apparel accessories make great gifts you can include in any giveaway since they're easily marketable and customizable.
After all, the more visible a brand is to consumers, the more likely they are to engage with that company.
In the following paragraphs, discover premium custom apparel that'll make a good impression on any audience.
Spyder touring jacket
Branded jackets are some of the greatest corporate gifts on the market due to their cheap cost per impression.
So, if you're out of ideas, invest in a jacket that'll keep your recipients warm on the chilliest of days.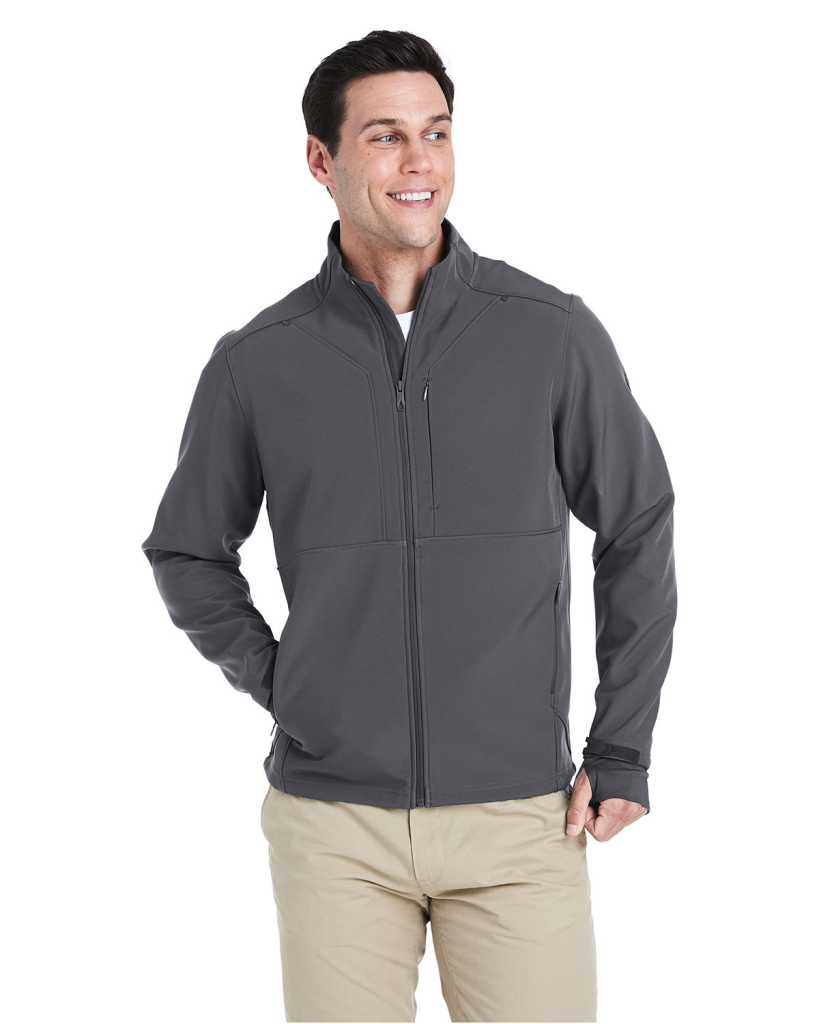 Made with recycled polyester, this jacket is lightweight enough for on-the-go travel and delivers protection from the elements—all while letting your skin breathe.
The jacket also exudes stylish professionalism through its stand-out design and tailoring, making it an excellent choice for showcasing your company logo for better brand recognition.
Author's Tip: Such high-performance outerwear can be a nice gift for your golf buddy.
Where to get: Contact us
Price range: $163 – $180
tentree EcoLoft full zip jacket
Every second, people globally burn the equivalent of one garbage truck of textiles. 
While it's no secret that the current system for producing and distributing clothing is extremely wasteful, tentree harnesses the power of sustainability to create long-lasting wear.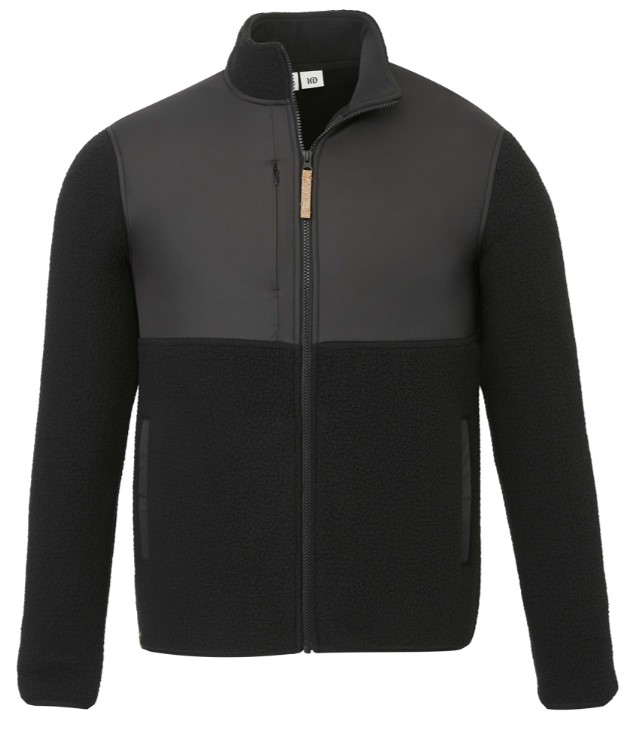 Made from recycled sherpa fleece, this full zip jacket ticks all the boxes:
It's eco-friendly
It's a must in any wardrobe
It's perfect for fall walks
This jacket is comfortable to wear during the colder seasons and features zip fastening, front hand pockets, and a contrast binding finish at the sleeves opening.
Where to get: Contact us
Price range: $75 – $108
Roots37 ROCKGLEN Eco insulated jacket
When it rains or snows, say goodbye to umbrellas and welcome this insulated jacket that's stylish and practical.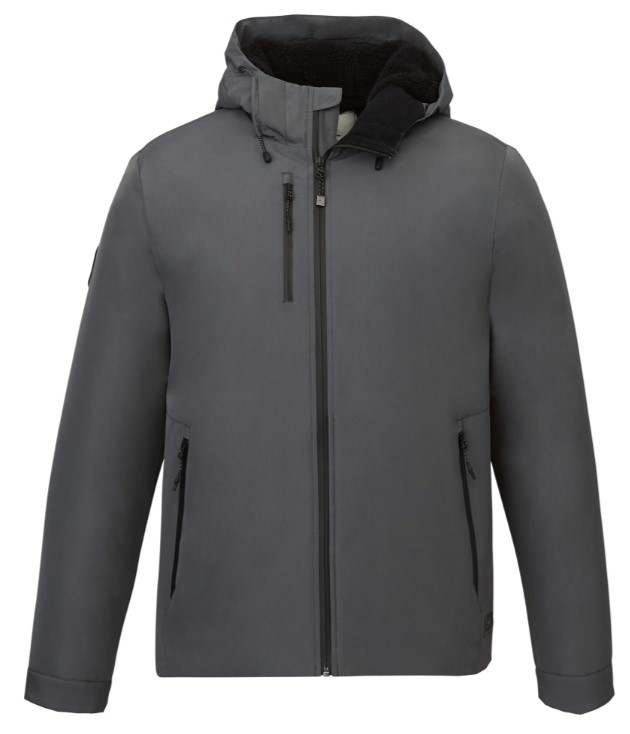 This perfect gift idea features a breathable waterproof membrane and water-repellent finish that keeps recipients dry at all costs.
Made with recycled polyester fabric and zippers certified by the Global Recycled Standard (GRS), this jacket is a sustainable and stylish option for any gift box. 
Similar to a branded hoodie, the jacket's body and hood are lined with comfy fleece that retains warmth, and has drawstrings you can pull to keep the cold air out.
Where to get: Contact us
Price range: $189 – $260
Marmot Gravity jacket
Aim for the stars with this innovative and high-end casual jacket.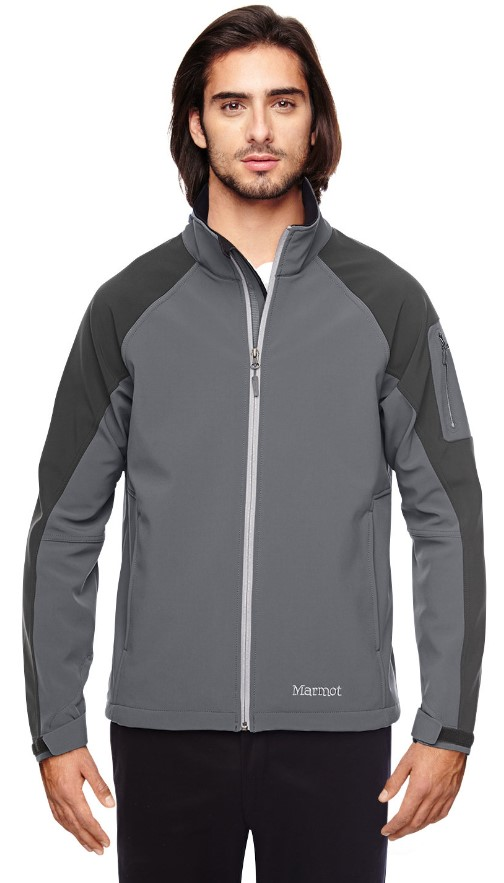 This softshell clothing item prioritizes weather protection over breathability, meaning that the light fleece works adequately for low-output ventures.
Blending style with practicality, it's a windproof, sturdy jacket that is tried and tested by many adventurers that like to hike.
However, recipients can also wear it daily since it's so comfortable.
Where to get: Contact us
Price range: $100 – $150
Tips, tricks, and inspiration delivered straight to your inbox.
Subscribe to learn more on how to break through the bustle.
High-End Tech Corporate Gifts
Technology is king in the corporate world, making it more important than ever to stay up-to-date.
If you have tech wizards or recipients that love cool gadgets, then it might be wise to invest in high-tech branded swag that goes beyond the traditional Bluetooth speaker, power bank, or USB flash drive. 
Spark your creativity with these personalized tech accessories that combine functionality with style.
Skullcandy Sesh Evo wireless earbuds
Everyone listens to music to some degree, whether they're commuting or working out, so including a nice pair of earbuds in your gift basket can meet your marketing needs well.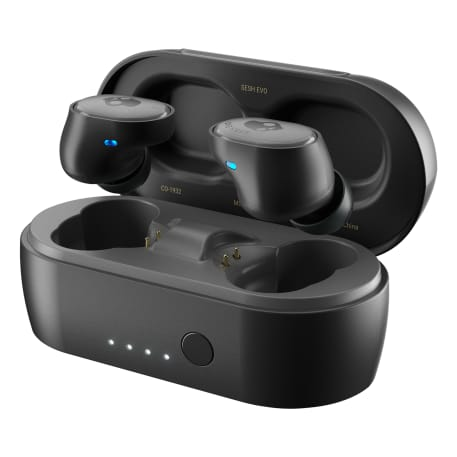 With these high-end earbuds, it's easier to truly go wireless while also experiencing the skull-thumping power of this brand.
What's great about them is that they provide up to 24 hours of playback time with only a 10-minute charge, making it easier to listen to all your favorite tunes for as long as possible.
In addition, you can easily customize the earbuds to represent your brand's values and get the recognition you're looking for.
Where to get: SwagDrop
Price range: $70 – $200
Anker PowerConf 300 HD webcam
A busy professional spends an average of 32.9 hours a week in meetings, which means having a high-quality webcam that produces crisp images is more important than ever.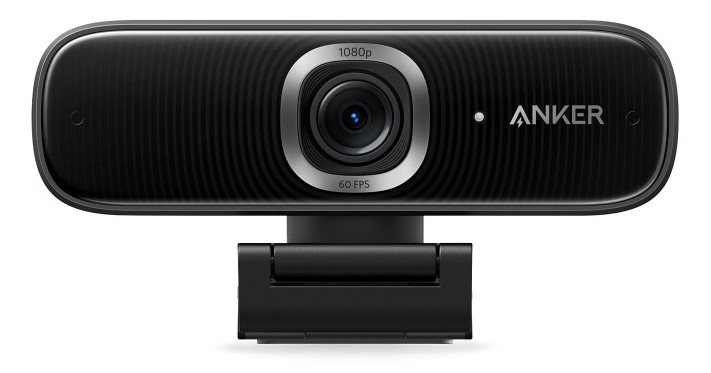 While they're great products for maintaining relationships with remote employees and ensuring high retention rates, business professionals still need a webcam to hold organized meetings.
Aside from fitting more people into the frame, this webcam enables business partners to:
Be heard loud and clear
Feel like pros 
Stand out with AI-powered lights
Stay in focus within 0.35 seconds
Sounds like a good deal for making a good impression!
Where to get: Contact us
Price range: $55 – $200
Courant MAG: 2 Essentials charging stand
This next item is definitely a fan favorite among iPhone users that fits all wallets—and you can see why.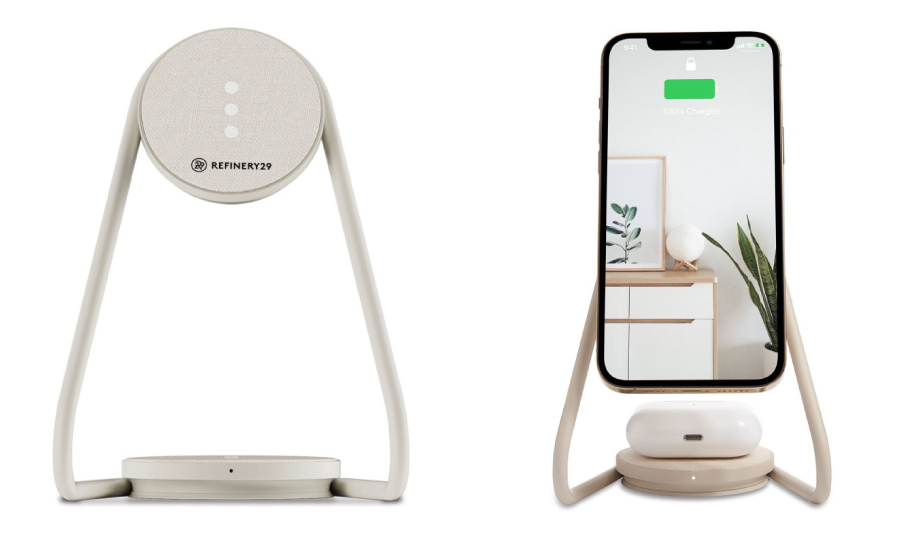 With its unique, sleek design, this gadget not only swiftly charges devices but also suits any home or office space.
Crafted by leading interior and fashion designers, this charger combines luxury materials with cutting-edge technology to transform it into a functional and simple decorative piece.
Where to get: Contact us
Price range: $100
Foldable drone with WiFi camera
Drones have taken the world by storm and have piqued every gadget lover's curiosity. By the end of December 2021, over 1.37 million recreational drone owners had registered their devices with the FAA.
So, if you know someone who flies off the handle at the mention of drones, why not invest in a foldable option?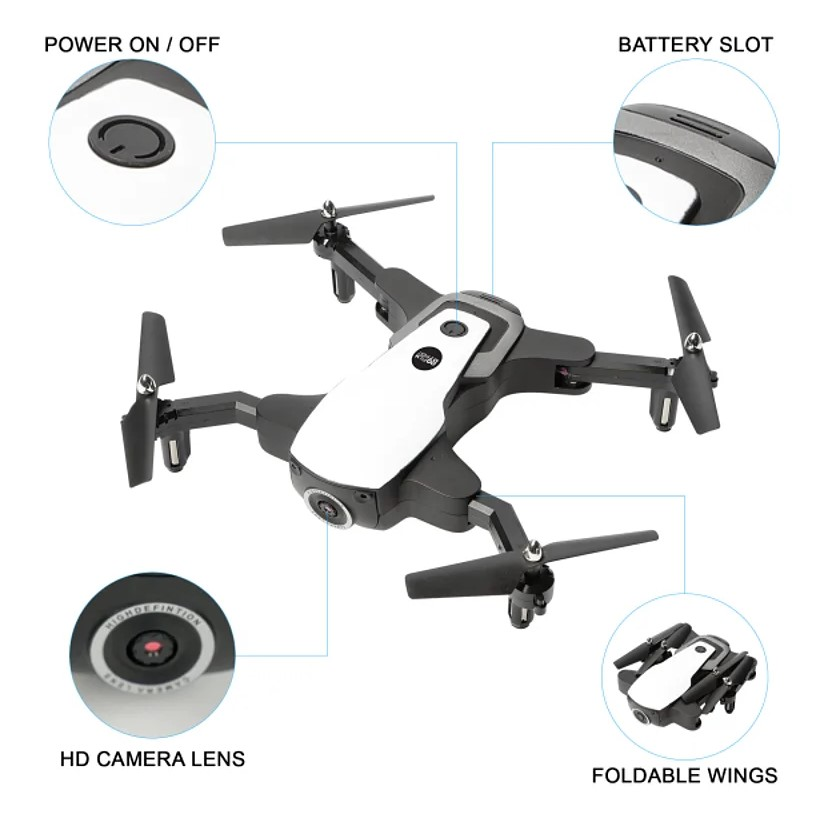 This drone easily fits into any travel bag, so recipients can take it anywhere, anytime. 
Through the WiFi camera provided, people can see a live video as they fly their drone—and even save the images and videos they take on their phone.
Where to get: Contact us
Price range: $40 – $150
Smart WiFi video doorbell
When you hear the classic Ding Dong of the bell and open the door to an uninvited guest, it can really grind your gears.
Luckily, you can solve this problem with a smart doorbell camera.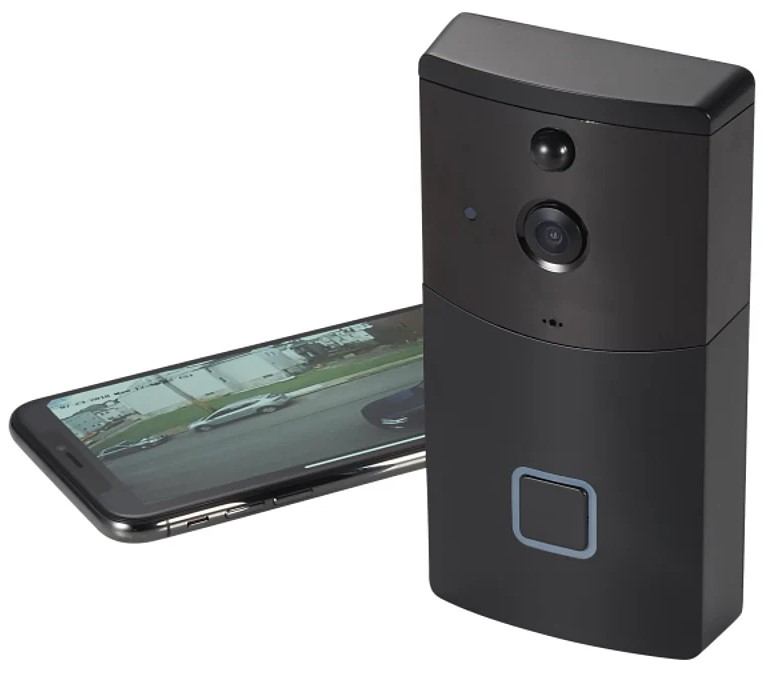 A device like this allows you to see who's on the other side of the door through the live feed—even when you're not at home—so you can hand-pick who you want to entertain.
This particular gadget also combines security and convenience by featuring built-in speakers and a microphone to allow communication with visitors.
Where to get: Contact us
Price range: $70 – $230
Unique Home Promotional Products
The best way to have a presence in people's homes is through customized drinkware, such as stainless steel tumblers or custom coffee mugs. 
But, when it comes to high-end house gifts, you can take it a step further by investing in items that add a personal touch to any decor.
Get inspired with our selection of unique promotional giveaway items for homes.
Slowtide brushed cotton throw blanket
With 82% of workers remotely working from home, it's safe to say that it's not uncommon to include a throw blanket or other personalized home items in a high-end business gift box.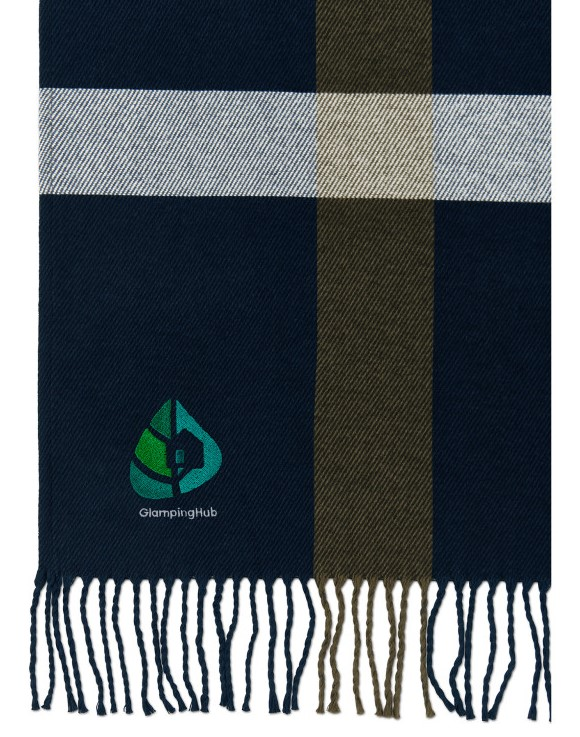 Recipients will appreciate having cozy items they can throw over themselves when snuggling with their laptop on the couch—or while working in a chill office.
What makes this particular blanket great is the versatile, super-soft materials. The added delicate fringe is a charming accent that brings instant comfort and coziness to the recipient's favorite spot—and reminds people of your brand with each use.
Author's Tip: Choose throw blankets made from organic cotton to ensure you stand by your environmental credentials.
Where to get: Contact us
Price range: $10 – $100
Luxe hanging bar tool set
At your recipient's next soiree, let them serve up some sparkle with this deluxe hanging bar tool set that features quality kitchen gadgets in stylish shades of gold.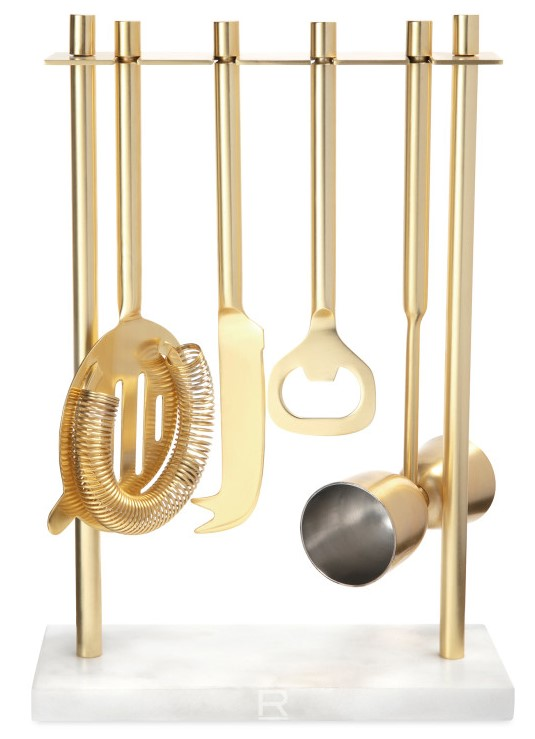 The set includes the following items:
Cocktail strainer
Marble stand
Double-sided jigger
Bottle opener
Bar knife
Author's Tip: Pair this luxurious gift with a high-end coaster made with bamboo or marble to give it a one-of-a-kind feeling.
Where to get: Contact us
Price range: $90 – $100
Executive wine collectors set
What is the drink of choice for Americans?
While beer is a favorite, it's still closely tied with the 31% of people who prefer wine. 
If your recipients are part of this percentage, you might want to invest in an executive wine collectors set that's an elegant addition to any home.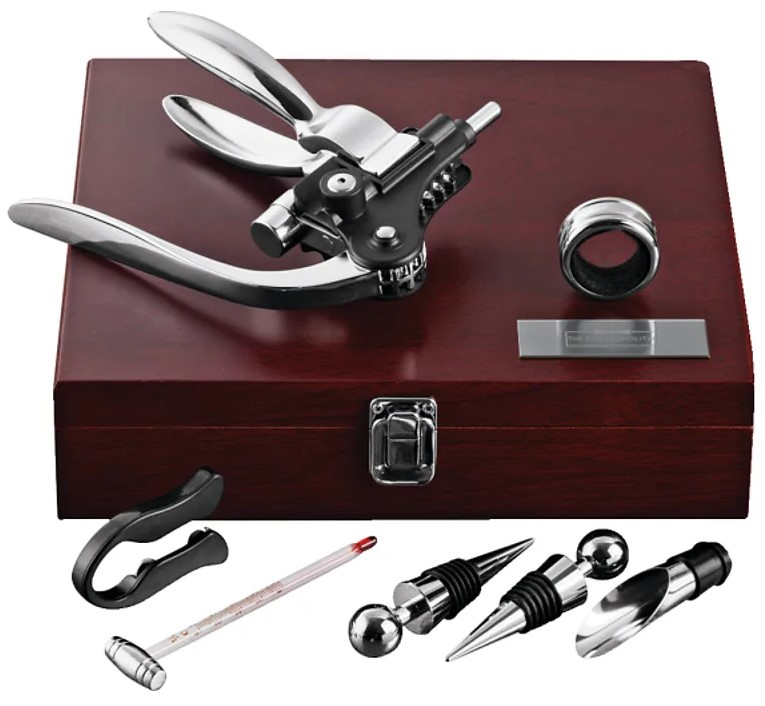 This nine-piece set includes an ergonomic bottle opener, drip ring, thermometer, two wine stoppers, and two replacement corkscrew bits that are perfect for any wine connoisseur.
Author's Tip: Aside from branding the case with a nice logo, you can add personalized wine glasses to make the gift more unique.
Where to get: Contact us
Price range: $80 – $100
Tips, tricks, and inspiration delivered straight to your inbox.
Subscribe to learn more on how to break through the bustle.
Modena coffee set
Moving on from alcoholic drinks, we can focus on the most popular hot beverage: coffee. ?
With 49% of USA citizens drinking coffee for the motivation and energy boost that keeps them awake early in the morning, you might want to purchase this Modena coffee set.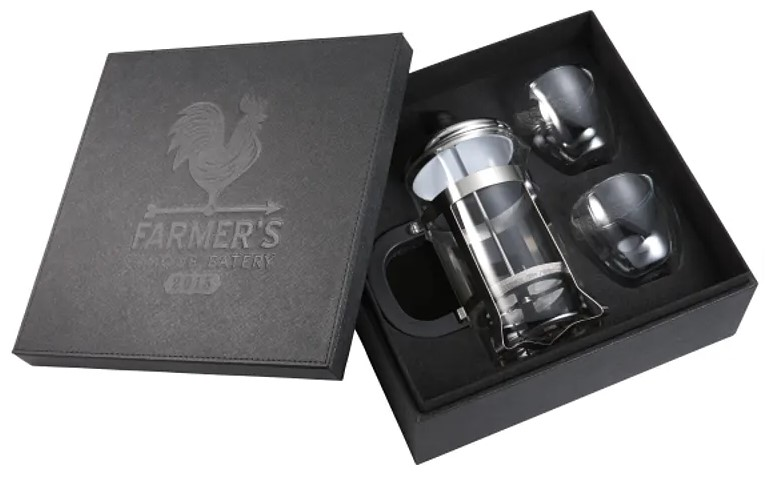 It's a gift suitable for coffee drinkers everywhere since it includes a coffee press and two double-wall glasses.
While branded coffee mugs are great options for any office space, glassware is a luxurious and modern version fitting any high-end business gift.
When not in use, you can store these items in the sleek box. 
Where to get: Contact us
Price range: $40 – $70
Cuisinart tabletop fire bowl
Boost your recipient's ambiance with this cozy and portable fire bowl that blends perfectly with any tabletop.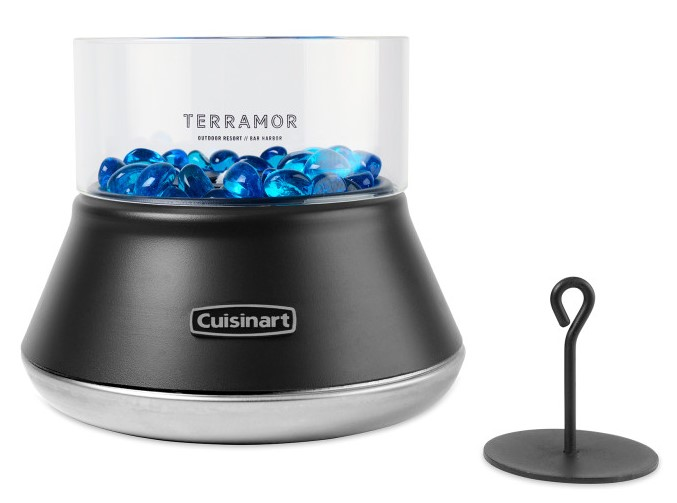 This product is easy to use since all you need to do is add bioethanol fuel and light the wick. The fire pit burns for 2 or 3 hours without giving off any smoke, soot, or ash.
Plus, when fueled with citronella oil, it helps repel mosquitoes and other flying insects on those hot summer days. 
Author's Tip: Let your recipients watch the relaxing flames dance behind the windproof glass painted with your company's logo.
Where to get: Contact us
Price range: $70 – $86
Order Your Luxury Promo Items Now
This is it. You've reached the end of our list. Good job!
We're confident you can find something to capture your interest, so start ordering your luxury promo items now! And don't worry; we can help you choose the best items.