In this post, we're going to dive deep into the world of branded merchandise and why it's important.
More specifically, we're covering the following:
What branded merchandise is and why it's important
The history of branded merchandise
Promotional items that companies often use as merchandise
Successful branded merchandise examples from companies you already know
Let's get right into it.
Table of Contents
Why Is Branded Merchandise Important?
The History of Branded Merchandise
8 Promotional Products That Companies Use as Merchandise
7 Branded Merchandise Examples to Inspire You
What Is Branded Merchandise?
Branded merchandise, or promotional merchandise, is sets of objects branded with a company's logo, a company name, or a motto.
Promotional items can range in value from inexpensive to VIP gifts.
Either way, they're usually distributed to raise awareness of a brand and/or promote an event.
It's like sharing business cards, but more fun and inventive.
In other words, branded swag is all about giving away high-quality freebies that people love getting.
Such products can be given away at conferences – both digital and in-person conferences – trade shows, as a little extra to clients that have already made a purchase, as samples to influencers that'll help with spreading the word on social media, and so on and so forth.
More on why branded merchandise is important coming right below.
Why Is Branded Merchandise Important?
You may think, is it THAT important to print my company logo on a t-shirt or a tote bag and distribute it?
Oh, I can't tell you how much.
Let's go through four reasons why branded merch can be highly beneficial to your business.
Reason #1: Establish an emotional connection with your customers
The first reason is that branded swag helps you establish an emotional connection with your customers.
How?
Well, branded swag can be anything from decorative items, such as desk accessories, candles, and Christmas decorations, to everyday items that are actually useful, such as water bottles, power banks, and umbrellas.
Exactly because they can be that diverse, they can quickly become your brand ambassadors, in a way that, even when you're not there to speak highly of your products and services and make sure your clients remember you, your swag is there and your clients can have a piece of their favorite brand with them at home.
Why is establishing an emotional connection important?
An emotional connection with a brand makes people feel that the brand cares about them; that they get them; that they are special.
Have a look at the bar graph below:
This sort of emotional engagement makes customers feel connected with a brand, whether they're long-time or first-time clients.
This might make you think what such emotional engagement could mean for a business.
Yes, emotional engagement between a client and a brand can really be key!
In fact, check out some some of the benefits below:
It doesn't only differentiate you from other brands, but also helps you maintain brand loyalty and customer retention.
Amazing, isn't it?
We therefore understand that companies need to create emotions and engage with their audience.
A way to do so is through thoughtful branded merch and corporate gifts.
Given that branded swag is very often given as a reward for online giveaways or as a customer gift, it's highly likely that it can make a client feel that the company appreciates their love and support.
Also, it feels fantastic to know that a company you're supporting has found a way to give back and express their gratitude.
A study on how rewards can impact the behavior of a customer reveals the following:
As you can see, receiving a reward can lead to repeat business and customer advocacy for a brand.
Additionally, it can lead to leaving positive reviews online and spreading the word on social media.
Reason #2: Raise brand awareness for your business
The second reason why branded merch is important is that it helps you raise brand awareness.
First things first, let's look at a definition of brand awareness by HubSpot:
In other words, brand awareness shows the level of familiarity the target market audience has with your brand, how well and easily people recognize your products, logo, services, and whether they know a thing or two about your brand.
Raising brand awareness is a must for small businesses that might have recently started operating.
As we've said already, branded items are printed with a company logo or any design that might be connected to a brand.
The fact that companies share such products for free helps them put them out there, stand out, and attract potential customers.
Put another way, visual elements, like your logo printed on a hoodie, can lead to your target audience recognizing you, thus making them more likely to trust your brand in the future.
Reason #3: Build a strong brand identity
The third reason we have for you is that brand merchandise can help you build a strong brand identity.
Similar to what retailers do with brand merchandising, branded merchandise is a great way to build brand recognition and enhance brand identity building.
Giving away branded t-shirts with a company logo printed on them is a sort of messaging that highlights some of the main aesthetic elements of your brand as well as your brand philosophy and your brand's perspective on things.
To put these visual elements out there means that you help your audience become familiar with your brand as a whole, and that helps you build a strong brand identity that's recognizable and stands out from competitors.
Reason #4: Add a new revenue stream
The final reason why branded merchandise is important is that it's basically a new revenue stream.
A revenue stream is a source of income for a company.
By adding branded merchandise to your marketing strategy, you can increase brand visibility and make sure your brand takes the exposure it should get in a cost-effective way.
More than helping you create brand loyalty, distributing branded merchandise can also lead to companies selling their branded stuff after they've become bigger and recognizable.
Here's an example of Dunkin' Donuts advertising their branded stuff on Instagram: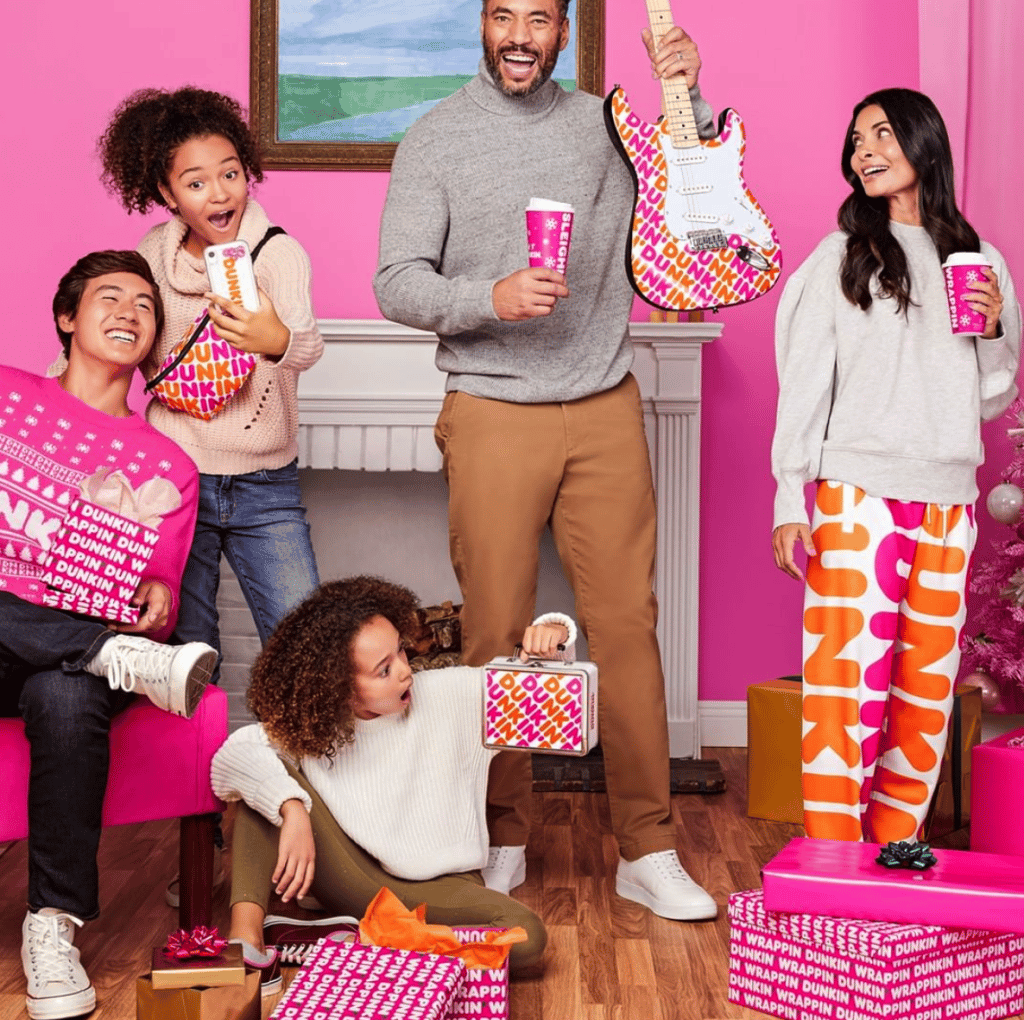 More on that a little further down in this post!
Huge sports leagues like the National Hockey League (NHL), the National Basketball Association (NBA), the National Football League (NFL), the Toronto Maple Leafs, to mention a few, generate billions of dollars in branded merchandise sales.
According to the International Licensing Industry Merchandisers' Association (LIMA), the numbers are impressive:
In a few words, try to think of distributing brand merch as a low cost marketing effort with high potential to bring in new customers or help you do repeat business with long-time clients.
With your business growing, you can take this to a whole new level and actually start selling your merch, thus adding a new revenue stream.
You could consider setting up your own pop-up store where you could sell your merch both to customers as well as audience and employees.
Let's now discuss a few highlights in the history of branded merch.
The History of Branded Merchandise
In this section, we're looking at a few pivotal moments in the history of branded merchandise.
Let's see how people have used the power of branded merchandise since the late eighteenth century.
George Washington, 1789
In modern times, the first person to have used promotional products to promote an event, in this case the first presidential election in 1789, was the first president of the United States, George Washington.
A commemorative button depicting his portrait was made after his inauguration.
This might remind you of modern branded items that are distributed during conferences as a way to celebrate the event and allow attendees to keep a sort of a souvenir from it.
Abraham Lincoln, 1860
Abraham Lincoln was the first to use his photographic image on a promotional item, back in 1860.
The item was a campaign button that was used to make Lincoln better-known.
Have a look:
Such a button would allow people around the country to recognize the face of Lincoln, thus creating an emotional connection with him, exactly the same way brands build connection with their audience through branded merch.
Jasper Meek, late 1880s
In the late 1880s, a newspaper owner who wanted to keep his business running, Jasper Meek, decided to apply an original marketing idea. He created tote bags that were used to advertise a shoe business in Coshocton, Ohio.
A promotional slogan was printed on the bags.
Here's Meek along with the first promotional bag.
Meek is considered the 'Father of Promotional Products'.
The local community celebrates the birth of promotional materials in the area.
Promotional Products Association International (PPAI), 1903
In the early twentieth century, twelve promotional products representatives combined their forces and formed an association that was initially called the National Association of Advertising Novelty Manufacturers.
The industry trade association was formed to address issues in relation to promotional products ideation, pricing, and operation procedures, to mention a few.
Today, the association is called the Promotional Products Association International (PPAI) and organizes educational seminars and trade shows to support merchandise professionals.
There has been an upward trend in promotional products in the last century.
Companies all over the world use branded items to promote their products, events, ideas, and their brand identity as a whole.
The eCommerce boom hasn't stopped people's interest in receiving physical goods, thus making marketers keep using them to promote their companies.
In fact, the current physical restrictions due to COVID-19 might create emotional distance between people.
We therefore understand that thoughtful items, like branded merch, can help make these unprecedented times more comforting for people.
Let's now move on to the most popular promotional products that companies use as branded merchandise.
8 Promotional Products That Companies Use as Merchandise
After having discussed a few important moments, we're going to present you the top eight promotional products.
Product #1: Water Bottles
The first promo product is the water bottle.
The water bottle is one of the most popular because it's reusable and durable.
This basically means that someone can use it for years, thus making it an advertisement that lasts for a long time.
Product #2: Hoodies
The second product is the hoodie.
Check out this super cool dual-purpose hooded windbreaker that easily becomes a drawstring backpack.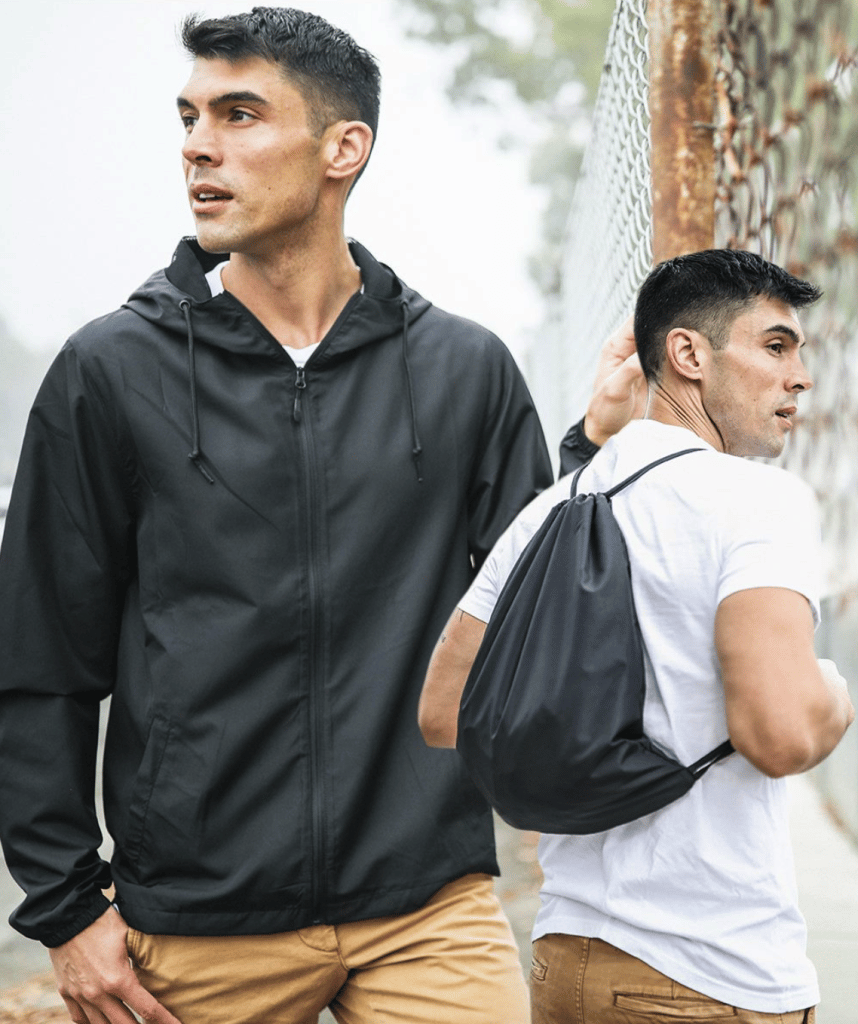 The hoodie is a walking advertisement and that's why companies love giving a branded hoodie to their customers and audience.
It's cozy and provides people with comfort.
Product #3: T-shirt
In a like manner, the old time classic tee is a must when it comes to promotional products.
People love wearing branded t-shirts from their favorite brands, as long as they're cool and of high quality.
Product #4: Drinkware
Drinkware couldn't be missing from this list.
From tumblers, to coffee mugs, wine gift sets, tea gift sets, and glasses, drinkware is a great way to enter your audience's homes with products they can actually use both at home and during their outdoors activities.
Product #5: Accessories
Accessories is also a very popular promo items category.
What kind of accessories?
From hats and socks to phone cases.
They're great when you're on a budget and are fun items.
Product #6: Home accessories
There's a wide range of home accessories and decorations that companies use as merchandise.
What's great about these items is that they help make one's personal space more beautiful and that's really important in terms of creating an emotional connection between a brand and its audience.
Product #7: Tech gadgets
A category of products that companies are extensively using for conference swag and employee gifts – especially now that people are working remotely – is tech gadgets.
It can be a bluetooth speaker,a Kindle, or a pair of earbuds.
They're considered high end promotional items and are great for companies that want to give their audience or employees useful equipment and gadgets that'll make their lives easier.
Product #8: Tote bags
The last product in the list is the tote bag.
In the section of the most important moments in the history of branded merchandise a little further up, we talked about the first promotional product ever created to promote a business; a tote bag.
Bags and shoppers are so popular among advertising professionals because people carry them everywhere they go and so the chances of more and more people seeing them are increased, and so increasing brand awareness and recognition.
Let's have a look at some inspiring merchandise examples.
7 Branded Merchandise Examples to Inspire You
After having established what the most popular promotional objects that companies use as merch are, let's now discuss seven examples of branded merchandise that are produced by companies we all know really well.
Example #1: Adobe Branded Merchandise
The first example comes from Adobe.
Most of us know that Adobe is a software company and we've most probably used their tools more than once.
What some of you might not know is that the company has its own merch online store (AKA pop-up shop) where people can buy promotional products with the company logo or slogans printed on the items.
Have a look:
Their online store offers a wide variety of promotional products including some of the most popular branded swag, like socks, hats, and drinkware.
Now we're talking about adding a new revenue stream from your end-users and fans, right?
Example #2: 3M Branded Merchandise
The second example is 3M.
3M is basically a house of brands that's using the power of branded products to add up their revenue and grow.
Their merchandise online store is a heaven for 3M fans and, again, offers a truly wide variety of products, from apparel to journals, office supplies, etc.
Example #3: HP Branded Merchandise
The third example we have for you is HP.
From seasonal ideas to products that would go perfectly with other HP tech products, this merchandise store is truly well-equipped.
Example #4: Google Branded Merchandise
Our forth example comes from search engine giant, Google.
You wanna know how Google is using branded merchandise?
Well, they go all the way with it.
Their online store offers pretty much everything that someone might need with the Google logo printed on items.
Take a look:
The company is building on the familiarity and emotional connection people have with the company logo.
Based on that, it gives people the opportunity to buy and wear something made by Google as well as offering them items that are useful, like water bottles and journals.
Example #5: UPS Branded Merchandise
Multinational package delivery and supply company, UPS, is yet another example of a successful company selling branded products.
Their online store offers drinkware and outerwear for those who want to walk around dressed in UPS apparel.
Example #6: Dunkin' Donuts Branded Merchandise
An inspiring merchandise example comes from Dunkin' Donuts.
Alongside their food and beverages, the company is selling their branded swag, which is as fun and colorful as their doughnuts.
And here's some Instagram merchandise highlights:
And another one:
You might think that it's slightly tacky but it also manages to be cute, and it works.
Example #7: DHL
Last but not least, one of the most successful merchandise examples comes from DHL.
Here's the company's swag:
Why is DHL one the most successful when it comes to merchandise?
Because they managed to make their branded t-shirt a must-have fashion garment.
Have a look:
Needless to say that the DHL merchandise store sold out quickly after the DHL shirt became popular streetwear in 2016.
That was the seven examples we wanted to share with you.
If these companies are selling and promoting branded products, there must be a valid reason.
Keep in mind that, whether you own a small or a bigger company, you can use branded merch too.
Keep reading to find where to start.
Looking for Branded Merchandise?
In this post, we've taken you through the history and meaning of branded merchandise.
Additionally, we've discussed why branded merch matters and how internationally known companies are using it to promote their products even further, as well as add a revenue stream.
We've been working with branded products for almost three decades now.
Honestly, we couldn't be more convinced that branded swag can really make a difference for small businesses that want to promote themselves.
Additionally, it can be key for bigger brands that want to enhance their brand recognition and/or offer promotional appreciation gifts to their clients and employees.
In a few words, we're here to help you find the best merch solution, the one that fits your brand and covers your needs.
Feel free to contact us and discuss what some of your options are.