A custom pen is generally one of the most popular promotional products.
What's more, because it can be easily customized at a low cost, it's widely personalized by companies of all sizes around the world.
We understand how overwhelming it can be to choose the best custom pen to promote your brand, so we've created a list of the eleven most popular types of custom pens you can consider for your business.
These are some of the custom pens we're going to show you in this post:
Fountain pens
Stylus pens
Felt tip pens
Multi-functional pens
Plus, plenty more.
Feel free to jump down to the type of pen you want to know more about by choosing it from the navigation below or read through all the different types.
Table of Contents
Custom Pen #9: Multi-Functional Pen
Custom Pen #11: Check-Safe Pen
How to Make Your Own Branded Pens in 4 Simple Steps
Custom Pen #1: Ballpoint Pen
Possibly the most classic type of pen is the ballpoint pen.
It's a very popular choice when brands are deciding what type of pen they want to personalize in order to offer it as a promotional writing instrument.
Ballpoint pens are ideal for anyone; from business executives to students or anyone who is in need of a solid pen to help them get their work done effortlessly.
That's why they're the perfect pen for brands to add their logo on and offer in promotional giveaways, at trade shows, or even to their employees.
Whatever the occasion or target audience, ballpoint pens are something you simply can't go wrong with!
Let's move on to the second type of pen we've got for you.
Custom Pen #2: Fountain Pen
Looking for the perfect pen to offer as a corporate gift?
The fountain pen might be exactly what you're looking for!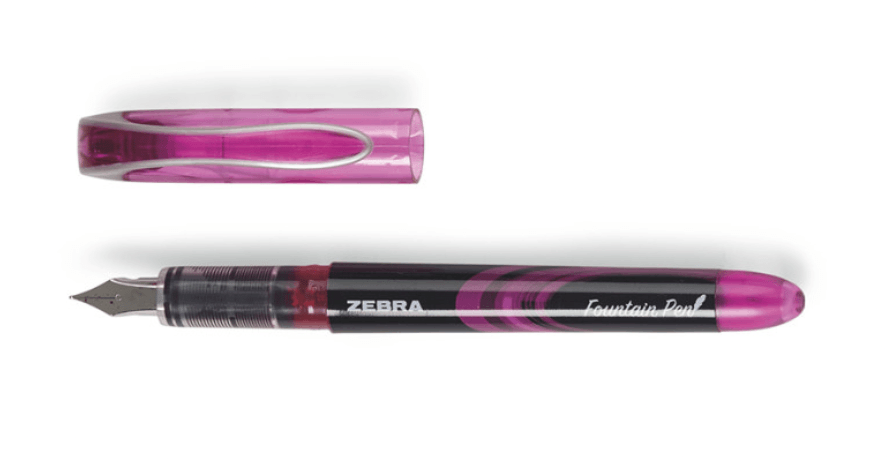 What sets the fountain pen apart from most writing instruments is that it requires very little pressure when using it.
This allows you to write easily with a soft touch, while the high-quality fine-point nib controls the flow of the ink for optimized writing results.
Ideally, you can customize it based on your brand guidelines – such as with your logo and brand name – and offer it as a high-end business gift to your clients or business partners.
Whatever you choose, fountain pens make excellent promotional items!
Custom Pen #3: Stylus Pen
With everyone using smartphones and tablets nowadays, a stylus pen can be one of the best promotional pens you can offer.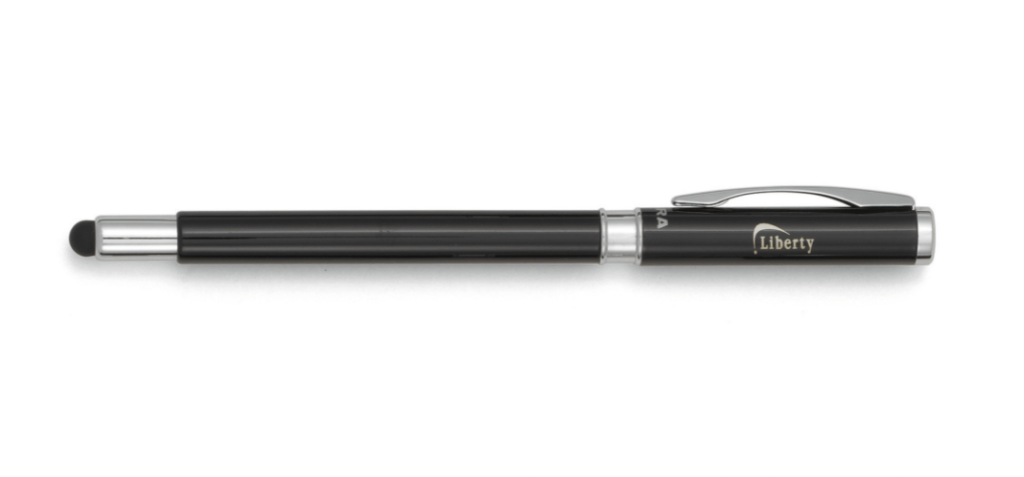 With stylus pens, you get two-in-one; they're a combination of a regular writing pen and a stylus for your touch screen.
For many people, a stylus is a much-needed tech swag accessory when using their smartphone, for instance.
After all, no one wants to struggle to touch their screen, so a stylus pen makes the whole thing a lot easier.
What's more, stylus pens even enhance accuracy when typing.
That's exactly why this type of pen can prove to be very precious for your employees, customers, and event attendees.
Needless to say that it works as an excellent promo pen for you to customize as you wish.
Moving on to the next type of pen.
Custom Pen #4: Gel Pen
A gel pen is another type of pen that you can easily offer as a promotional item and there are a few reasons why.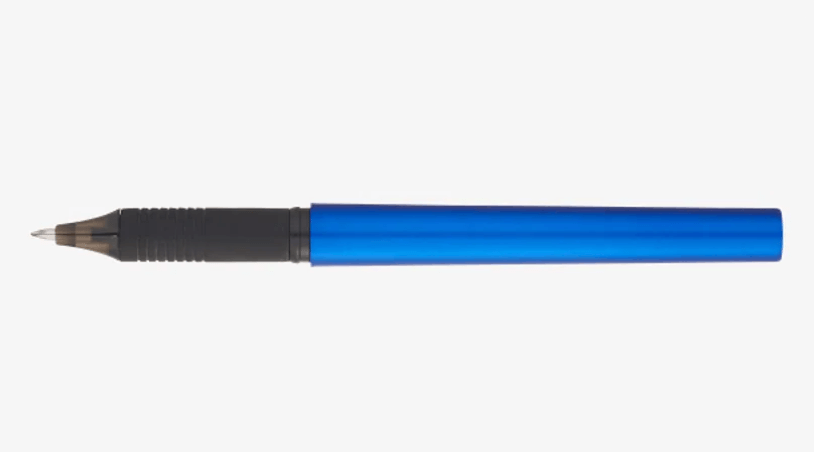 What distinguishes the gel pen from other types of ink pens is that it uses a pigmented water-based gel – or gel ink – instead of typical ink.
This means that the mark it leaves on paper is considerably stronger than usual, making it ideal for writing and illustrating purposes.
When it comes to pricing, it might not be the most low-price option out there, since gel pens tend to be more expensive due to their denser ink, but it makes a great promotional item; either as an executive pen or one for your employees to use at work.
Author's Tip: Offer the gel pen with other branded products, such as tumblers and keychains, in a very nice gift set.
Moving on to the next promotional pen we've got for you.

Tips, tricks, and inspiration delivered straight to your inbox.
Subscribe to learn more on how to break through the bustle.
Custom Pen #5: Rollerball Pen
A rollerball pen is a very practical type of click pen and we strongly suggest considering it as your next promotional item.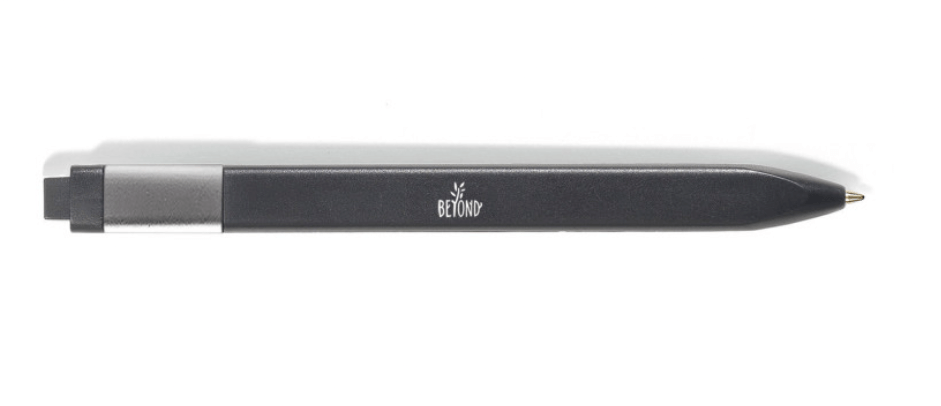 This pen is specifically designed to clip onto the side of a notebook or book.
Also ideal as a promotional travel item, the rollerball pen can be particularly useful when carrying important travel documents, such as passports and tickets, since it can be clipped and stored more easily.
After all, you never know when you're going to need something to write with!
Another advantage of the rollerball pen is that the ink is waterproof, making it a particularly helpful writing instrument.
Make sure to customize it according to your own brand and you can even offer it as a promotional conference gift to your attendees and speakers.
Let's move on.
Custom Pen #6: Grip Pen
It's true that all pens serve the same purpose.
What's also true, however, is that not all are the same since they have differences in design and practicality.
A good example of that is the grip pen.
Have you ever been writing so much that your hand starts sweating and you notice the pen slipping from your fingertips?
We're sure you have and so have we.
That's why such pens were designed; the elastic grip roller offers extra stability when writing, preventing them from slipping from your hand.
You can even find them in various ink colors; such as in blue, red, or black ink.
Grip pens are particularly popular for all types of occasions, making them a great type of promotional pen for you to personalize according to your brand guidelines!
Let's continue to the next pen on this list.

Custom Pen #7: Felt Tip Pen
The next item we have for you, which is an ideal promotional pen idea, is the felt tip pen.
What's good about it is that the ink dries out relatively quickly, making it a great choice for left-handed people who want to avoid smudges on their notes.
Felt tip pens can even be used as highlighter pens or sharpies, but also as regular plastic pens, while the metal clip allows you to clip them on the edge of papers and business cards.
They make an excellent business pen as well, so we recommend adding your logo or company name and handing it out to your clients and employees as a thank you gift.
Let's now move on to the next type of pen we've added to this list.
Custom Pen #8: Technical Pen
If you're looking for a more technical type of pen, then this one might just be what you're looking for.
The technical pen is a specialized writing instrument, mainly used by architects or engineers who are in need of making accurate lines of constant width.
It's clear that the target audience for this pen is very specific, so before you decide to use it as a promotional product, you must identify who your audience is and whether they'll find something like this useful.
If the answer is yes, then this metal pen can be used as a great high-end corporate gift as well.
What we love about the technical pen the most, is that – unlike the stick pen or the twist pen – it's durable and reusable, meaning you can refill the liquid ink inside it.
This makes it a great eco-friendly promotional product idea as well.
If this is something that appeals to you and your audience, make sure to personalize it based on your brand and hand it out to your employees or at your next event.
Let's continue with the next custom pen.
Custom Pen #9: Multi-Functional Pen
The next item on our list is a multi-functional pen.
Have a look at this pen that's also a bottle opener to get an idea of what a multi-functional pen might look like:
As the name suggests, this type of pen can be used for more than one purpose.
It's actually a four-in-one pen, meaning it can be used as a writing instrument, a bottle opener, a mini toolkit, and a stylus pen.
Pretty handy, right?
It's definitely something that'll prove to be quite popular as a promotional item among your audience, so we suggest styling and branding it with your logo and brand name.
Author's Tip: Include the multi-functional pen in a writing set with custom notebooks and bookmarks, as well as with branded drinkware items.
Moving on to the next promotional pen.
Custom Pen #10: Novelty Pen
If you're looking for a fun and stylish pen, then a novelty pen is a great choice.
These pens serve the same purpose as a typical BIC Clic Stic or ball pen, but they're so eye-catching that they're bound to be popular!
You can either opt for full color or colorful ones and get them in a wide variety of styles.
They're also fully customizable so you can personalize them in a fun way that represents your brand; making them one of the best logo pens you can go for when it comes to promotional items!
In our opinion, if you make sure to nail customization, we think people will keep your custom novelty pen for a long time.
Let's move on to the last pen we've got for you.
Custom Pen #11: Check-Safe Pen
When it comes to safety-first pens, the check-safe pen is the one to go for.
You might've heard that a common practice in check washing is stealing a check, erasing the ink, and adjusting key details.
What this type of pen does is embed its ink to the paper fiber in order to prevent criminals from washing checks.
Pretty impressive, right?
If you're not only interested in calligraphy or style when it comes to pens, we recommend customizing your check-safe pens and using them as promotional items at your next event or conference.
Author's Note: It's particularly ideal as a bank promotional item or for any other financial institution.
You've now read all about the different types of custom pens available, but you still don't know how you can make your own.
Keep reading to find out how.
How to Make Your Own Branded Pens in 4 Simple Steps
Now, let's have a quick look at how you can make your very own branded pens in four simple steps.
Step #1: Find a reliable branded merchandise supplier
The first step is finding a branded merchandise partner that you can trust.
It's a vital step; the right supplier will help you choose the most suitable type of pen for you, as well as the right quantities.
Needless to say that they'll guide you step-by-step in finding not only the right pen but also the most cost-effective choice for your brand.
Here at PRG, with more than 30 years of experience in helping brands create their very own promotional products, we strongly believe that we can help you find exactly what you're looking for.
Let's move on to the second step.
Step #2: Choose a pen type
The second step in creating your very own promotional pen is to choose the type of pen you want to customize.
As you saw from our list above, not all pens are the same.
This is both in terms of design, as well as in practicality.
Some of the pens you can go for are:
Fountain pens
Gel pens
Technical pens
Novelty pens
And many more.
While there are many things to consider, it all comes down to your target audience and whether the type of pen you choose will appeal to them.
Let's continue.
Step #3: Decide on quantities and personalization options
The next step is to decide on quantities and how you'll customize your pens.
Will you offer your pens to your employees or to a large number of people attending your event?
That's something you need to think about in order to specify the right amount of pens you should order.
Next comes personalization; what will you add to the pens?
Will it be your logo? Your brand name? A slogan? Maybe a combo of them?
Whatever you choose, it's important to also specify exactly what and how you want it, in order to get the best possible result for your brand.
Moving on to the last step.
Step #4: Place your order
Last but not least, you need to place your order.
After you've decided on everything needed and are happy with the outcome, all you need to do is contact your branded merchandise partner once more and order the pens.
Then, all that's left is to sit back and wait for your amazing promotional pens to arrive!
Now Over to You
That was our full list with the eleven custom pens for any business, as well as how to create your own branded pens.
You should take many factors into account before choosing the right promotional pen, like your budget and target audience, and we believe that this list has you covered.
Simply feel free to check back on it anytime you want and don't hesitate to contact us if you'd like to partner with a creative merchandise company that'll help you step-by-step along the process.
Thanks for reading!
Tips, tricks, and inspiration delivered straight to your inbox.
Subscribe to learn more on how to break through the bustle.
Featured image by PCNA.