Employees deserve a treat after all their hard work and effort.
Whether that's for work anniversaries, office birthday parties, or virtual holiday celebrations, you need high-quality gifts that convey your appreciation.
However, it's hard to find a present that doesn't make your employees shrug their shoulders in an 'It's the thought that counts' kind of way.
This is your lucky day!
You've stumbled upon our list of the best gifts that show appreciation without being too personal or boring.
Take a look!
Table of Contents
Employee Appreciation Gifts
According to a report, 42% of employees received a gift from their employer that they didn't want.
Yikes!
If you want to avoid generic and impersonal gifts, choose one of our suggestions.
Skullcandy Sesh Evo Bluetooth earbuds
A study has shown that 79% of employees benefit from listening to music at work, regardless of their age or personal taste.
If you're part of the percentage that allows people to express themselves through music, then these Bluetooth earbuds might sound like music to your employees' ears.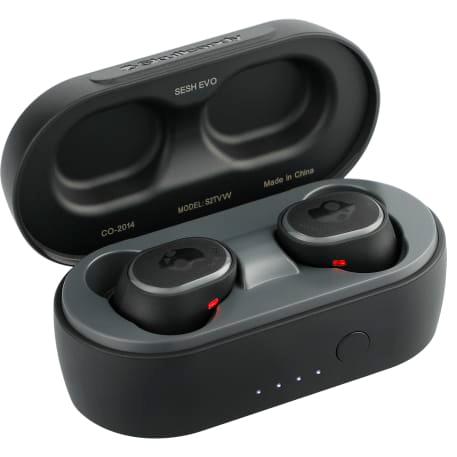 Earbuds—and subsequently any branded tech swag—are a great gift idea since they'll create a positive impression about your brand.
In addition, music lovers will use them daily while commuting to work, going to the gym, or taking a break.
Why employees will appreciate the gift: Wireless earbuds give employees the freedom to listen to their favorite tunes or answer calls wherever they go.
Pricing: $70
Where to get it: SwagDrop
Fitness tracker
Nudge employees towards completing their fitness goals with trackers.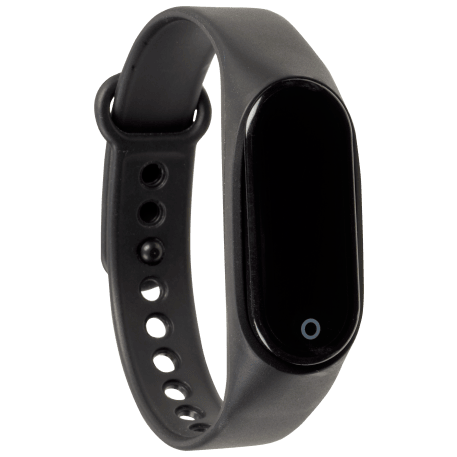 Such a handy gadget doles out doses of motivation your employees might need when trying to stay active.
Whether they like running, walking, swimming, or cycling, a fitness tracker is a piece of gear employees can wear on their body day in and day out while optimizing their workouts.Aside from being comfortable, the fitness tracker must also fit the person's lifestyle.
Why employees will appreciate the gift: Instead of offering a gym membership they rarely use, employees will feel more comfortable having a fitness tracker that monitors their health status in real time.
Pricing: $28
Where to get it: SwagDrop
Computer backpack
Why are branded backpacks so great?
#1 They're everyday casual items anyone can use to ease travel while carrying their necessities.
#2 They stand out as promotional products when it comes to versatility and brand visibility.
#3 Employees might need them for their laptops.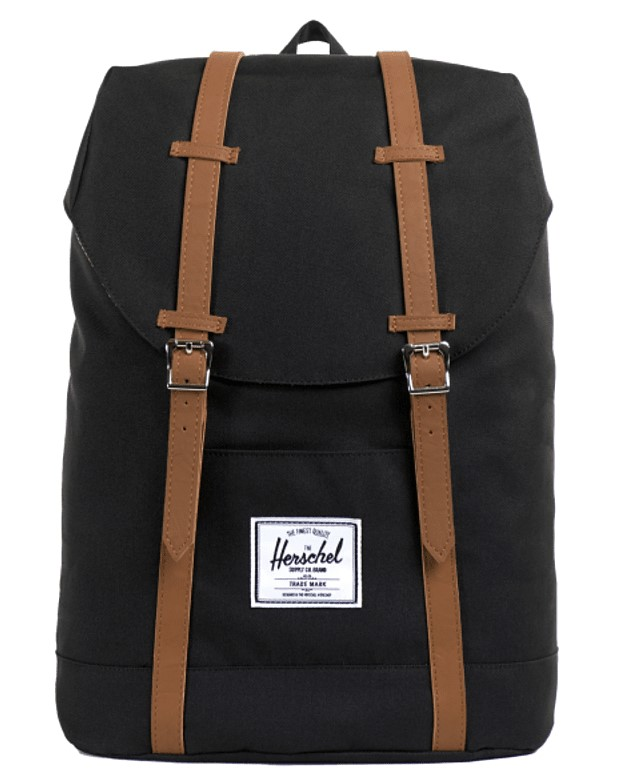 Backpacks are popular giveaways that spread your company's message through daily use on buses, trains, and the street, while also being durable enough to bear a heavy load.
Why employees will appreciate the gift: Employees will love having a way to carry their laptops without hassle, especially if they work remotely from different locations.
Price range: $20 – $200
Where to get it: Contact us
Tips, tricks, and inspiration delivered straight to your inbox.
Subscribe to learn more on how to break through the bustle.
Rocketbook Fusion notebook set
A branded journal should never be missing from an employee's workspace.
But while it's true that you can never have enough notebooks or notepads, it's time to offer something more high-tech.
Make way for the Rocketbook Fusion notebook—a reusable pen and paper notebook with seven different page templates you can fill.
This futuristic gadget is a thoughtful gift for those who like to write notes during meetings or brainstorm innovative ideas, which they can later save in their favorite cloud storage.
What's more, you can magically wipe clean everything you've written to reuse again and again for your next adventure! ?
Why employees will appreciate the gift: Employees will use a notebook like this to keep track of their plans, lists, and big ideas, and do so in a more organized and convenient fashion.
Price range: $60 – $75
Where to get it: Contact us
Bamboo wireless charging mouse pad
The average person in the UK spends around 34 hours and 26 minutes a week doing hard work, meaning employees spend 1,795 hours a year sitting at their desks.
With so much time spent there, it's no wonder our workspaces become dull.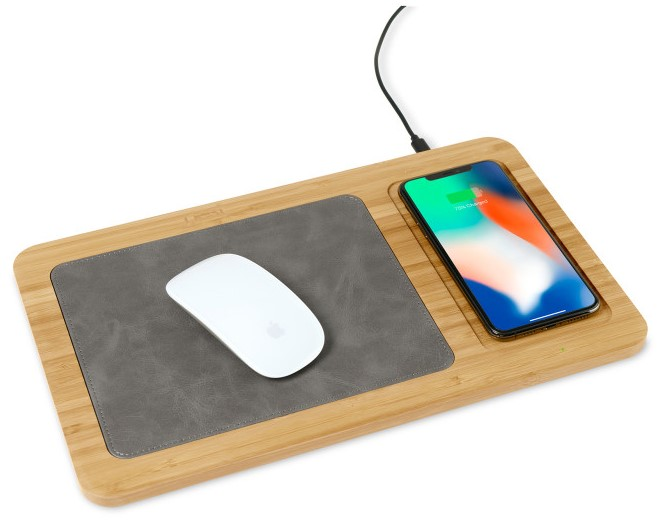 Spruce up your employee's desk by giving them a unique office gift.
This bamboo wireless mouse pad streamlines your traditional or home office desk and has a handy charger that powers up your devices while you work.
Why employees will appreciate the gift: Employees will welcome the improved ambiance a new item can provide, especially after spending so much time looking at the same objects every day.
Price range: $55 – $76
Where to get it: Contact us
Gift Card
As tokens of appreciation, you can send your employees gift cards.
Gift cards are safe and work-appropriate presents you can use when you don't feel confident enough in your gift-giving skills or you aren't sure what to get someone.
By giving it a corporate twist, you ensure the gift is memorable and more ethical than giving employees cash bonuses. Plus, you can adapt the amount of funds to suit your budget.
Author's Tip: When choosing the gift card, think about your employee's interests and find a suitable store.
Why employees will appreciate the gift: It encourages employees to treat themselves with their favorite items since they can buy whatever they want.
eBook
Save your employees a trip to the library by helping them discover the joy of e-reading.
eBooks are a lot like physical books you can find in stores, but in electronic format.
The best part is that you can read them on your phone, computer, or an e-reader, meaning that employees can enjoy reading on the go and take the whole library with them.
eBooks are convenient, but also great personalized gifts.
Help meet your employee's desire for a good read by finding a book in a genre they might like or surprising them with a recommendation.
Author's Tip: Consider pairing your employee's favorite book with a branded e-reader.
Why employees will appreciate the gift: Through eBooks, you show passionate readers that you care about their hobbies and interests while making their lives more interesting.
Price range: $5 – $30
Where to get a branded e-reader: Contact us
Gift Ideas for New Employees
For some people, it's overwhelming to start a job in a new work environment, especially with so many things going on.
New hires have to meet their team members, who are all curious about the rookie, while also participating in orientation and onboarding meetings that contain tons of information about the company.
You can see why gifts for new employees are useful in this situation.
Aside from properly representing your company's culture, they make a new hire feel welcome and foster a sense of belonging.
Take a look at this mix of unique gifts that are perfect for your newbies.
Moleskine notebook and pen set
Notebooks branded with your company logo make the employee feel like part of the team—and they're very welcome on a new hire's first day at an organization.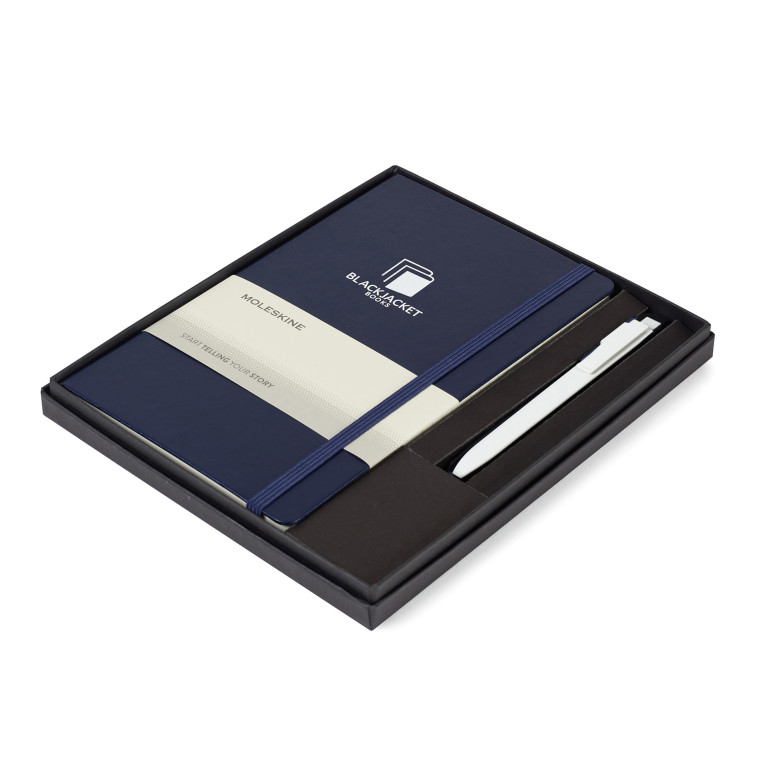 While employees can use it to jot down notes and easily keep track of all the new information, notebooks have other purposes too.
Firstly, you can use a customized notebook to include a welcome message from the CEO. This makes new hires feel like they belong in the team.
Secondly, aside from this message, you can include links to essential HR resources that a new hire can easily access to find the answers they may need in the first few months.
Why employees will appreciate the gift: Including a notebook in a new hire welcome kit will ease your employee's worries while also helping them adjust to the company's culture and values.
Pricing: $35
Where to get it: SwagDrop
Cotton T-shirt
T-shirts are called 'walking billboards' for a reason.
They're cost-effective, unisex promotional items that attract interest and make your brand stand out.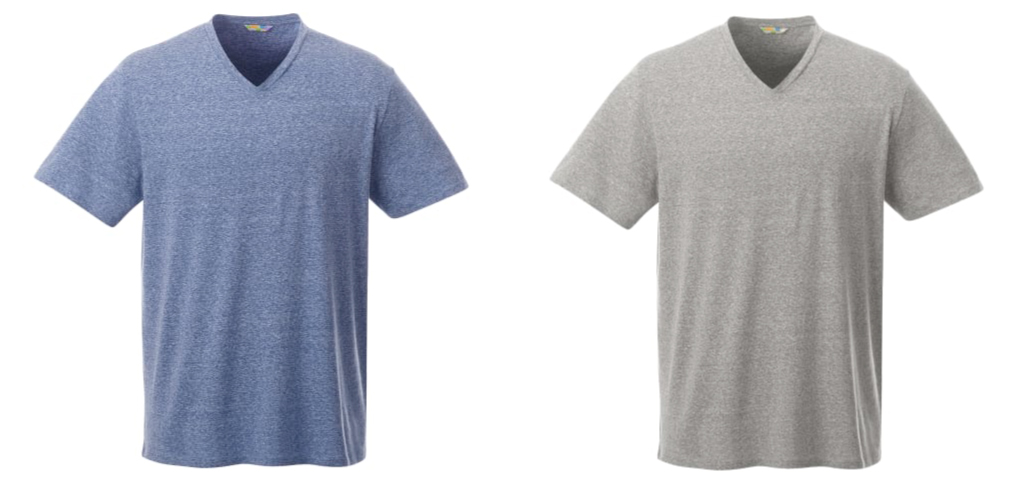 Brand logos on a company T-shirt improve team spirit and give new hires a sense of belonging.
Aside from being comfy and super cheap, a T-shirt also works well as a uniform, creating a strong brand image and cultivating loyalty among your employees.
Why employees will appreciate the gift: Employees can project their individuality through a T-shirt while feeling proud of working for your company.
Price range: $12 – $15
Where to get it: SwagDrop
Fleece hoodie
While T-shirts are great gift options, they won't make the cut during colder seasons.
That's why the all-time favorite hoodie will certainly make a nice impression among your new co-workers, especially since 67% of consumers own promotional outerwear.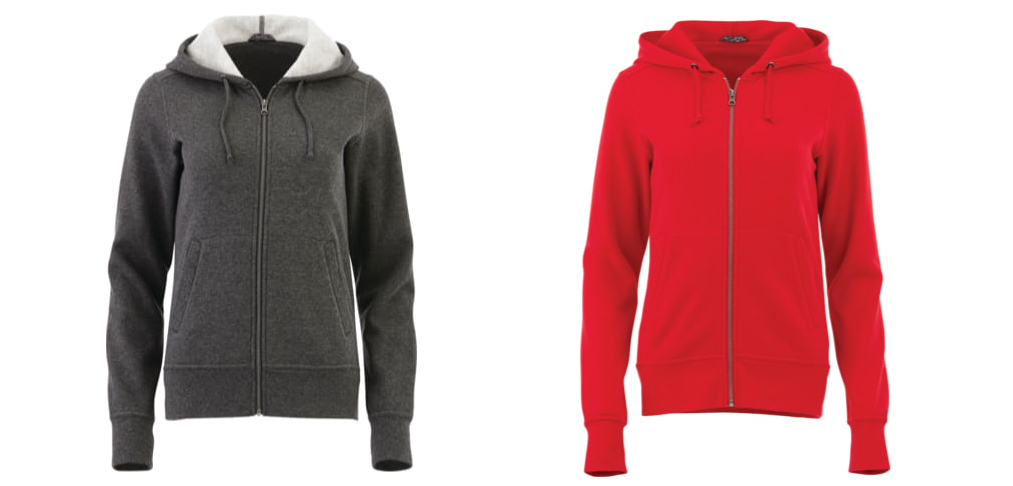 Personalized hoodies are cost-effective, versatile fashion items that promote your business while also cultivating loyalty and adding a personalized touch to your brand.
Author's Tip: Because fleece is so warm and cozy, you can include this hoodie in a Christmas gift basket!
Why employees will appreciate the gift: An iconic high-quality hoodie will keep new hires engaged with your company.
Price range: $39 – $93
Where to get it: SwagDrop
Power bank
Running out of battery when you need it the most is a huge problem, especially when you can't afford to return home to charge your phone.
Cue power banks!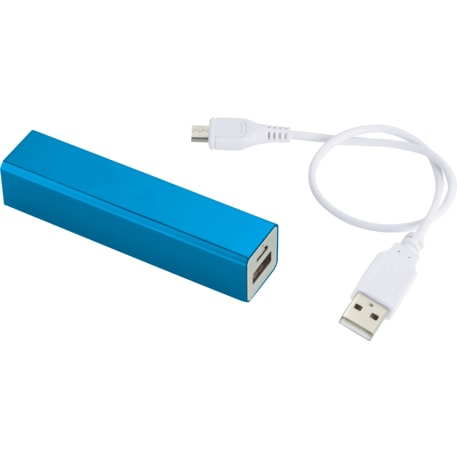 A power bank is a portable charging device that allows you to charge various gadgets and keeps them full of battery without an outlet.
This way, you have an affordable travel swag essential item at your disposal, which comes in a variety of colors and styles for easy customization.
Why employees will appreciate the gift: Employees will love this easily portable item since they don't need to worry about it taking up too much space in their luggage.
Price range: $10
Where to get it: SwagDrop
Tumbler or travel mug
We've all seen stylish, branded tumblers that make us want to buy one for ourselves.
And it's no wonder!
According to an ad impressions study, 88% of consumers own at least one item of drinkware, second best to writing instruments and office supplies.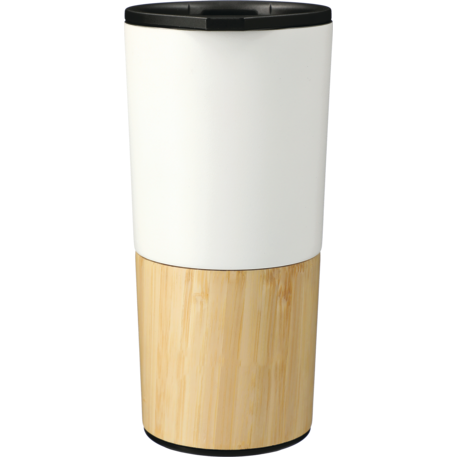 So, if you want to give your new employees high-quality swag, you might want to invest in stainless steel tumblers or travel mugs.
Aside from being popular drinkware items that store hot and cold beverages and keep them at a stable temperature, tumblers are easily marketable products suitable for any audience.
Why employees will appreciate the gift: What's great about this product is that employees can take them wherever they go—from the office to the gym or on trips.
Price range: $13 – $38
Where to get it: SwagDrop
Umbrella
Umbrellas might not be the first thing that pops into your mind when thinking about personalized gifts for new employees, but you shouldn't overlook them!
How come?
Well, 83% of consumers would keep a promotional umbrella because it's useful. And it's clear to see why!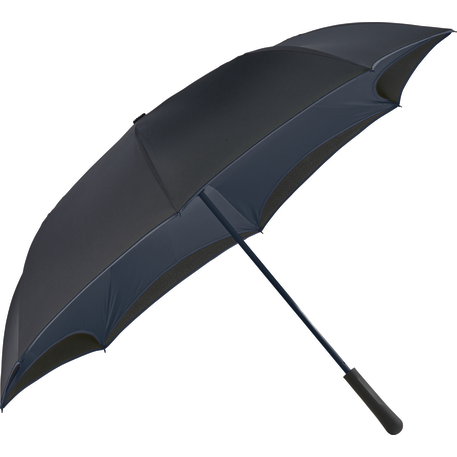 Gifting an umbrella is a cost-effective and efficient way to advertise your brand and increase visibility. They're a unique solution for any outdoor or sports event and a great addition to any backyard party.
Why employees will appreciate the gift: Since this item is both practical and stylish, employees will appreciate having a branded umbrella when it's raining outside.
Pricing: $18
Where to get it: SwagDrop
Tips, tricks, and inspiration delivered straight to your inbox.
Subscribe to learn more on how to break through the bustle.
Gifts for Remote Employees
Since remote work is here to stay, with 97% of employees recommending remote work to others, it's becoming increasingly important to search for ways to engage your remote employees.
We've done the work for you. Check out our list of the top goodies for your remote teams.
Webcam with microphone
An average professional spends around 21.5 hours on meetings a week.
Since meetings are an essential part of a healthy remote team and maintaining a human connection, having the necessary tools for holding great sessions is more important than ever.
An HD webcam with a high-quality microphone is just what your remote employees might need!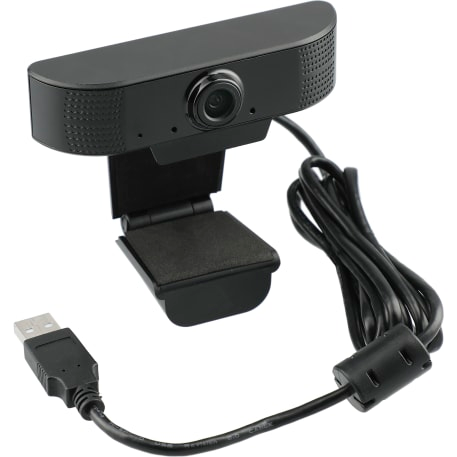 This gadget is capable of producing crisp images and makes employees:
Be heard loud and clear
Stand out with AI-powered lights
Feel like a pro!
Why employees will appreciate the gift: An item like this helps employees hold organized and professional meetings while ensuring high retention rates.
Pricing: $55
Where to get it: SwagDrop
Wireless charging desk organizer
Working from home might be unglamorous sometimes.
In-house distractions, the temptations of sweet treats, or a cluttered desk are only a few of the things that hamper productivity.
But if your employees are tired of constantly searching for the office supplies they need, help them say goodbye to the hassle by giving them desk organizers.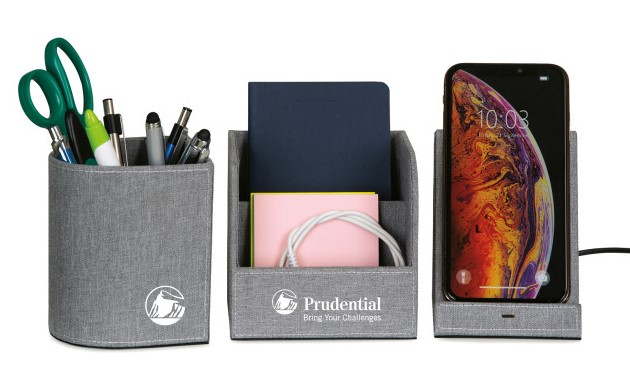 This wireless desk organizer allows your employees to charge their devices while also serving as a convenient storage solution for their office essentials like sticky notes, USBs, or keychains.
To put it simply, it revolutionizes the way remote employees work!
Author's Tip: Choosing desk organizers made from natural, biodegradable, and durable bamboo will ensure you reduce your carbon footprint.
Why employees will appreciate the gift: You allow employees to put all their daily necessities in one location, successfully making their desks clutter-free.
Price range: $11 – $100
Where to get it: Contact us
Live Well self-care set
A few years ago, 81% of employees said that well-being activities are a priority in their personal lives—and businesses should respect that.
But since it's challenging to maintain a work-life balance at home, employers need to invest in care packages that remind remote workers to take care of their health.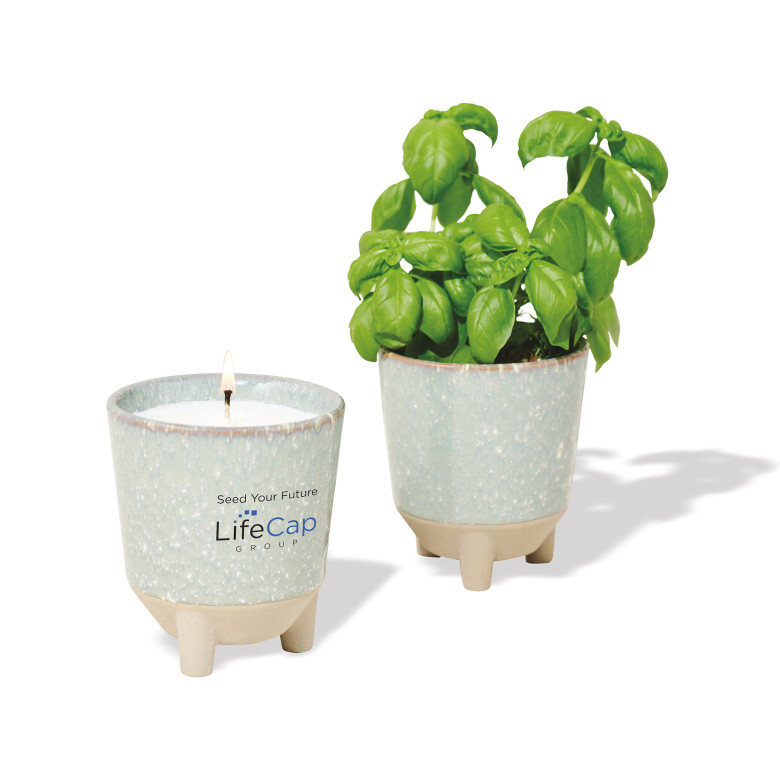 This scented candle and easy-to-care succulent combo allows employees to unwind after a hard day of work while also improving a house's ambiance and highlighting the decor.
Why employees will appreciate the gift: This essential self-care kit gives employees relief from everyday challenges and encourages them to take some quality 'ME' time.
Price range: $46
Where to get it: SwagDrop
Oversized fleece blanket
Is there anything better than making yourself comfortable in your office chair with a warm, fleece blanket wrapped around you?
Well, at least there's nothing cozier than fleece.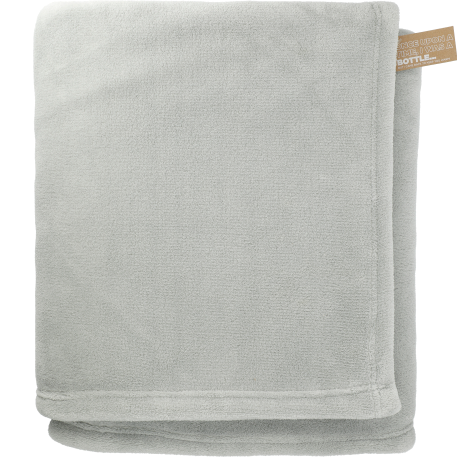 Fleece custom blankets are a lightweight alternative to scratchy wool—soft enough to make you melt.
What's great about this particular blanket is that it's made from recycled PET materials and large enough to cover two people.
Author's Tip: Blankets are great for embroidering your company logo on them or coming up with a fun design.
Why employees will appreciate the gift: Nothing beats the simple pleasure of cuddling into a favorite blanket on colder days.
Price range: $27 – $28
Where to get it: SwagDrop
Cheese cutting board
According to a food market outlook, 36% of Americans say they cook at home since they have more time to spend in their kitchens with the emergence of remote working.
This gives you the perfect opportunity to fill your employee's homes with handy kitchen tools.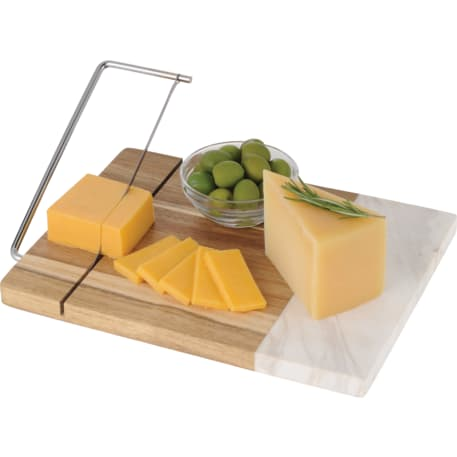 You can start with this cheese cutting board!
Also known as charcuterie boards, these are stylish items that take entertainment to new levels as serving a good cheese board is a delicious way to greet guests.
Charcuterie boards come in different shapes and materials and are great for dinner parties or large celebratory events.
Why employees will appreciate the gift: Since preparing cheese boards is almost an art, employees can get creative with their presentation and work hard to impress their guests.
Pricing: $29
Where to get it: SwagDrop
Tumbling tower block stacking game
Encourage your employees to ditch their phones in favor of a tabletop board game with this fun idea.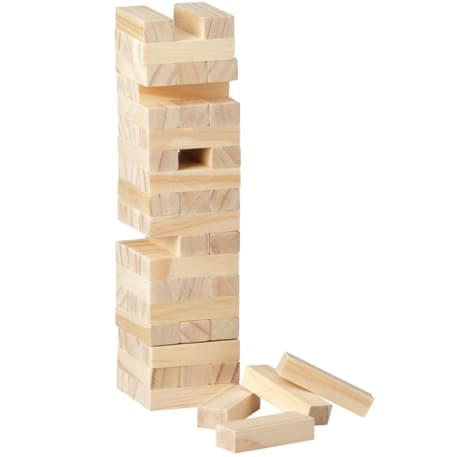 This tumbling tower block game is an entertaining activity that sprinkles a bit of competitiveness in your employee's life.
To win the game, you pull out block after block until the tower comes crashing down, causing lots of fun and laughter. It's also excellent for testing your employee's steadiness of hand as they battle with gravity.
Author's Tip: The storage container is highly customizable, as you can add your company's logo or personalized artwork that suits the worker's personality.
Why employees will appreciate the gift: Employees can unplug from their devices for a few hours to strengthen their relationships with coworkers, friends, and neighbors.
Pricing: $16
Where to get it: SwagDrop
Desktop game set
Chess is one of the oldest games in the world and one that's still played every day around the world.
Offering a desktop game set is the perfect thank-you gift that promotes diversity and inclusivity and shows appreciation for staff.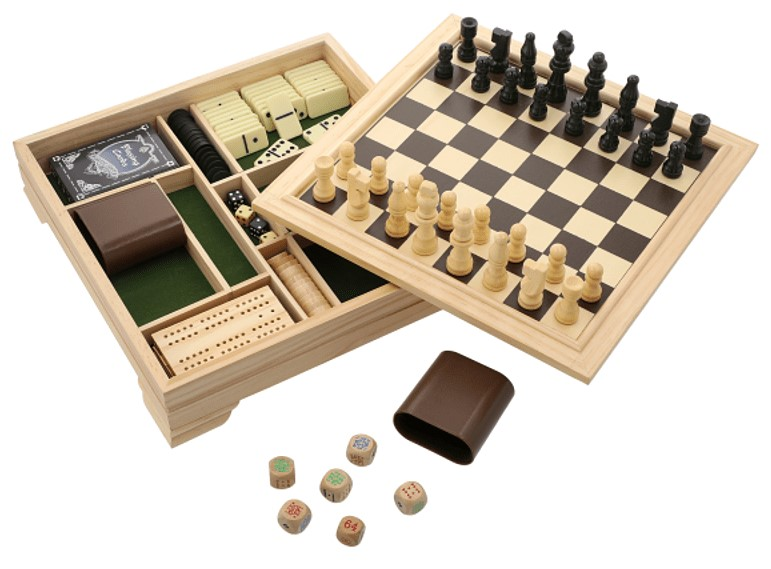 And your employees are in for a surprise!
Not only does this Lifestyle 7-in-1 desktop game include game pieces for chess, but also backgammon or checkers.
To top it off, it also has 28 dominoes, a cribbage board and pegs, and a standard deck of cards.
Now this is a meaningful gift worth investing in!
Why employees will appreciate the gift: This game brings people together from different ages, cultures, and backgrounds over a common bond and passion.
Price range: $46 – $58
Where to get it: Contact us
Beginner yoga set
Working from home gives us more time to focus on ourselves and be more active.
However, some people might need encouragement before exercising, especially when that couch looks so inviting!
Whether you have employees who are couch potatoes or professional athletes, you can't go wrong with a beginner yoga set.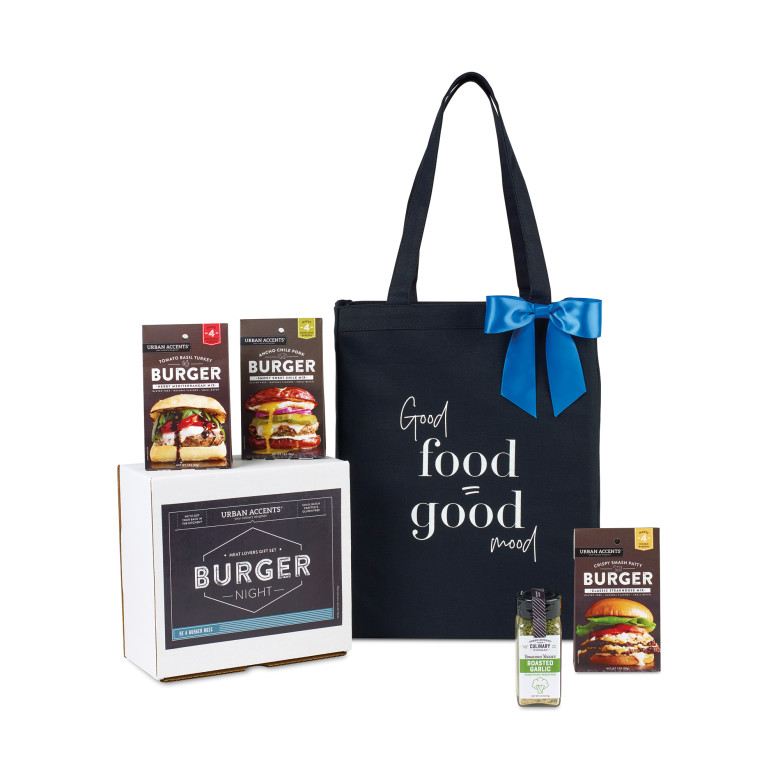 Yoga offers many physical and mental benefits, such as:
Increased flexibility
Balanced metabolism
Weight reduction
Cardio and circulatory health
AND MUCH MORE!
But even if your employee doesn't practice yoga, they can still use a mat at the gym or when meditating.
Why employees will appreciate the gift: They might like having an item that encourages them to instill healthier habits while also being a memorable gift.
Price range: $25 – $70
Where to get it: Contact us
Inexpensive Corporate Gifts
Let us tell you a secret: you don't need to break the bank to ensure you give great corporate gifts to your employees.
Gifts should be memorable and thoughtful, so a simple coffee mug or a water bottle might mean more to them than other expensive swag.
Make an impact on your employees with inexpensive gifts that'll melt their hearts.
Mouse pad with antimicrobial coating
It's no secret that mouse pads get dirty easily since people use them daily or accidentally spill something on them.
Maybe this fact has inspired the birth of the antimicrobial mouse pad.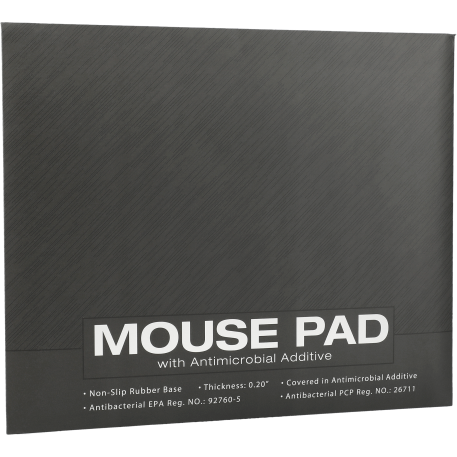 With this functional item, you ensure you stay protected from germs in your home or office.
Not only does this mouse pad have an antimicrobial coating that destroys potentially harmful microbes, but it's also manufactured with durable, high-quality recyclable materials.
Author's Tip: Use your company's logo or add a fun print to come up with a creative design that'll brighten anyone's day!
Why employees will appreciate the gift: A mouse pad is a quick and easy way to make someone's desk more visually appealing while also creating a consistent aesthetic within the workspace.
Price range: $6
Where to get it: SwagDrop
Reusable water bottles
Worldwide, people use over 500 billion plastic bottles every year, adding to the increasing pile of plastic pollution that affects the environment, human health, and marine life.
You can be the change in your employee's life by investing in a reusable water bottle.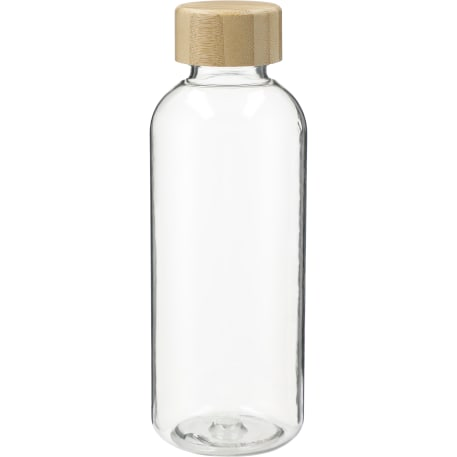 Usually, this type of bottles are made with 100% recycled PET plastic or stainless steel to cut down on the amount of plastic.
In addition, employees can easily carry them wherever they go, while also helping your brand marketing strategy.
Why employees will appreciate the gift: While employees will feel better for reducing the harm to the environment, these water bottles are also great for on-the-go hydration.
Pricing: $5
Where to get it: SwagDrop
Coffee mug
It might seem surprising, but you know that the mug you use to consume your favorite hot beverage can make a big difference in the overall experience.
From the feel of the handle in your hands or the shape of the mug, a good custom mug enhances the way you savor your morning cup of coffee.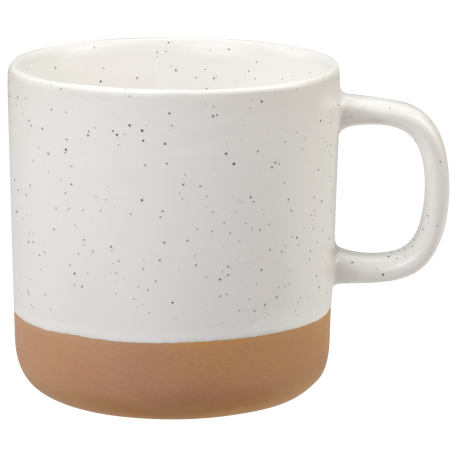 So, by providing an aesthetically pleasing way to sip their favorite brew, you ensure that employees will use the mug every time they can, while spreading brand awareness.
Why employees will appreciate the gift: Coffee lovers need stylish, branded mugs as nice additions to their routines.
Price range: $4 – $8
Where to get it: SwagDrop
Cotton grocery tote bag
On average, people go to the store at least 8 times per month, which provides the perfect chance for you to spread some brand awareness inexpensively.
Meet THE TOTE BAG!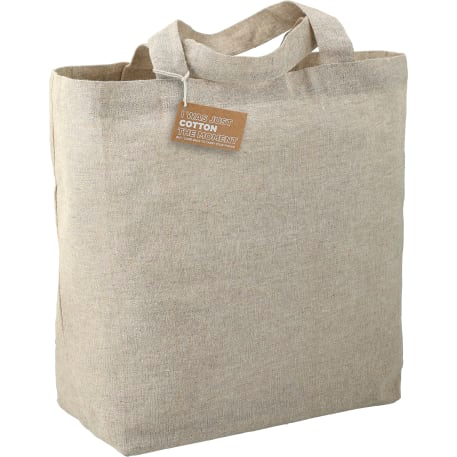 Cotton tote bags are durable products that employees can use to store heavy loads of groceries for long periods without having to worry about them ripping open in the middle of the supermarket.
Plus, these cotton tote bags are easily customizable!
Think of an eco-friendly design or add your brand's identity for the personal touch your employees like.
Why employees will appreciate the gift: Aside from being useful when going shopping, tote bags will make employees feel more socially responsible.
Pricing: $4
Where to get it: SwagDrop
RFID phone wallet
Tech-savvy employees will simply love this item!
With technology now incorporated into every segment of our lives, fashion is also one field influenced by such changes.
But with the rise of technology comes online dangers, so you must ensure your employees keep their money, cards, and personal information safe from theft when commuting to work.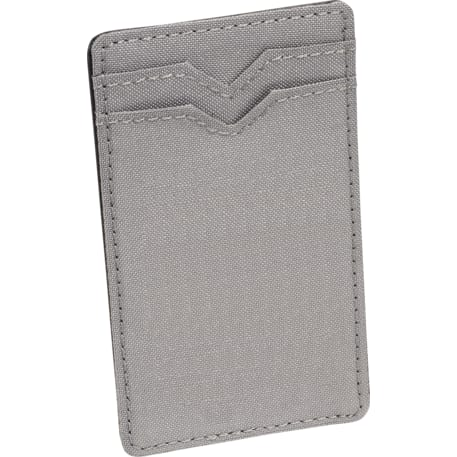 This Radio-Frequency Identification (RFID) wallet blocks radio waves that read your data while keeping your employee's belongings safe in one single place.
In addition, it's easy to customize them with your company logo!
Why employees will appreciate the gift: Employees can place the phone wallet on the back of their phone for convenience.
Pricing: $3
Where to get it: SwagDrop
Gift Box Sets for Employees
A great way to show your appreciation is through the simple elegance of carefully curated gift boxes.
Corporate gifts are presents filled with a collection of themed items that leave a lasting impression on your employees since they conjure up positive feelings and memories.
Without further ado, let's dive into the best-themed gift boxes.
Jumpstart gift set
This gift set is perfect for employees who've just started at your company and might need a hand getting used to your culture.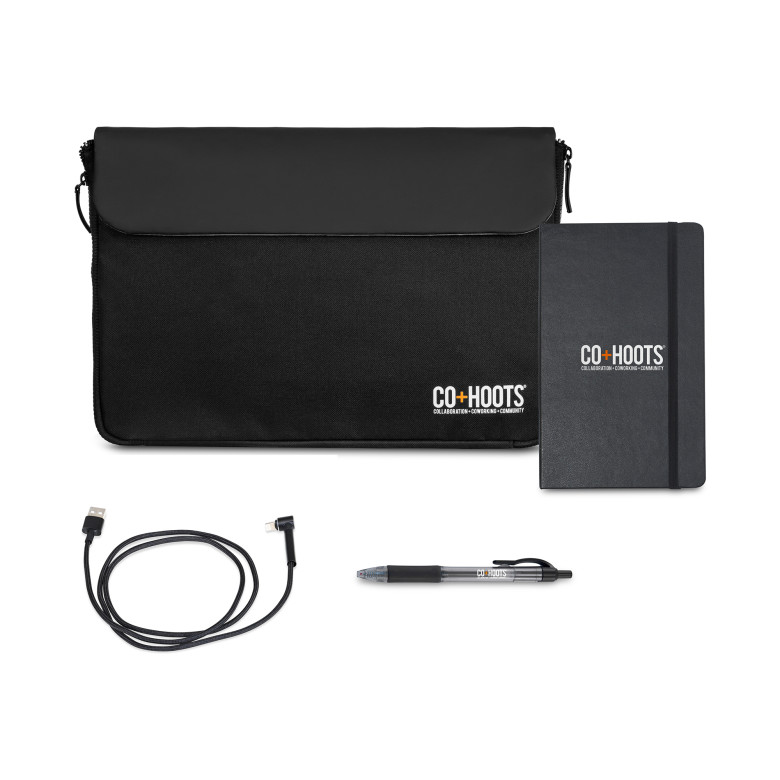 It contains everything a new hire might need on their first day:
A branded notebook
Computer laptop sleeve
Retractable pen
Author's Tip: It's most effective during the new employee onboarding process when people might need a hand adjusting to their job roles and responsibilities.
Why employees will appreciate the gift: Aside from feeling grateful for having the branded essentials to get them through the first day, this gift will also make people feel like a part of the team.
Price: $59
Where to get it: SwagDrop
BBQ gift set
Make your employees feel special with a bit of grillin' & chillin'.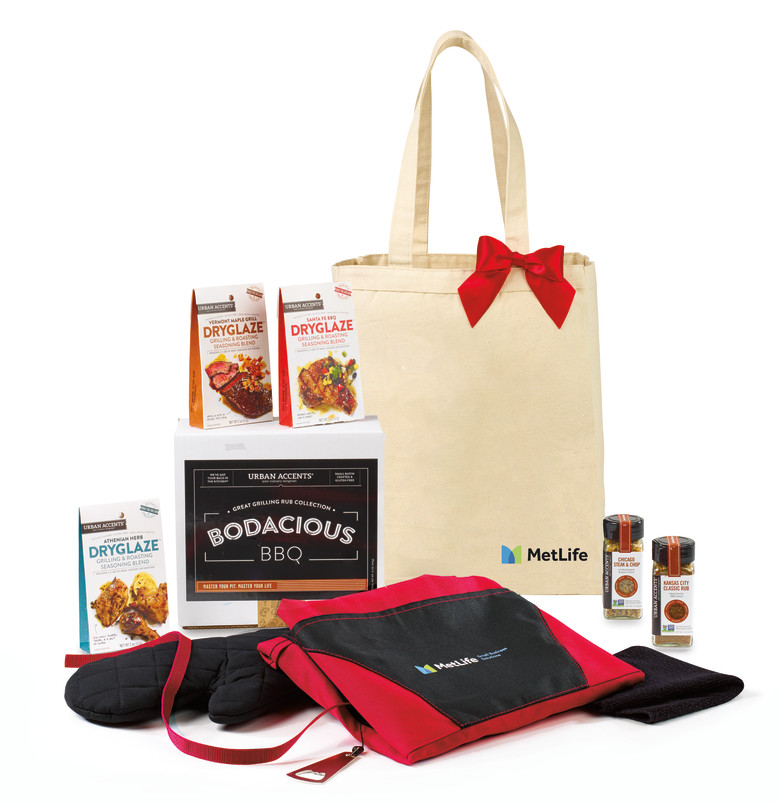 This BBQ set is a great idea for those who want to cook up delicious steaks, burgers, or hotdogs with family and friends—and create lasting summer memories.
This particular BBQ set has the following items:
Custom apron
Seasonings
Dry glazes
Tote bags
Bottle opener
Padded mitts and towels
To make it truly special, engrave the recipient's name on the barbecue accessories to add a personal touch.
Why employees will appreciate the gift: A barbecue party is a summer tradition that many want to continue, so this gift will make their day.
Pricing: $60
Where to get it: SwagDrop
Burger night set
There is nothing better than a great burger.
The juicy, nicely-done steak in between two soft buns will leave people craving for more.
So take your employees on a flavor journey with this burger night set.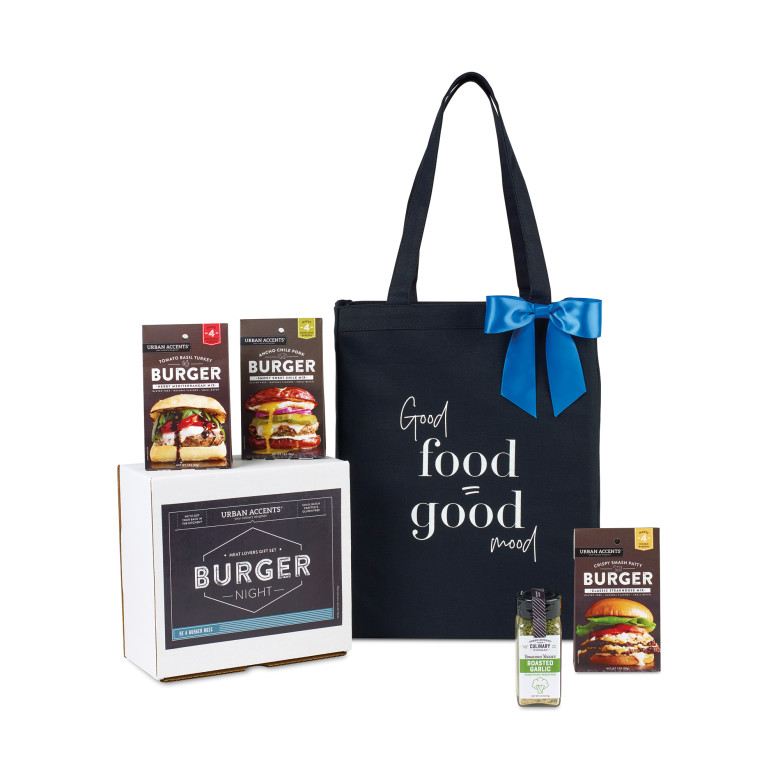 This mouth-watering gift caters to all tastes and flavors, combining American, Mediterranean, and Cuban cuisine in one neat package.
Why employees will appreciate the gift: It lets employees experiment with bold or traditional flavors to create a memorable experience.
Pricing: $48
Where to get it: SwagDrop
Popcorn set
Popcorn is part of our moviegoing culture—and it's here to stay!
Since you simply can't watch a movie without munching on some delicious snacks, treat your employees with some gourmet popcorn.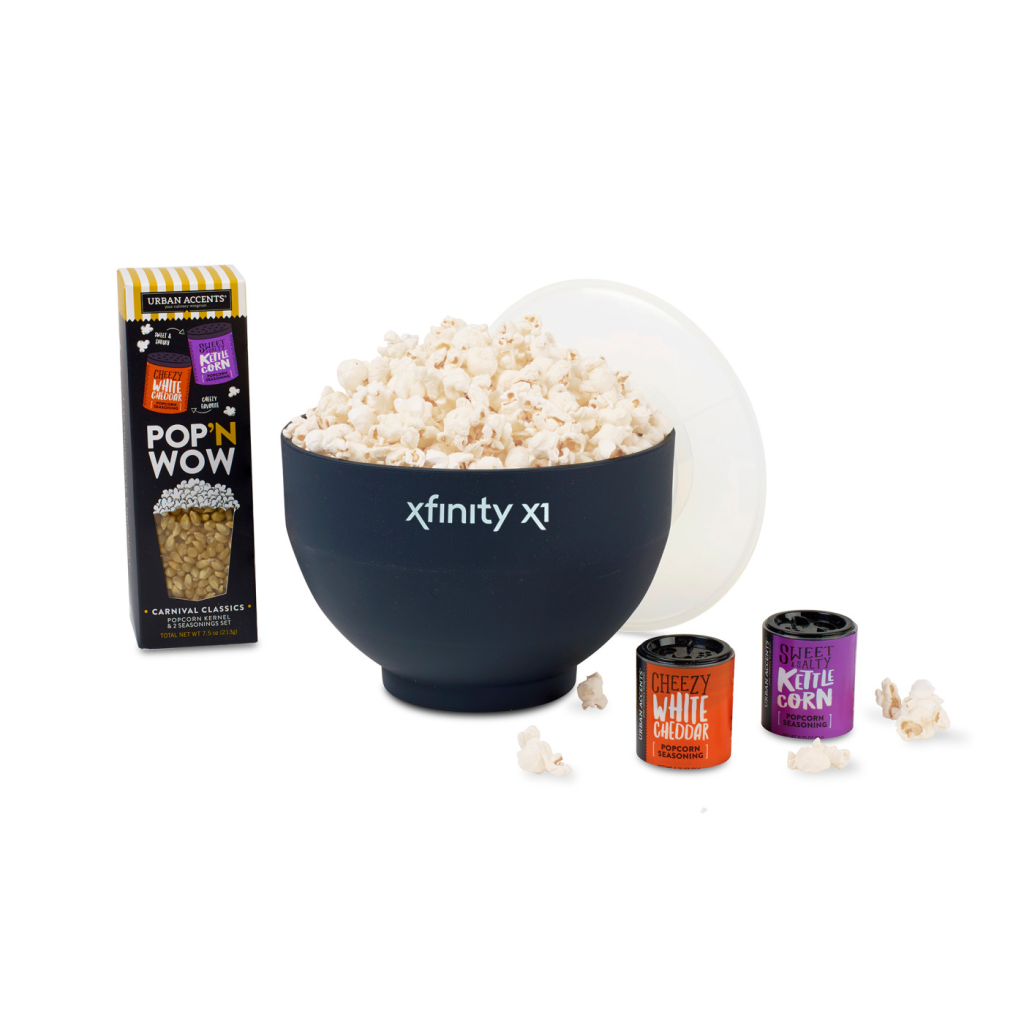 This is the perfect opportunity to play with the flavors and enchant your employees with tastes they may have never tried before, such as blueberry scone, salty caramel, or cinnamon swirls for those with a sweet tooth.
In your popcorn gift basket, add the following items:
Packets of enticing flavors
Different salty, sweet, or cheesy seasonings
Cans of organic sodas or soft drinks
A branded snack bowl
Author's Tip: Pair the popcorn gift set with a selection of movie classics to make the gift unique.
Why employees will appreciate the gift: Popcorn evokes sentiments of comfort and warmth—and the branded bowl is a lovely addition to any home.
Pricing: $30
Where to get it: SwagDrop
Gourmet cooler
Break traditions with a nice gourmet cooler!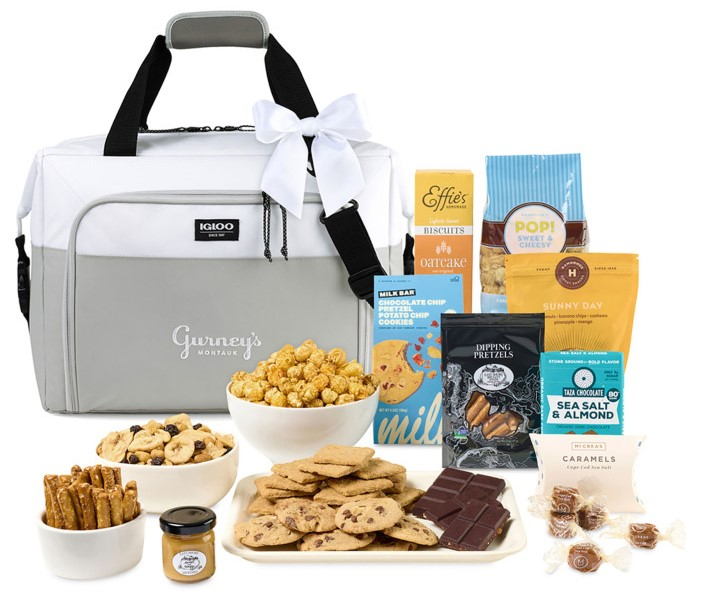 A gourmet cooler is a perfect gift for one employee or for sharing with your team members since it'll make anyone's day. But it also promotes how thoughtful your organization is.
The cooler can include many handpicked gourmet treats such as:
Pretzels and cookies
Oatcakes and nut mix
Energy bars or potato chips
Author's Tip: Include treats your employee might like, but be wary of any allergies or dietary restrictions.
Why employees will appreciate the gift: The cooler bag is highly versatile and fits any lifestyle, so it's a perfect playmate for everyday needs.
Price range: $75 – $110
Where to get it: Contact us
Tips, tricks, and inspiration delivered straight to your inbox.
Subscribe to learn more on how to break through the bustle.
Order Your Employee Gifts Now
Phew, this gift guide was long—and amazing!
We've included everything you need to create the perfect gift for each of your employees.
So, if you're ready to start customizing employee gifts, we can help you out!
Frequently Asked Questions (FAQs)
Anything you want us to shed light on? Take a look at our FAQ section to answer your questions.
Q1. What are the benefits of giving gifts to employees?
Whether it's on a personal or professional level, giving gifts includes the following benefits:
Increases productivity
Improves morale
Makes employees feel valued
Q2. What are some common mistakes to avoid when giving gifts to employees?
It's easy to make mistakes when choosing presents for your employees.
Here are some common blunders you can avoid when it comes to gift-giving:
Offering cheap gifts or gifts that are too expensive
Choosing gifts that are too personal
Pressuring people to participate
Gifting presents at the wrong time
Being too generous
Q3. How can I measure the impact of my employee recognition program?
One great way to measure the impact of your employee recognition program is to hold an annual employee survey where you ask questions about your gifts.
Since employee gifts are an investment, it's reasonable to track their success and work on your strategy to make sure you create a happy work environment.
Remember to encourage honesty!
Q4. How much should I spend on employee gifts?
Your annual budget is the one that determines how much you can spend on employee gifts. It's a good idea to allocate a gift budget each year to see how much you can use.
As a general rule of thumb, $30 is a good starting point for small employee gifts. For other special occasions, such as Christmas gifts or work anniversaries, you can increase your budget to $100 or more.
Q5. How can I make employee gifts special?
You can make employee gifts special by adding a personal touch to them, meaning that you can customize a variety of practical items with messages, colors, and logos.