Wondering what your new employees expect to see in their welcome kit?
We've created a list of 19 items to help you improve your onboarding and create a better experience from day one.
Here's what we're covering:
What's a new hire welcome kit and why is it important?
19 essential items to include in your new hire welcome kit
Six new employee welcome packs from popular companies
Let's get started.
Jump to the Section You Want
What's a New Hire Welcome Kit & Why Is It Important
19 Items to Include in Your New Hire Employee Kit
6 New Employee Welcome Kit Examples From Companies You Probably Know
What is New Hire Welcome Kit & Why Is It Important?
A new hire welcome kit is a welcome package that gets given to new employees.
The package usually includes a collection of items that the new employee will need on the job.
Freebies and welcome kits are usually given on the first day of work to celebrate a new team member and their new job.
When it comes to boxes with welcome gifts, companies should really take care of the quality of the products that they choose to include in their packages.
I think the following statement beautifully captures the importance of giving high-quality and useful products as welcoming gifts.
See below:

Image Source: Inc.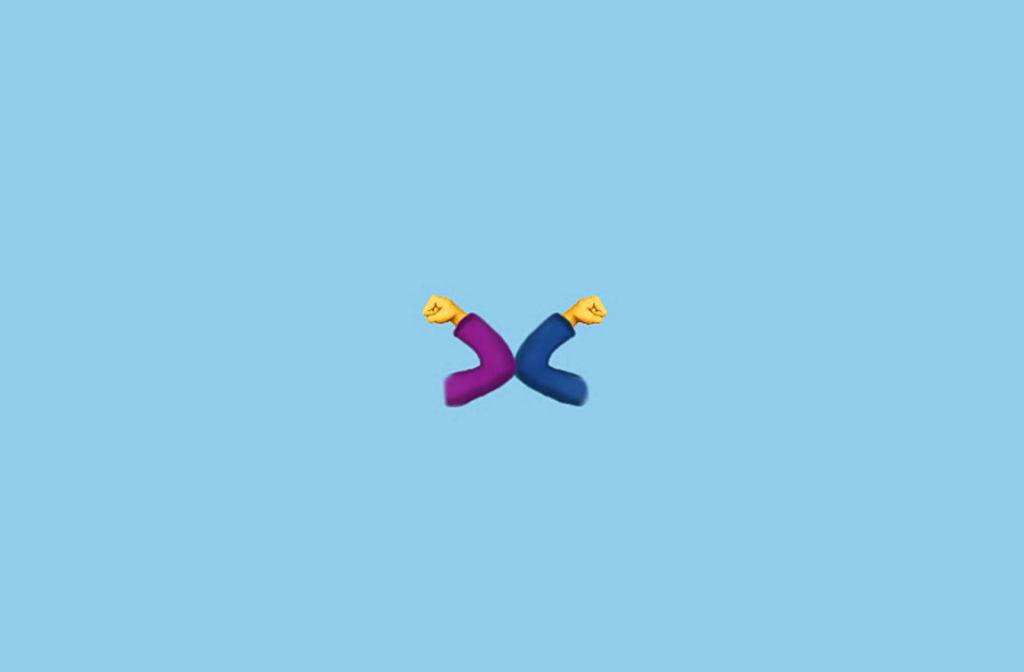 Image Source: WIRED
In other words, the company swag that new employees receive on their first day at work needs to be a great and appropriate representation of the culture that the company wishes to promote.
The same way a good handshake, or a friendly elbow bump, creates a good first impression between people that haven't previously met, a tasteful welcome kit gives new employees that haven't started working with a company yet a great new hire feel.
This is very likely to reflect on how an employee sees the company in the future and feels about working with them.
Everyone wants their employees to respect them and think of them as tasteful and people of high quality.
Simply put, employees can judge a business by their welcome packages and that's why these should be as good as possible.
In terms of the importance of employee onboarding kits, there's no need to say that new employees will highly value them.
An onboarding kit can make the onboarding process more pleasant as it'll make the new employee feel part of the team.
That's inarguably a great feeling to have on a first day at a new job, right?
Nowadays, there's a big number of companies that choose to work remotely.
The COVID-19 pandemic has made this an even more frequent situation.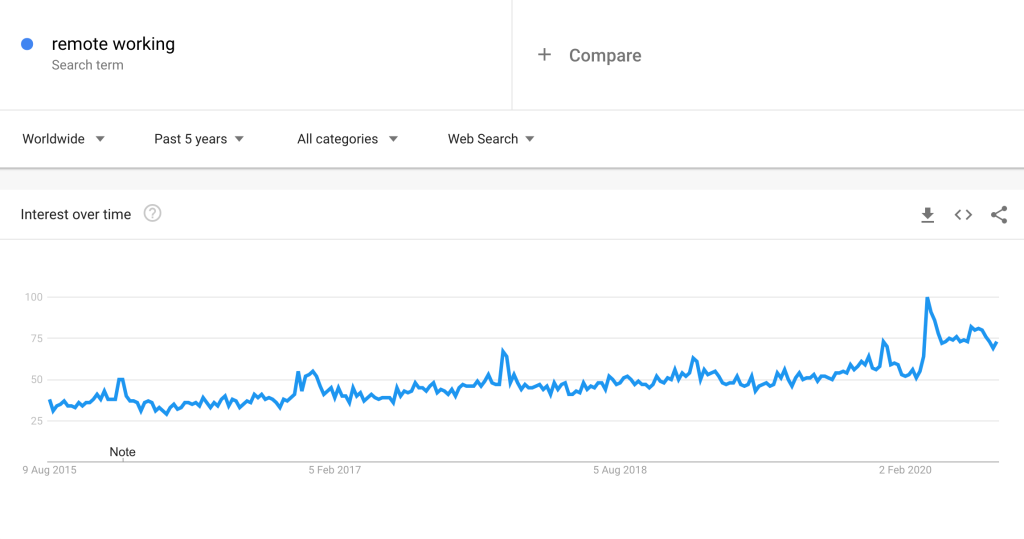 Image Source: Google Trends
The screenshot above shows that there's an upward trend as more and more people are getting interested in remote working over the past five years.
Although remote working might be the new reality, and can be highly beneficial for a number of businesses, especially during a pandemic, companies shouldn't forget how important the personal touch is within the workplace.
Especially if the workplace is not a physical space.
Company swag can be a way of actually giving this personal touch to new members of staff as well as to make links between co-workers who'll own the same items in terms of their workplace.

Image Source: Academyocean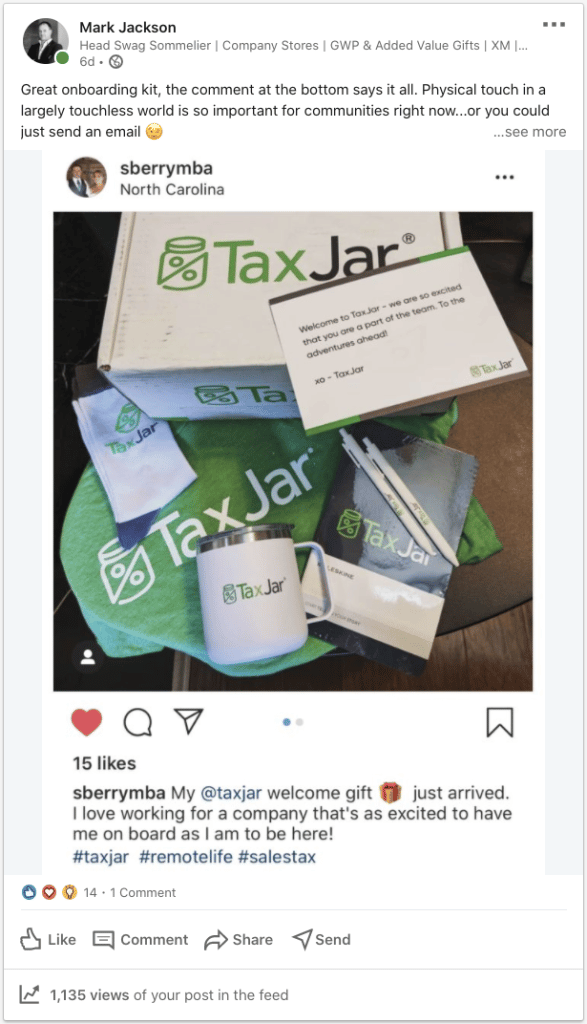 In other words, new team members are always happy to use their social media and post photos of their onboarding packages because this gives them the opportunity to show how proud they are of their new job and share good news with their audience.
Posting on LinkedIn is big too.
Look at this recent post showing that masks and touchless tools are becoming part of onboarding kits to keep staff safe.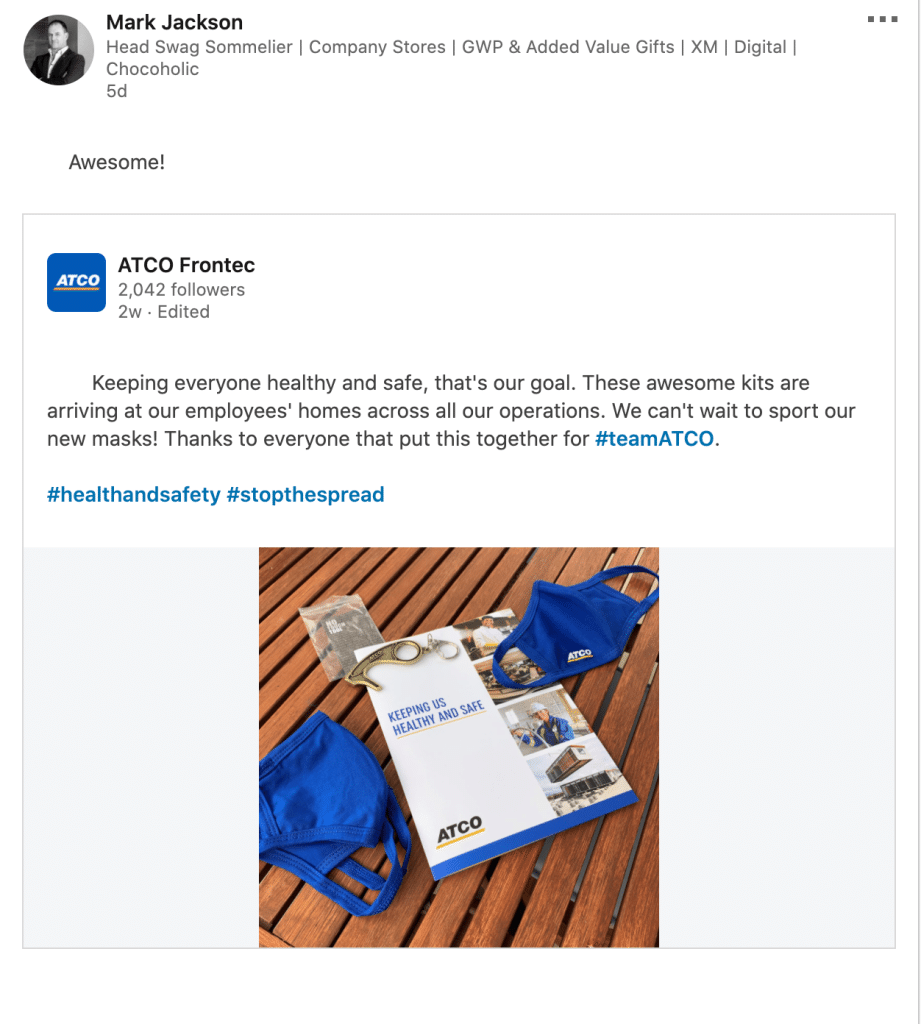 Image Source: LinkedIn
More than just a post on social media, such posts work as great advertisements for the company that gave the kit.
We've explained what a welcome kit is and why it is important.
I'm now going to give you some ideas for what kind of items you could include in your welcome packages.
19 Items to Include in Your New Hire Employee Kit
This section is going to give you some ideas about what kind of items you could consider including in your welcome boxes.
The items in this list are a mix of products that a new employee could make use of at work, along with objects that are slightly more personal and could be used by someone outside of their workplace.
The list is long so let's get right into it.
Item #1: Handwritten Welcome Letter
The first item that should be put in every welcome kit is a handwritten welcome letter.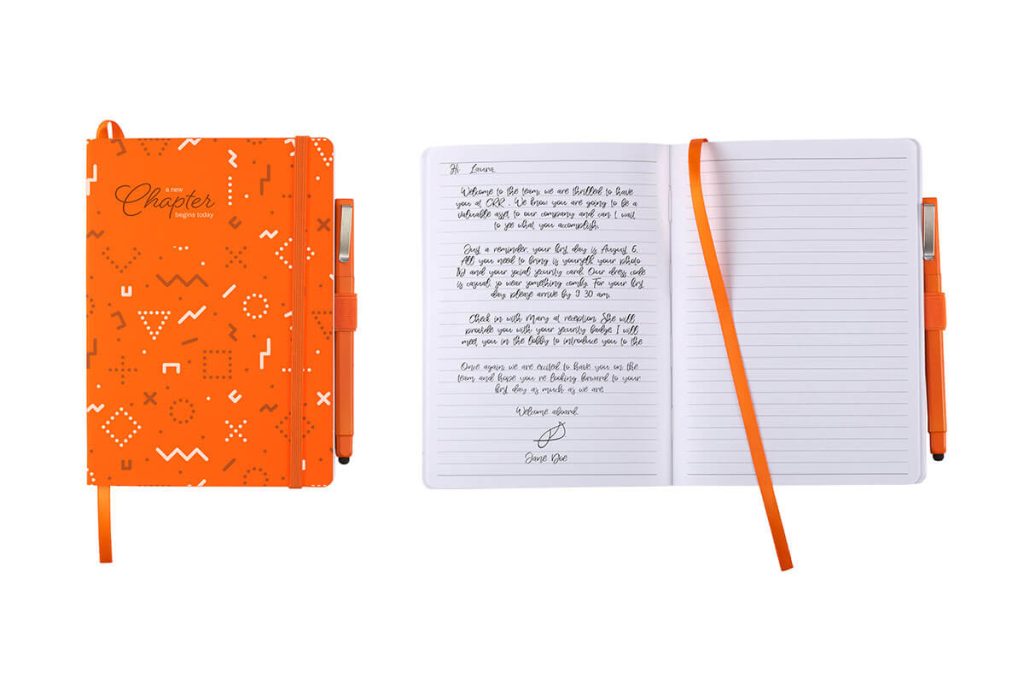 Thoughtful handwritten letters are great; they can add personal and sentimental value to the employee welcome kit.
An employee that receives a handwritten welcome letter is more likely to feel unique and part of the team sooner than people that start work at companies without accepting such a letter.
Item #2: Coffee Mug
Another item that's very popular with companies in terms of their welcome packages is a coffee mug.
MHere's some striking images and decoration for traditional coffee mugs.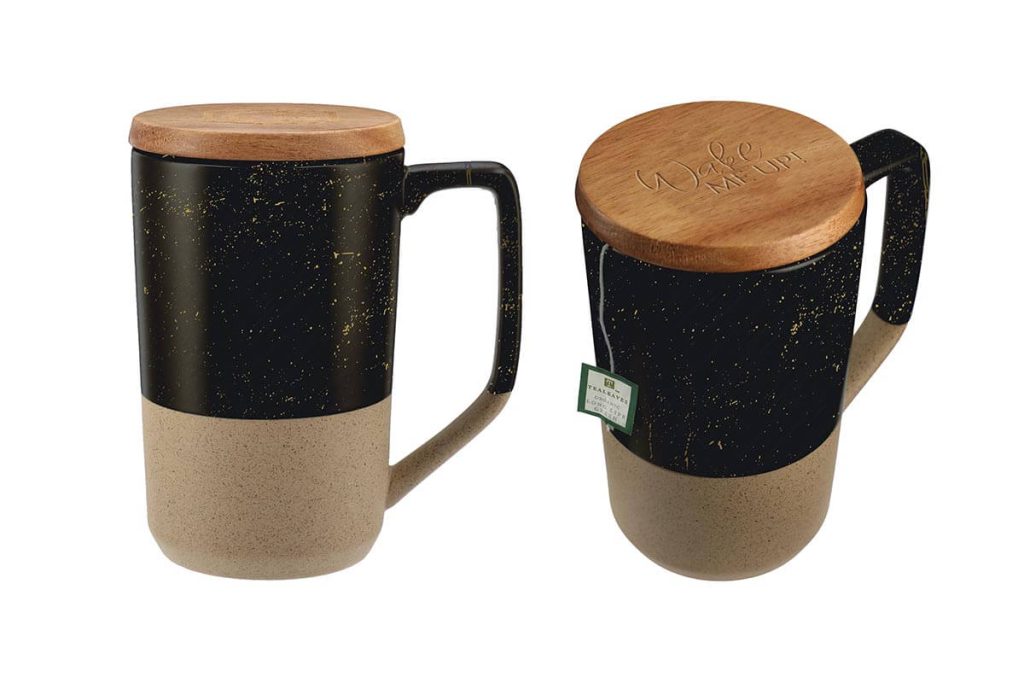 Although a coffee mug isn't a special object, it's definitely a useful one.
Employees can also save some time stopping by the coffee shops around the neighbourhood and prepare their own coffee at work if – of course – the workspace gives that option.
Price Range: $5-$10
Item #3: T-shirt
The third item is the old time classic, the t-shirt; an item that's always useful to have.
The key with t-shirts is to make them more fashion pieces rather than just pieces with a giant logo that will hit the closet or the bottom of the drawer.
Bella and Canvas are excellent and they're using multi fabric blends.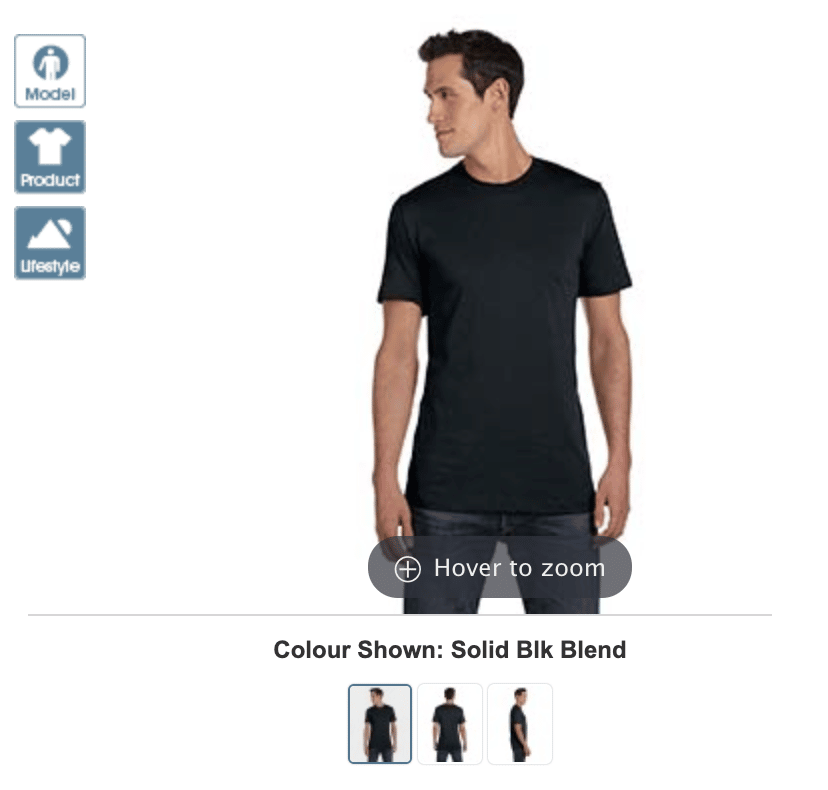 Image Source: Alphabroder
Giving employees merch t-shirts can also work in favour of the company.
Given that the t-shirt is a garment that someone can actually wear and it's not a tasteless piece of clothing, the logo on a t-shirt can promote the company's motto and increase the visibility of the brand.
Price Range: $8-$15
Item #4: Water Bottle
An essential and eco-friendly object that companies should definitely consider giving to all their staff and include in their onboarding kits is a water bottle.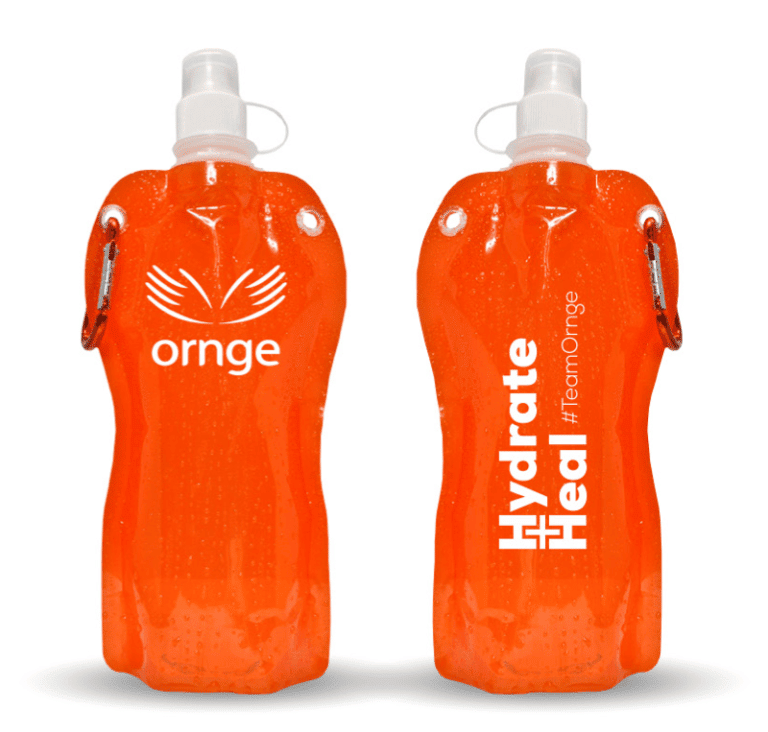 Image Source: PRG
A water bottle saves tons of plastic bottles.
It's a practical and tasteful item that a new employee could make use of at work as well as during their everyday activities.
Price Range: $2-$7
Item #5: Employee Handbook
A useful item that should be part of every employee welcome kit is an employee handbook.
In other words, a document that includes important information that members of staff may need to refer to, possibly on a daily basis.
The information is usually in relation to the terms and conditions of employment. Creating an employee handbook is one of the best things you can do to bring new employees up to speed faster.
As most policy forms, resources etc. are on companies Intranets, you could also consider giving your new hires a journal that can be used in meetings.
These journals could include some key quick reference information for the new team member.
In other words, an agenda of training and to-do's.
Price Range: $20-$24
Item #6: Stickers
The next item I have for you is a playful one: stickers.
These are primarily used as laptop or portfolio stickers, inexpensive enough that you can include a selection in a pack that will likely have something in there for everyone.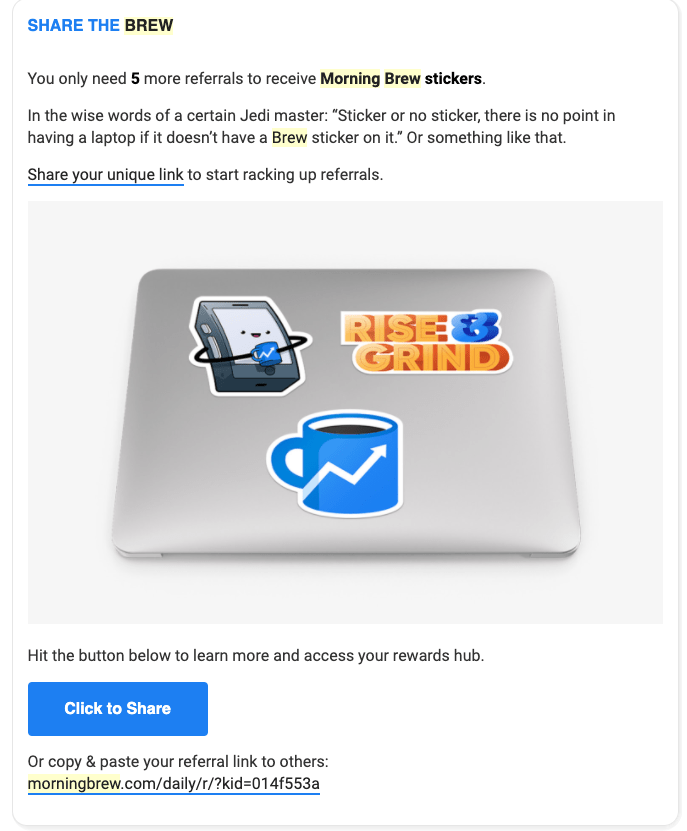 Image Source: Morning Brew
Stickers are rarely useful but they can be fun.
Additionally, companies can make stickers more useful by writing motivational quotes that'll make their employees feel motivated and inspired.
Price Range: Under $3
Item #7: Light-box or Felt Letter Board (Nameplate Alternatives)
Since nameplates are becoming a thing of the past we would suggest something like a light-box or felt letter board as alternatives to the traditional nameplate.
The employees can change it with inspirational quotes according to their mood.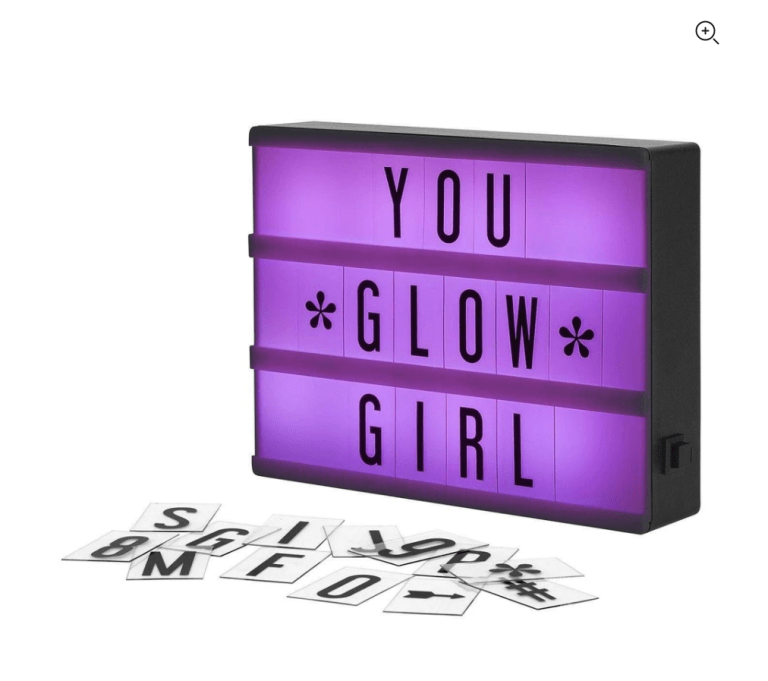 Image Source: Amped & Co
People love sharing light boxes on Instagram.
Here's a nice felt board example.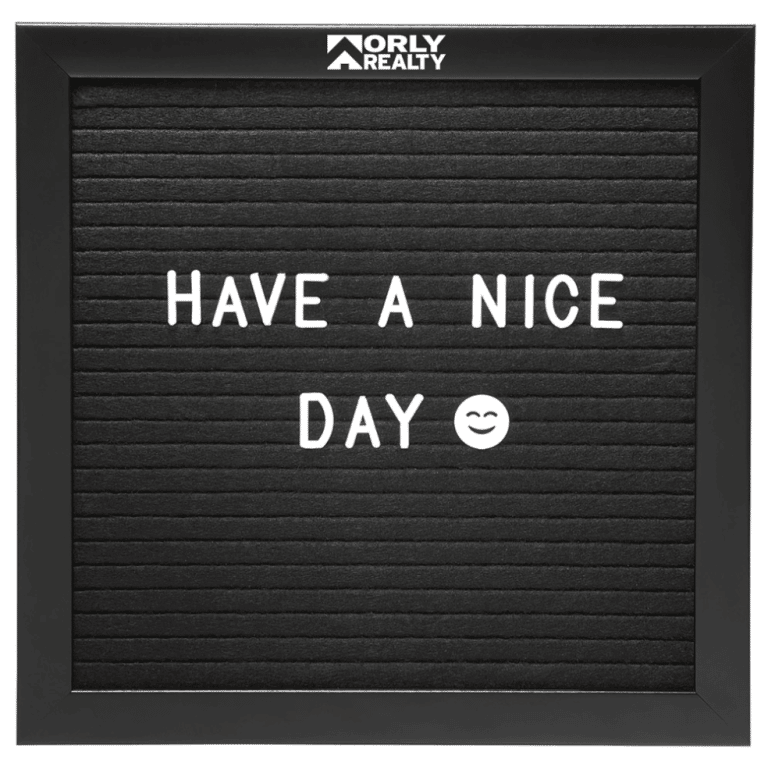 Image Source: PCNA
We would recommend shipping it to your new team members with their welcome kit and they can take it from there.
Price Range: Light box $15-$25 / Felt board $13-$18
Item #8: Blue Light Glasses
A great welcome gift for a new hire could be a pair of blue light glasses.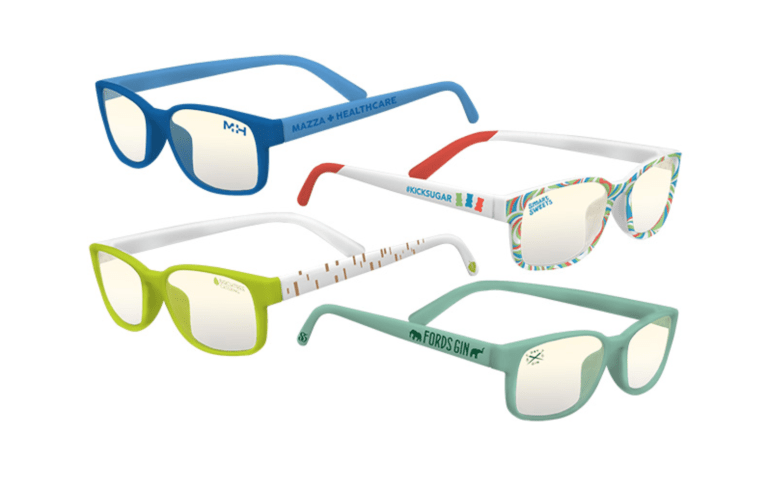 Image Source: Pop!promos
Such a gift can be convenient both for employees that work in an office as well as for those that work from home.
Blue light glasses reduce the damage to the eyes that's caused by blue light produced by screens and displays.
These glasses are very useful for those who spend hours working in front of screens, and for that reason they can be an appropriate gift for a new employee.
Price Range: $4-$8
Item #9: Office Supplies
We're almost halfway through our list of the 19 items that your new hires will be happy to see in their welcome kit.
What shouldn't be missing from any welcome kit are office supplies.
Here's a great starter kit.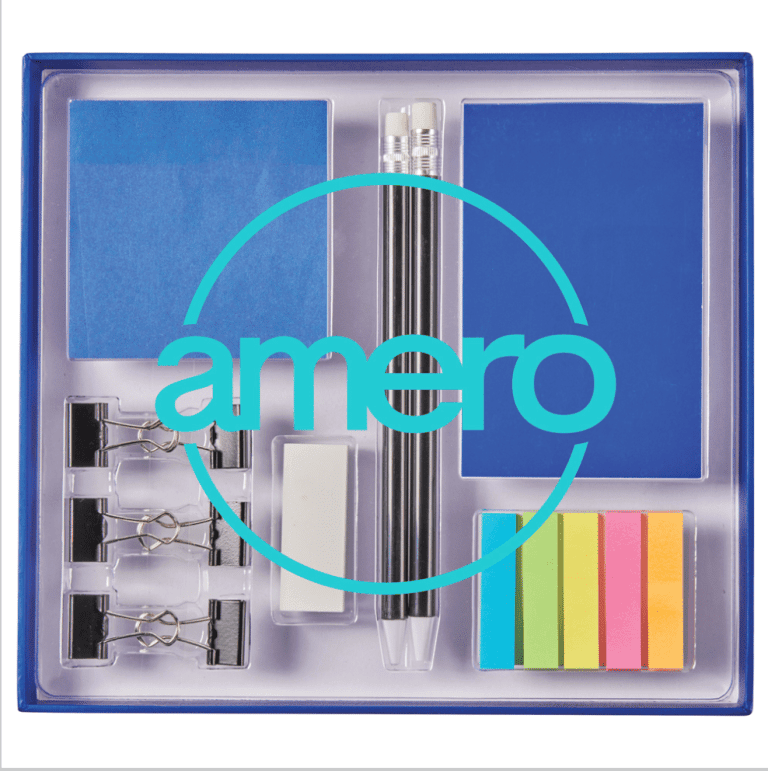 Image Source: PCNA
Office supplies may vary from pens and pencils to highlighters, scissors, staples, tape dispensers, and so on and so forth.
As part of the office supplies, you could also include a lanyard where the employees can hang their name tag or office ID.
In a few words, office supplies are absolutely essential to any employee working in an office.
Price Range: $6 – $10
Item #10: Notepad
Following on from office supplies, another item that new employees will definitely love finding in their welcome package is a notepad.
Although more and more people prefer taking notes on their laptops these days, a good notepad is always handy both within the office and at home.
Price Range: $5-$6
Item #11: Face Mask
One of the most useful items on this list, given the current COVID-19 pandemic is a face mask.
These are a great option.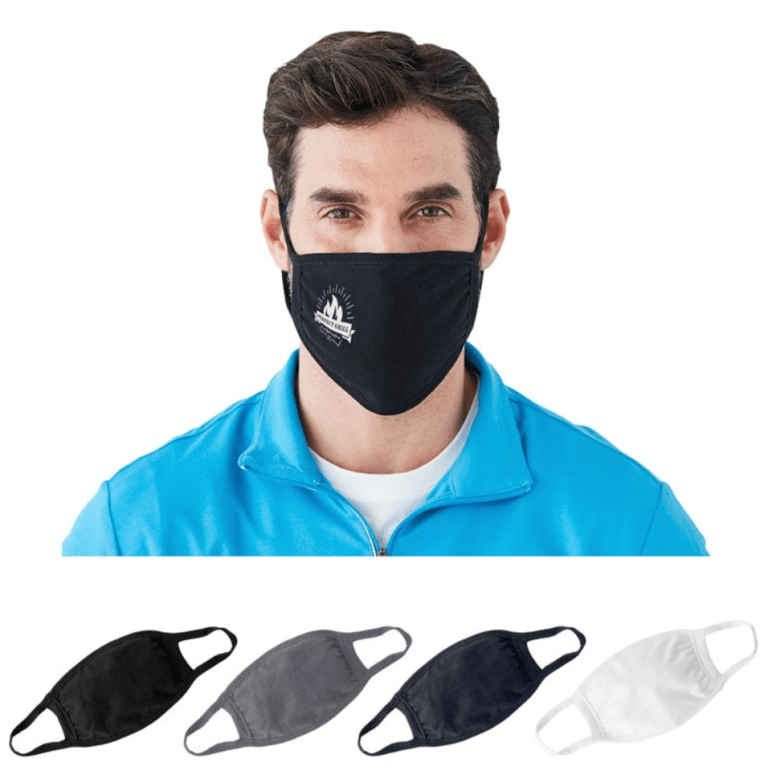 Image Source: Prime Line
Price Range: $3-$4
Item #12: Candle
A slightly more personal and special gift idea for new hires is a candle.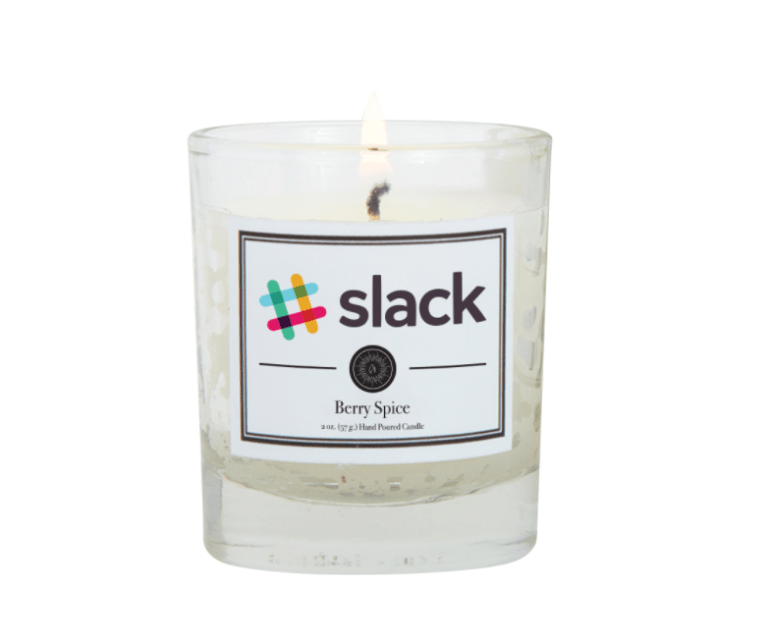 Image Source: Snugzusa
These days, an increasing number of companies have started working remotely thus making a gift for a new employee's house highly appreciated.
Candles can be customized with the company brand or inspiration on them.
Price Range: $6-$10
Item #13: Tote Bag
Another great and eco-friendly item that should be included in an onboarding kit is a tote bag.
Tote bags are extremely handy and lightweight, usually made of cotton.
Rather than a standard poly or burlap reusable shopping bag, stand out with a custom printed Vegan Leather Bag…yes, I said Vegan Bag.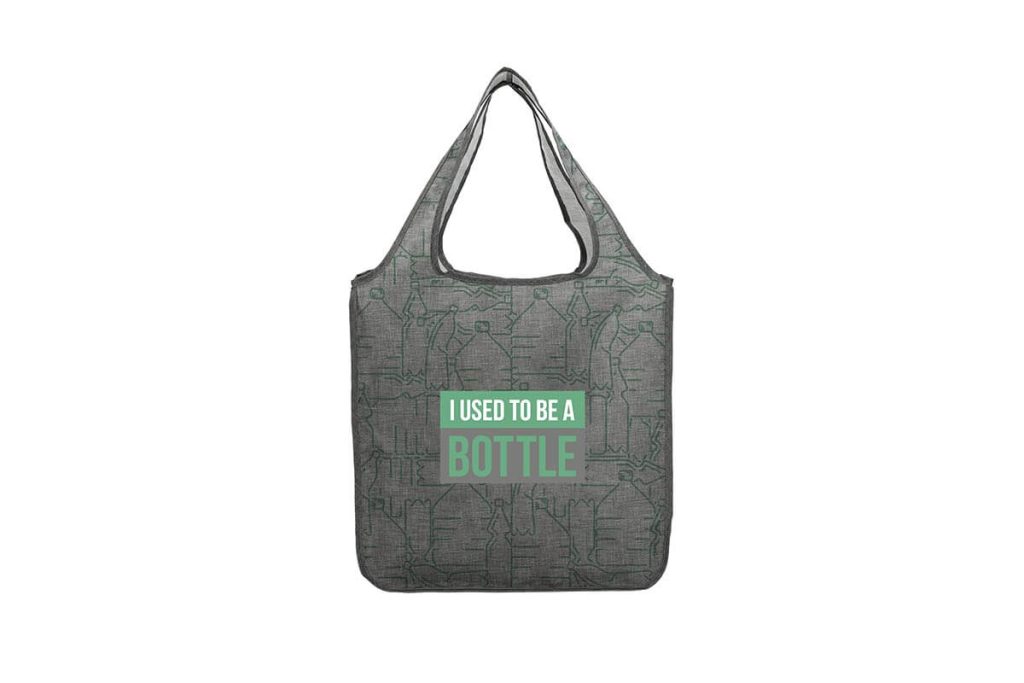 What's great about tote bags is that they can be reused trillions of times thus saving tons of plastic.
More than just a useful gift, they also convey a message of being conscious about the planet and the use of plastic bags.
That's a beautiful message for any company to communicate with their employees.
Price Range: $8-$15
Item #14: Hoodie
Another gift that's similar to the t-shirt that we covered earlier and can be part of an onboarding box is a hoodie.
What could be better than a Made In Canada one of a kind hoodie?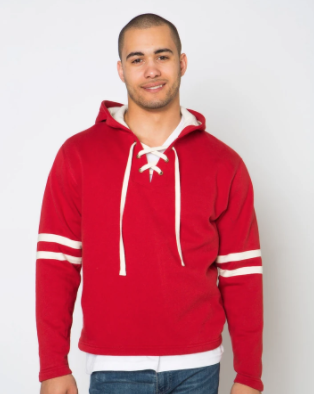 Image Source: Redwood Classics
In order for company swag to be worn outside and therefore increase the brand's visibility, companies should keep in mind that such garments must be tasteful and of high quality.
No one likes to walk around wearing low quality merchandised clothing.
Price Range: Contact for pricing and options
Item #15: Kindle
A gift that new hires would be thrilled to find in their welcome kits is a Kindle.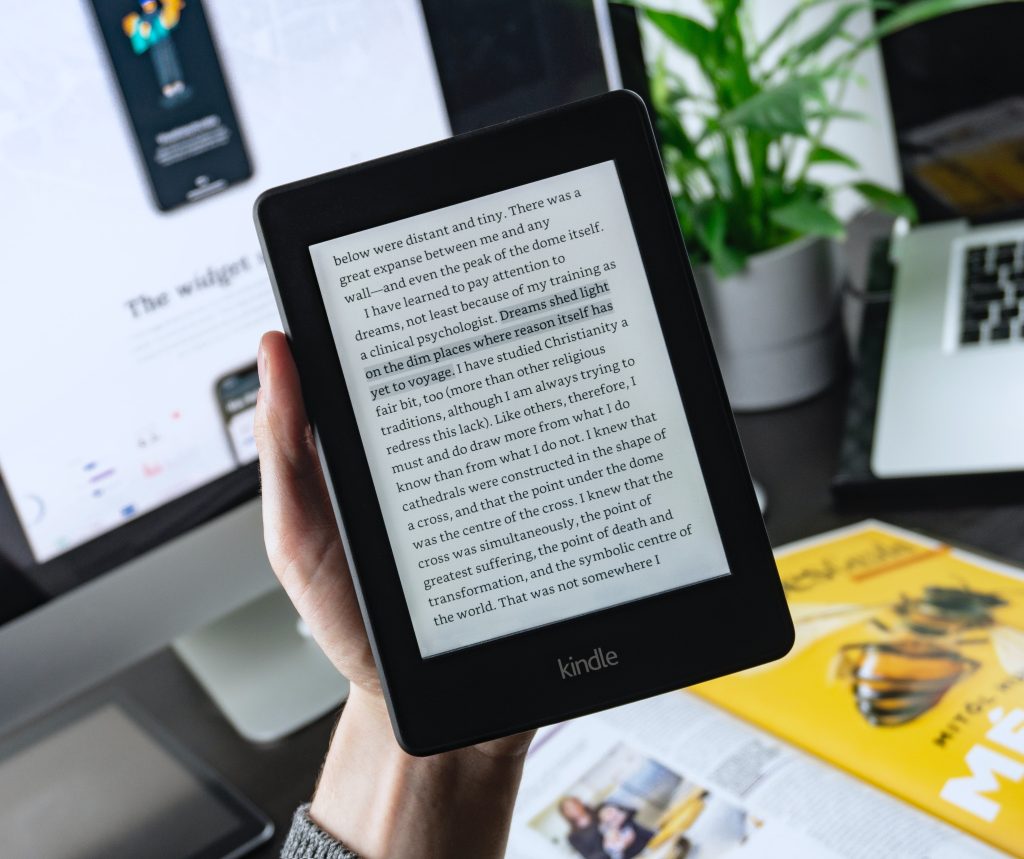 Photo by Balázs Kétyi on Unsplash
Kindle is not necessarily related to someone's workplace but as an alternative to printed books, it's definitely an item that more and more people are starting to buy and use.
Giving a Kindle as a gift to new employees can give them a very nice first impression of the company's high quality and imagination.
Many companies circulate books that teams need to read.
A great idea would be to preload the book and also to print the company logo on the reader.
Price Range: Call for pricing
Item #16: Camera Blocker
Another item that could be placed in a new hire welcome kit is a camera blocker.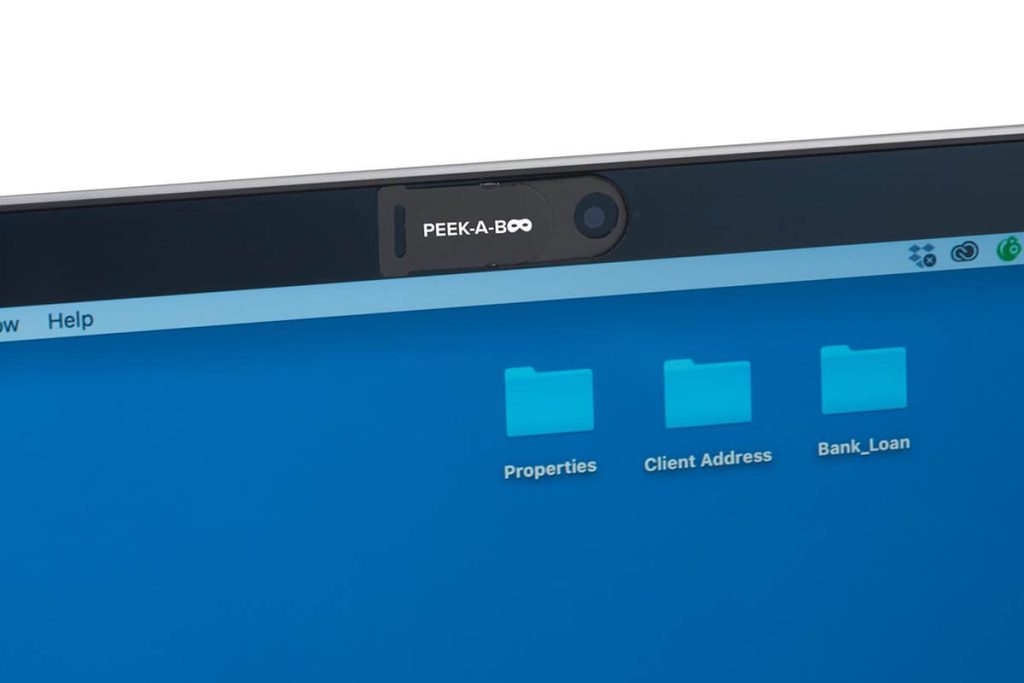 A camera blocker slides open and closed to protect the user's privacy and there are many people that love using them as they feel that their privacy won't be violated this way.
Camera blockers usually fit most laptops.
Again, as with many other items in this list, a camera blocker is something that an employee can use both when at the office and at home.
As an additional idea we suggest this handy Zoom studio light for perfect remote meetings.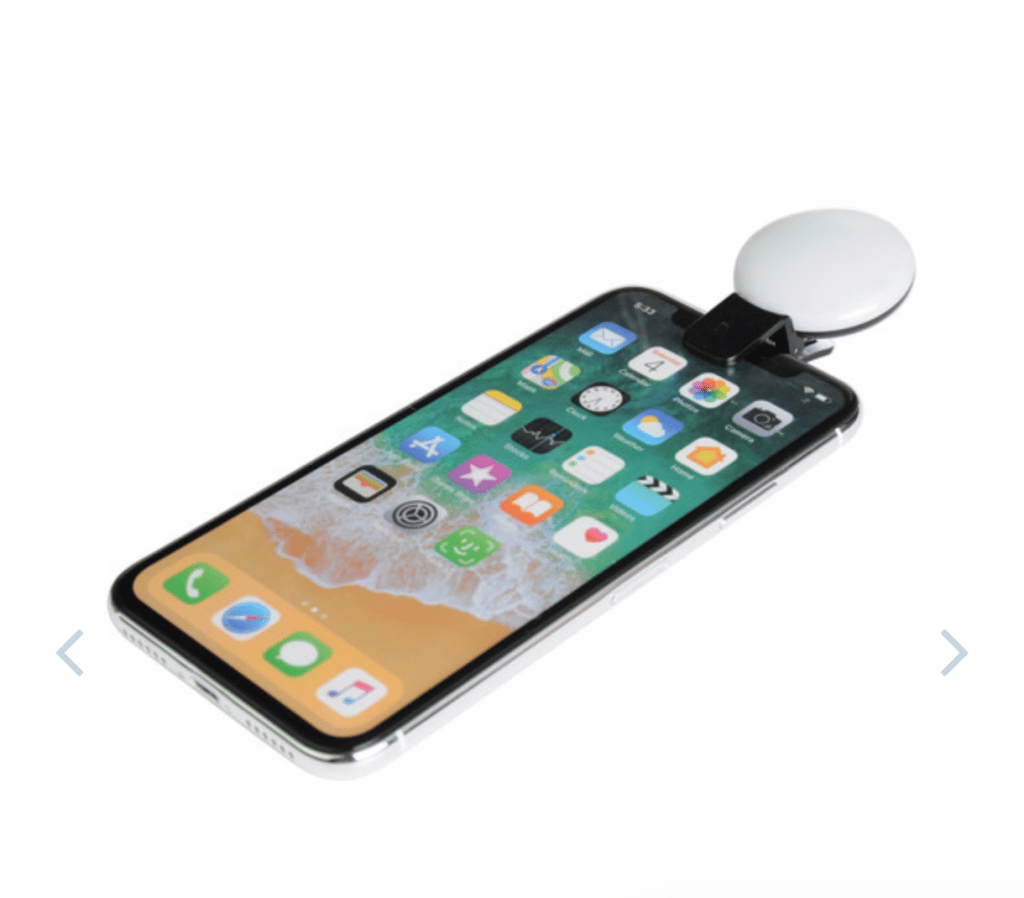 Image Source: iclick
Price Range: Camera blocker $7-$9 / Light $7-$10
Item #17: Headphones
Following up from the Kindle, another gadget that employees will appreciate is a set of good headphones.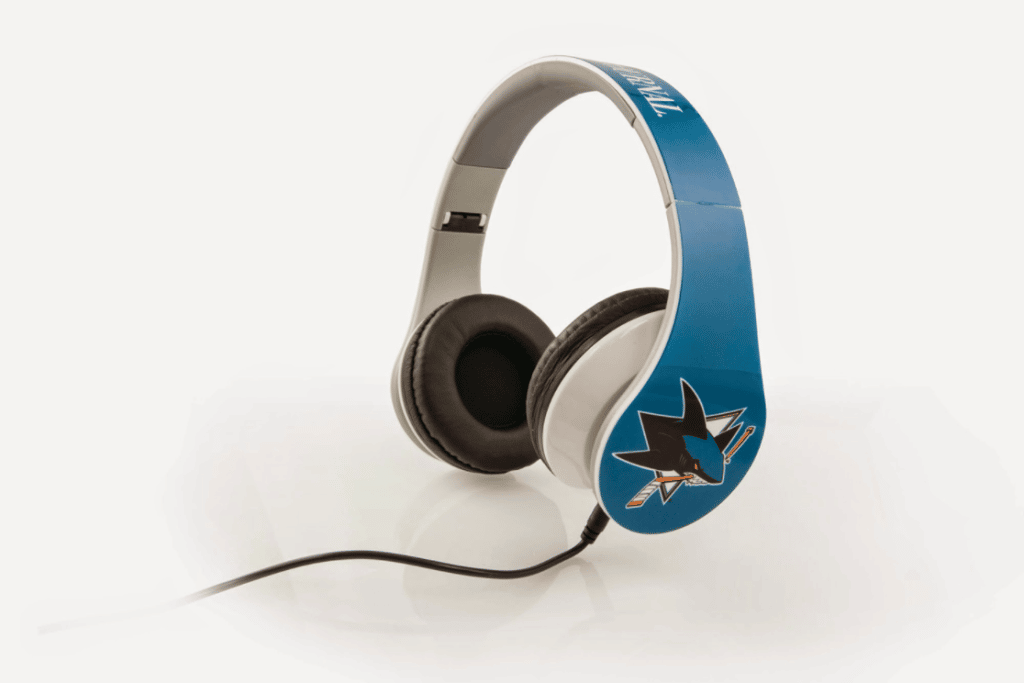 Image Source: Origaudio Promo
Headphones are useful to everyone since so many people spend time using their phones to listen to music when they're commuting to get to work, when exercising, or even when taking a break from work.
Author's Note: You can combine that with a mouse and/or mousepad for your employees.
Price Range: $22-$28
Item #18: Yoga Mat
The second to last item I have for you is a yoga mat.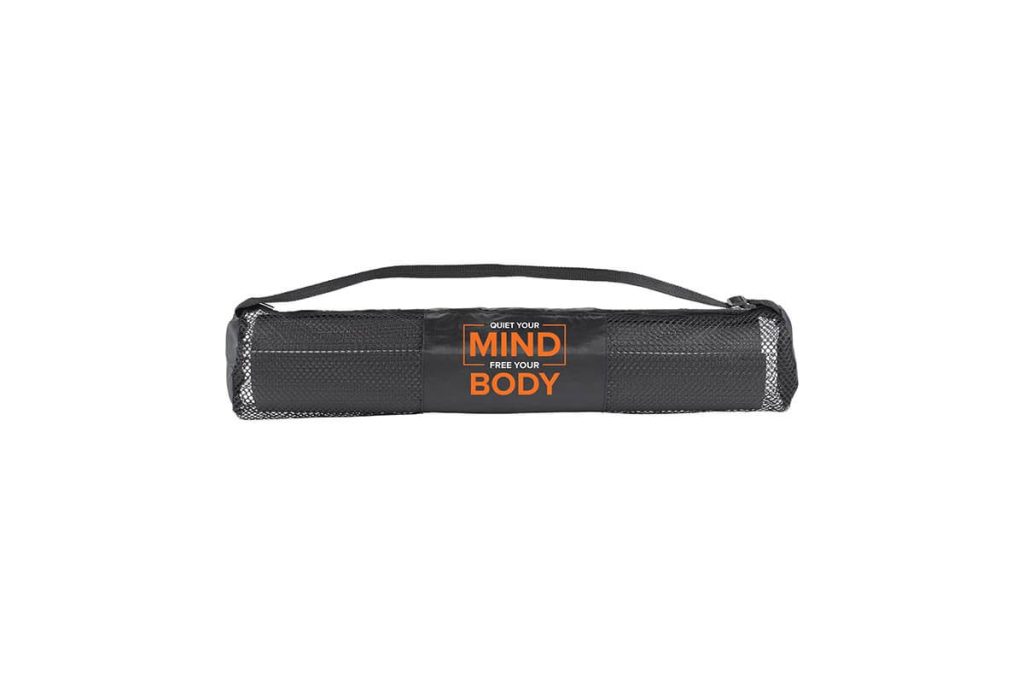 Image Source: PCNA
Although not everyone does yoga, a high quality yoga mat will be a fantastic gift for those who do any kind of exercise.
Especially if there's a designated space for exercise within the workspace, a yoga mat will be even more handy for your new employees.
Such a gift will also show that the company cares about their employees' wellbeing and fitness.
Price Range: $25-$31
Item #19: Goodies
We've made it all the way down to the end of our list.
The last item I have for you is a category of products that everyone loves: goodies.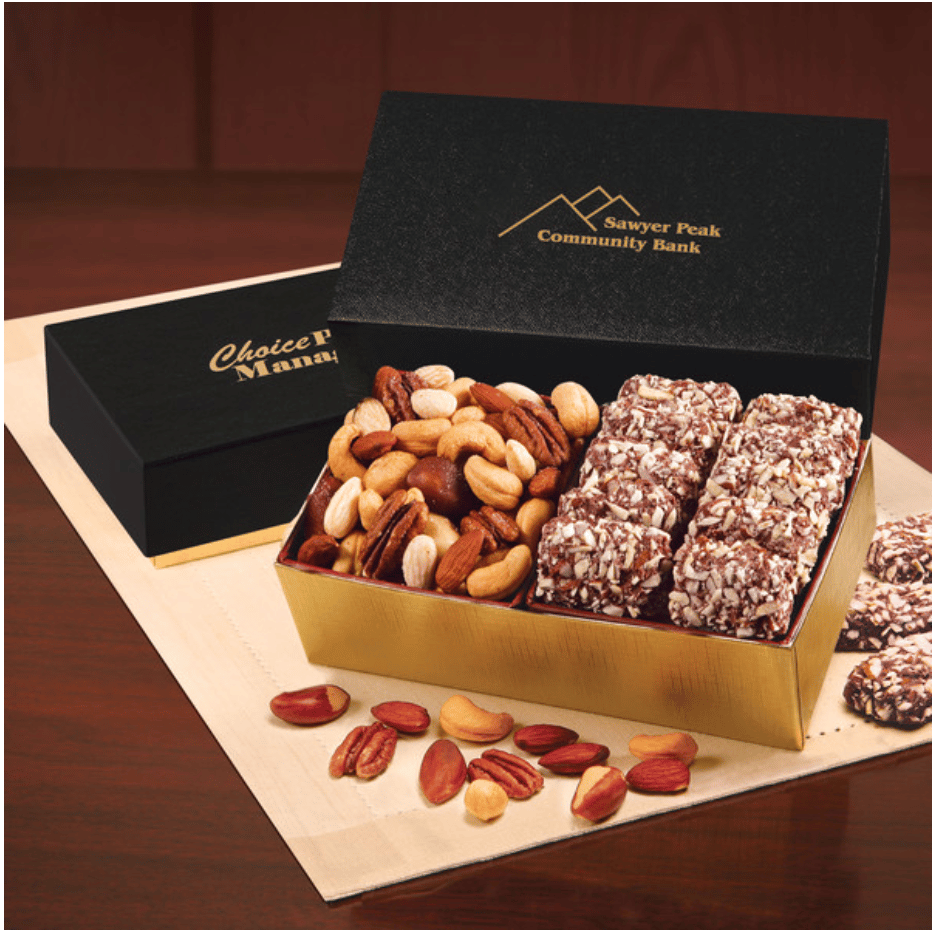 Image Source: Mapleridge
You can make a selection of delicious, high quality snacks and goodies, like nuts, dried fruits, crackers etc., and place them beautifully in the welcome kit.
Your new employees will be very happy to find a thoughtful bag full of goodies inside their onboarding box.
Price Range: $28
6 New Employee Welcome Kit Examples From Companies You Probably Know
In this section, I'm going to give you six examples of new employee welcome kits that companies are using.
Have a look and try to get as many creative ideas as possible.
Example #1: Ogilvy Introduction Box, the Company Formerly Known As Ogilvy & Mather
Advertising agency Ogilvy, founded by David Ogilvy in 1948, is one of the most prominent advertising, marketing, and PR agencies in the world.
Let's see what one of their creative and beautiful welcome packets to a new employee from some years ago looks like.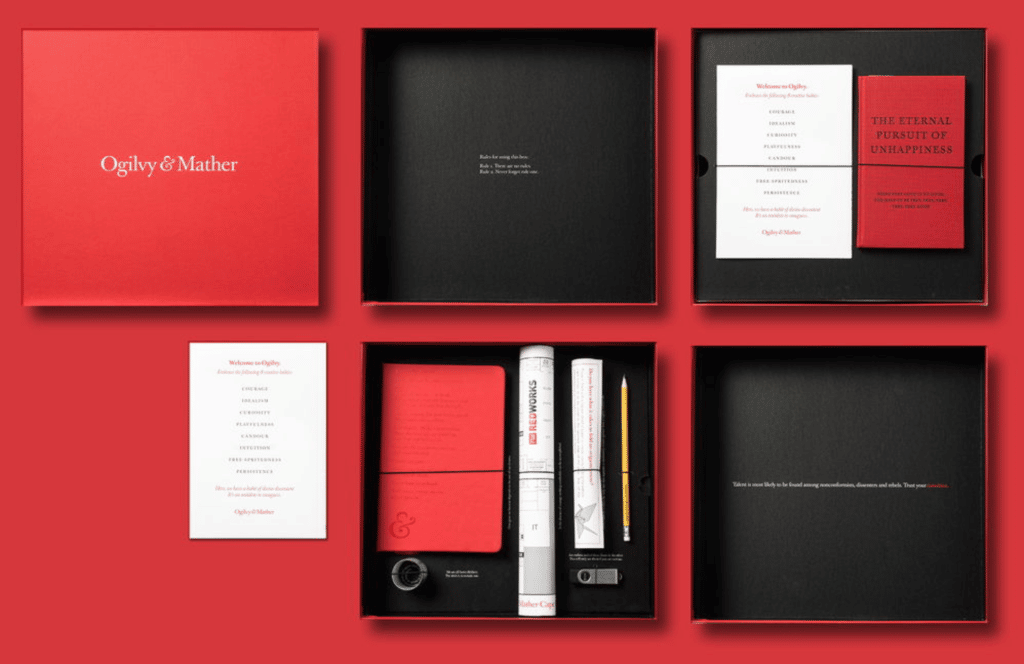 Image Source: Thedieline
Their kit is very stylish and the items in the box are both personal and professional.
Also, this kit is a great example of a welcome kit that is thought through and of high quality.
Let's now move on to the second example.
Example #2: NIKE Welcome Box
American manufacturer of athletic shoes, clothing, accessories, and equipment, Nike, is also a very good example of a company giving a compelling welcome package to their new hires that matches the company culture and style.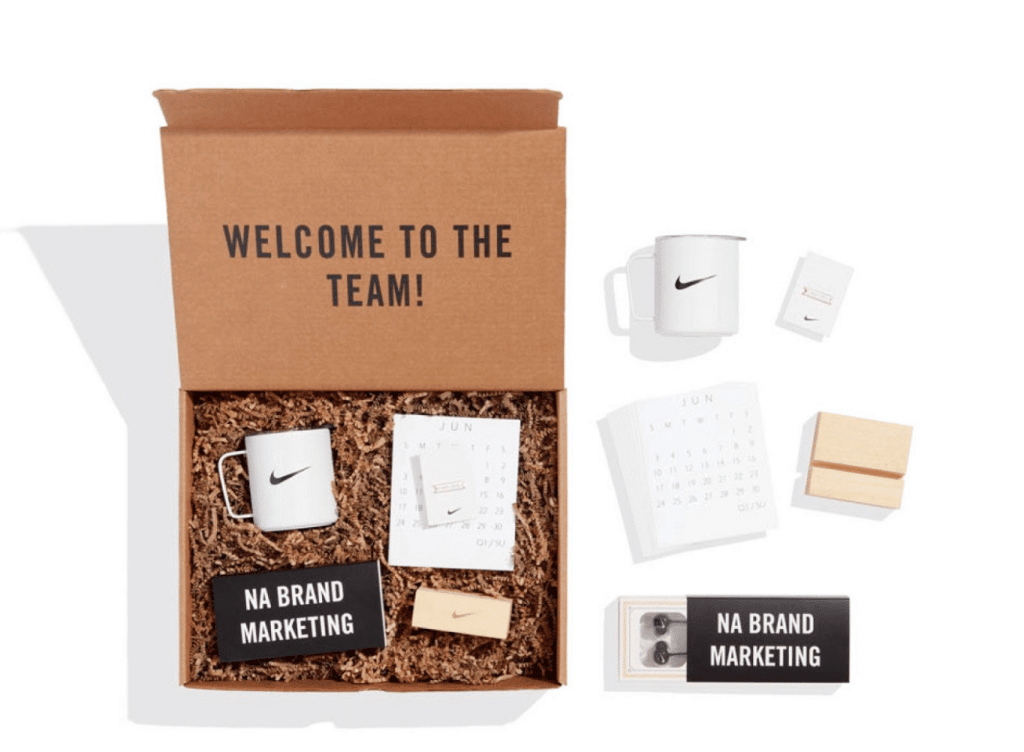 Image Source: Medium
As I already said, the objects perfectly match the brands' philosophy and style.
This kit is a minimal one that includes some essential items that a new employee at Nike can definitely make use of.
Moving on.
Example #3: MOCA Interactive Welcome Kit
The third example I want to show you comes from digital marketing agency MOCA Interactive.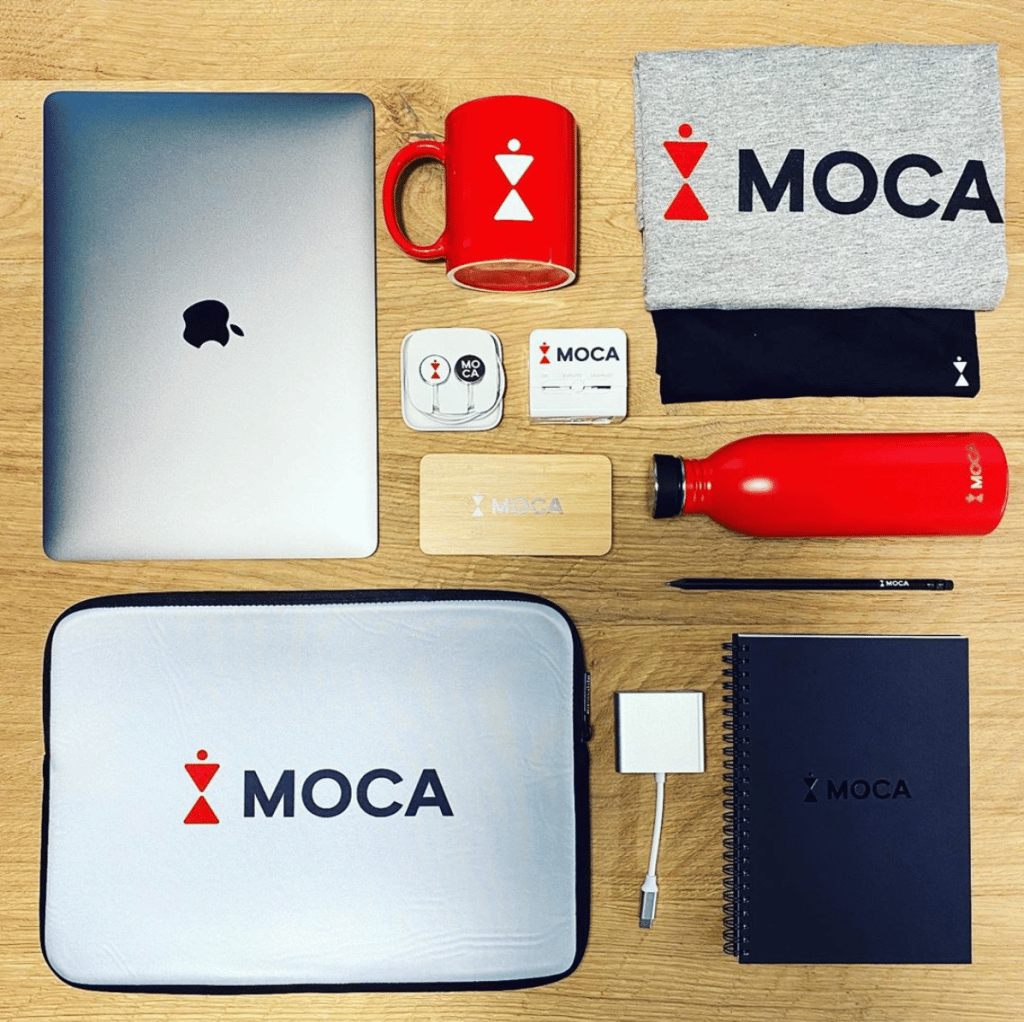 Image Source: Instagram
The company swag seems to be of high quality and, as you can see, there's a wide variety of items that were covered in the list that I presented to you earlier.
Example #4: BYJU'S The Learning App Onboarding Kit
Educational technology company BYJU'S gives their new employees a pretty welcome package that includes the following: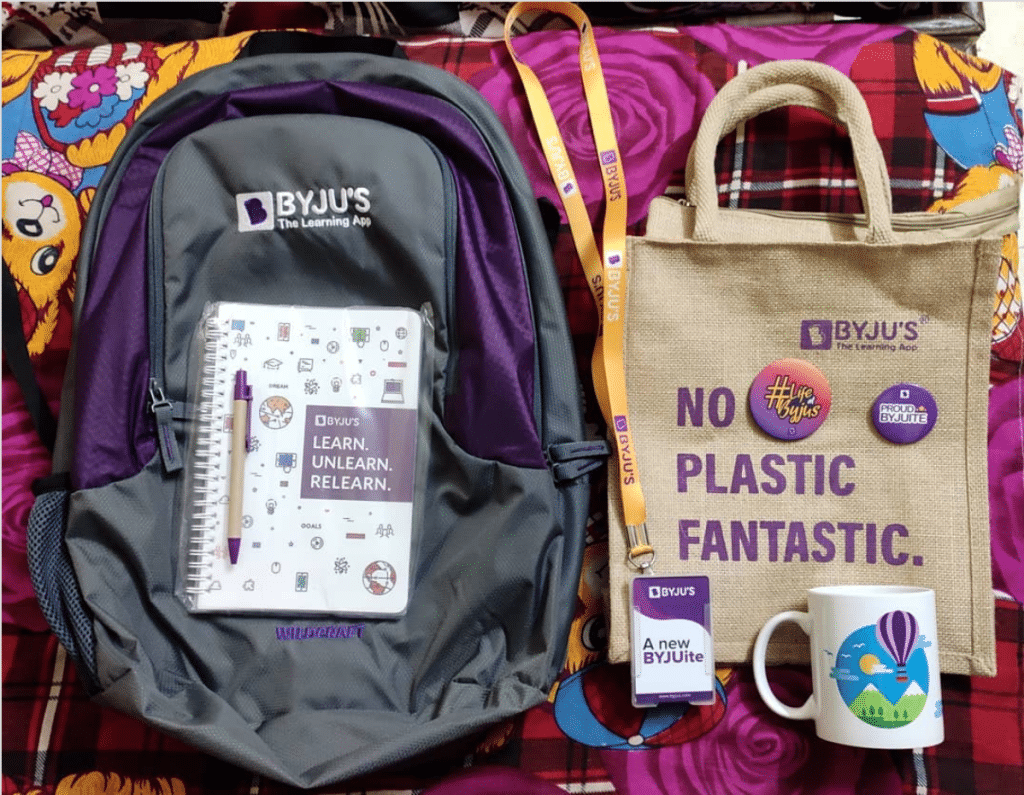 Image Source: Instagram
As you can see, they've also included some of the items that you read about already in this post.
Again, most of these items can be used both outside the office and when at work.
Example #5: NU Bankers New Hire Kit
Another representative example of an onboarding box for new hires comes from innovative neobank Nubank.
Their welcome kits looks like that: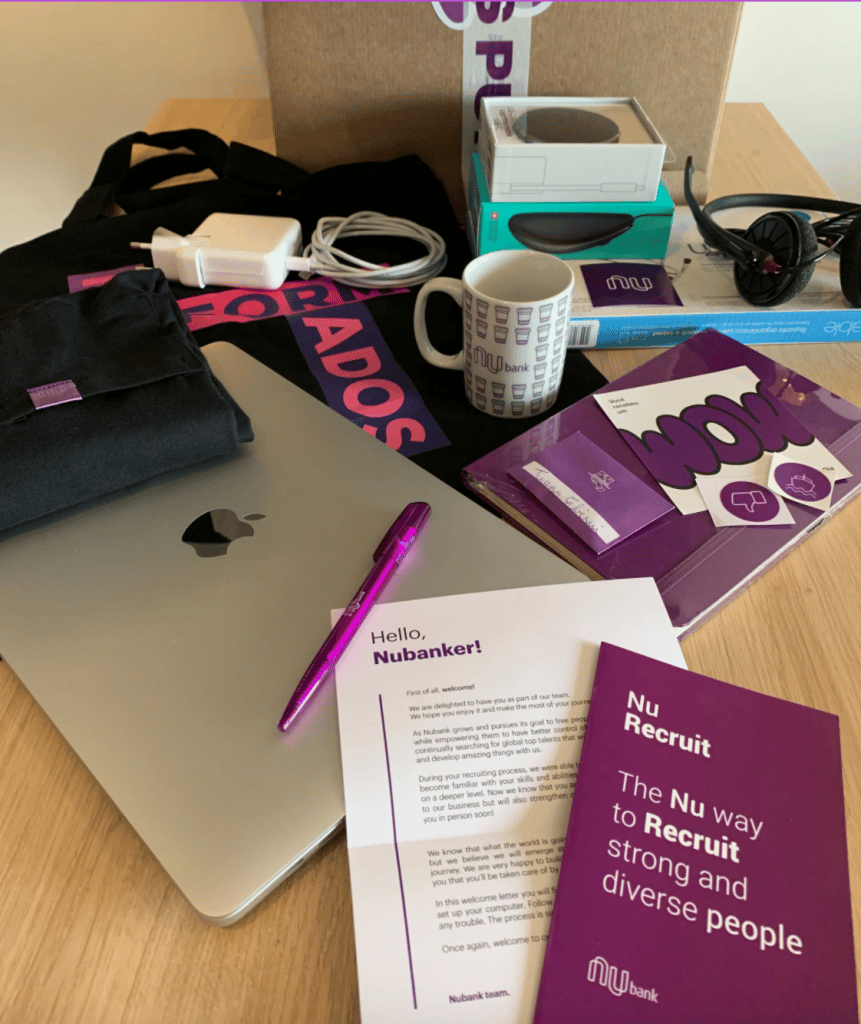 Image Source: Nubank
It includes a wide range of products that will be handy for a new employee.
Let's now move on to the last example I'd like to show you.
Example #6: LINE Friends Welcome Package
The last example I want to share with you is from mobile applications and internet services company, LINE Corporation.
This is a great example of an imaginative, stylish welcome kit that helps promote a unified brand experience.
See below.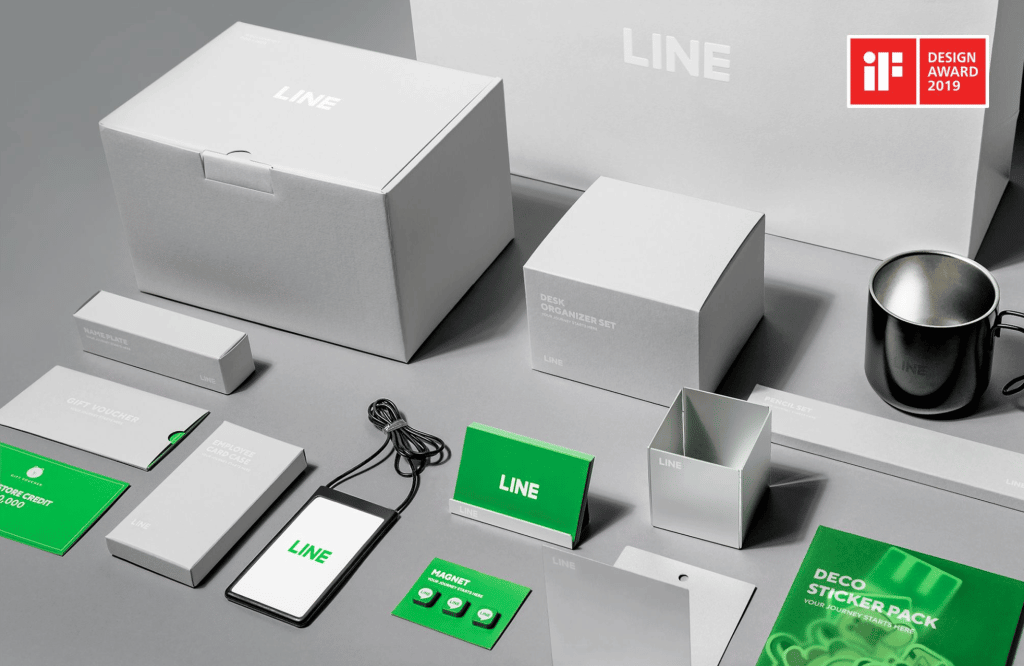 Image Source: Facebook
As you can see, this welcome kit even received a design award in 2019.
New employees receiving such a high quality and beautifully designed welcome kit will feel proud to be a new team member.
And that's what welcome kits for hires should be all about, right?
I've now talked you through all six examples of successful welcome kits I wanted to show you.
Let's wrap this up with some final thoughts.
Now Over to You
In this post we've talked about the importance of welcome kits in today's world as they create a unified brand experience for new hires.
Additionally, we went through how significant it is to give a personal touch in such welcome kits as this will make new employees feel part of the team.
I've talked you through a list of items that your new hires will be thrilled to find inside their welcome packages both because they're useful as well as of high quality.
Moreover, we've seen some examples of welcome packages from companies.
These examples can all be used as a source of inspiration for other companies creating onboarding packages that showcase a well-thought through selection of objects that the new employees will highly value.
Are you looking for welcome kit ideas for your company?
Drop us a line and we can help you create a thrilling onboarding experience for your new employees.