All new employees go through an onboarding process but many hiring managers find it a challenge. That's why a structured approach can make the onboarding process easier to handle.
Good onboarding lays the groundwork for success for both parties. In the long run, it can:
Build loyalty and engagement
Improve productivity
Cultivate employee satisfaction.
So what is new employee onboarding and how can it be successfully implemented?
What Is New Employee Onboarding?
Definition
New employee onboarding is the process of training new hires and integrating them into the company culture, values, and structure. It helps an employee understand their new role and job responsibilities.
The onboarding program can last anywhere from two weeks to a year but, according to HR professionals, the most effective onboarding lasts a few months.
Onboarding starts from the minute the company makes the employee an offer letter until the hire starts to be productive in the company.
A good onboarding plan is the key to employee retention as long as you follow the right steps.
New Employee Onboarding Stages
Effective onboarding is all about planning and thinking long-term; it doesn't begin and end on your employee's first day.
To ensure successful onboarding, you need to follow the steps outlined below: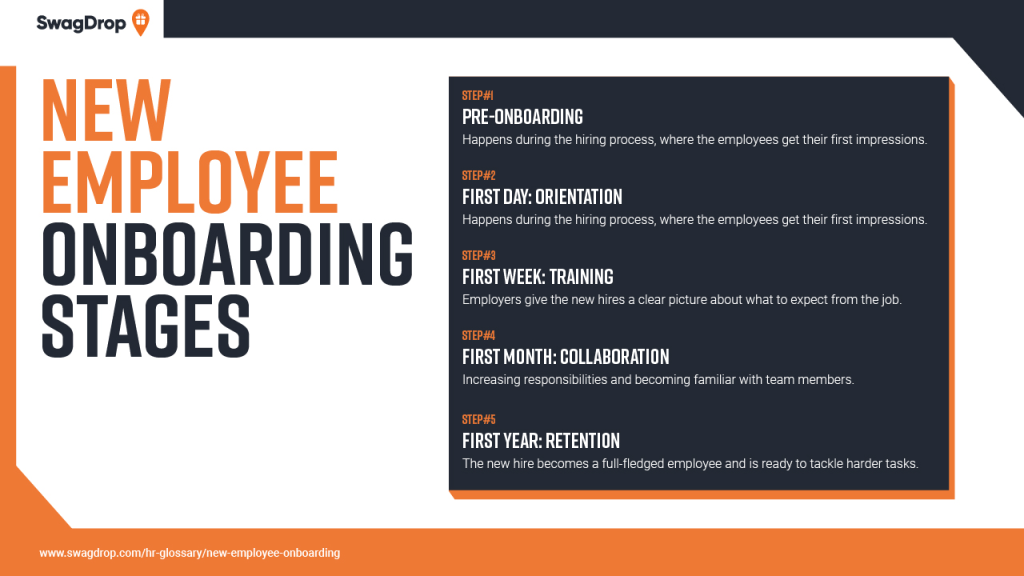 Now that you've taken a first look at the onboarding stages, let's dive into more detail.
Stage #1: Pre-onboarding
Pre-onboarding is a crucial part of an employee's journey and shapes an employee's first impression of their responsibilities, team members, and company values and culture.
Pre-onboarding starts with preparing the new hire paperwork in advance.
This way, the new employee has time to acknowledge the documents prior to their start date.
Stage #2: First day: Orientation
During orientation, the leadership or HR team formally introduces new hires to the company.
Here is an employee onboarding checklist you can follow:
Overview of the company values and culture
Review of safety, health, and company policies
Distribution of company-issued equipment
Guided tour of the workplace
If applicable, use an employee handbook
If the orientation happens in person, it's usually conducted in a conference room with co-workers from different departments.
For remote employees, orientation takes place over video conferencing, a welcome email, or using onboarding software for the whole hiring process.
Stage #3: First week: Training
In the first week, your new hires need to receive formal workplace training. During this step, it's important to accommodate various learning styles.
A good training program should include everything a new employee needs to learn about their role, such as a knowledge base, a step-by-step guide, or a practice task.
By using a Learning Management System (LMS), you can manage, distribute, and track employee training more effectively—and streamline onboarding.
Stage #4: First month: Collaboration
There are various strategies you can put in place to foster collaboration. One of them is through the use of the buddy system. Many companies let mentors guide the new hire through the workspace.
Another method is job shadowing. It's a type of one-on-one training that allows the new employee to closely observe another co-worker performing the role.
Tips, tricks, and inspiration delivered straight to your inbox.
Subscribe to learn more on how to break through the bustle.
Stage #5: First year: Retention
Good onboarding helps with employee engagement.
Research shows that onboarding improves retention by 82% and employees who don't receive onboarding are more likely to leave a company.
On the other hand, people who receive good onboarding will reach their first year at a company.
Celebrate this milestone with a nice gift.
A work anniversary gift is a customized item that's given to employees to thank them for their work and dedication to the organization.
Through these gifts, you show genuine interest in the growth of your employees and, in turn, will reduce employee turnover and keep people motivated.
To ensure you don't forget anything in the process, make sure to check out our free onboarding checklist.
5 Tips for Successfully Onboarding a New Hire
Onboarding should be a positive journey for the new hires. After all, you are introducing your company to a new person, and you want to make a good first impression.
You can ensure success by using the following tips for new-hire onboarding.
Tip #1: Manage your expectations
One great tip is to manage your expectations. You shouldn't expect a new hire to be as productive as senior employees who know how your business works. It's important to understand that everyone has a unique way of doing things.
Be sure not to overwhelm them with piles of work. If you expect too much from day one, there's a good chance you'll have to restart the recruiting process.
Setting and clarifying expectations is key to making employees feel more comfortable once they begin work.
Tip #2: Set SMART goals
To retain top talent, you need to establish clear goals, objectives, and expectations. Without clear expectations, new employees leave their posts within six months because they can't reach the proposed goal.
SMART goals mean that your goals are clear and within reach:
Specific
Measurable
Achievable
Relevant
Time-bound
Setting SMART goals means increasing your chances of achieving what you want, clarifying your ideas, and focusing your efforts productively.
Tip #3: Personalize your onboarding workflow
Personalizing the onboarding program to the individual's needs and personality is crucial to creating positive employee experiences.
Personalization doesn't mean pasting a name into an email; it involves adapting the onboarding process to specific job positions, learning styles, or disabilities.
You can create a success roadmap to help hires visualize their goals, prepare for any potential obstacles, and identify positive outcomes.
Tip #4: Prepare a welcome kit
Nothing says "Welcome to the company!" more than a welcome kit. By using branded merchandise strategically, businesses can ensure a hire is set up for success and excited for their new job.
Corporate merchandise is a valuable tool for new employee onboarding, helping to:
Create a positive first impression
Provide practical tools for new hires
Foster a sense of team identity
Reinforce company culture and values
Tip #5: Schedule regular check-in and catch-up meetings
Scheduling regular meetings is important because they provide employees with the chance to discuss ideas, offer solutions to challenges, and share their concerns.
By allowing workers to collaborate, they will build a stronger connection as a new team. It can boost positive energy levels and foster engagement and productivity.
Tips, tricks, and inspiration delivered straight to your inbox.
Subscribe to learn more on how to break through the bustle.
Over to You
A new hire will feel more appreciated by an organization that invests in their onboarding experience—and will be more willing to stay with the company.
A healthy work environment will help you retain top talent and give employees a chance to build a career.
Start transforming your new employee onboarding process today. We can help you leave a lasting impression. Contact us for a customized welcome kit for your new hires!