Team building is a fundamental component of any successful organization. It involves bringing individuals together to work towards a common goal, fostering collaboration and communication among team members.
Through team building exercises, individuals can gain valuable insights into the strengths and weaknesses of their colleagues while also developing trust and mutual respect.
However, all of this can be challenging without the right strategies and tools.
That's why in this article, we'll explore what team building means, the benefits it can have for your company culture and employee engagement, and provide tips for effective teamwork that leads to success!
Let's get into it.
What Is Team Building?
Definition
Team building is a collective term for various types of activities designed to improve social relationships and define roles within teams—often involving:
icebreakers
brainstorming
scavenger hunts
escape rooms
human knots
trivia
board games
show and tell
other collaborative tasks
These fun games aim to improve communication, build trust, and ultimately strengthen teams by bringing together people with different personalities, backgrounds, and skills to work toward specific goals.
Effective team building activities encourage employees to step out of their comfort zone through anything from icebreaker games like trivia or improv exercises to larger group challenges like scavenger hunts or escape rooms.
Team building also includes the development of strong leadership skills within the organization by empowering team leaders to facilitate successful outcomes for their teams.
These skills are critical to building strong workplace relationships and creating an environment where everyone feels valued and supported in achieving common goals.
Tips, tricks, and inspiration delivered straight to your inbox.
Subscribe to learn more on how to break through the bustle.
6 Top Benefits of Team Building
Investing in team building initiatives can really help an organization looking to maximize its potential by harnessing the power of collaborative effort toward a common goal.
Here are the top six benefits of investing in team building activities for in-person employees, or virtual team building activities for remote teams:
Improved communication
Team building games can help a group of people better understand each other's strengths, weaknesses, and personalities, leading to improved communication skills.
This leads to better understanding between colleagues, which in turn contributes to better cohesion in the workplace.
Increased employee engagement
Engaged employees tend to be happier and more productive at work. Team building exercises help employees feel inspired by the support of their teammates, which creates a sense of belonging.
This is especially important for new hires who want to acclimate themselves to their new team more quickly, or for employees who work in smaller teams during a normal workday and hope to get closer to their colleagues.
Enhanced problem-solving skills
By participating in activities that promote problem-solving, teams learn to think outside the box and effectively identify, analyze, and resolve issues as they arise. This not only improves the team's overall productivity, but also their ability to adapt to new challenges and opportunities.
Stronger company culture
Team building activities provide valuable opportunities for employees to develop relationships based on mutual respect and teamwork that positively contribute to the creation of a strong company culture.
Plus, when bonding over shared experiences like these activities, employees are more likely to support one another both inside and outside of work settings.
Improved productivity levels
When teams have common goals that align with individual roles in all departments of the organization, they are better able to focus on their goals, achieving productivity levels faster while maintaining quality standards.
Building of trust & loyalty
Team bonding games build trust and foster a sense of unity and collaboration among employees. They provide opportunities for real interaction beyond the daily work routine, leading to stronger bonds within a given team unit as well as higher employee retention.Next, let's see some tips for building stronger teams at work!
6 Tips for Creating Strong Teams
Let's take a look at six tips to help you improve camaraderie in the workplace—in fun, but also serious, ways. Take your pick: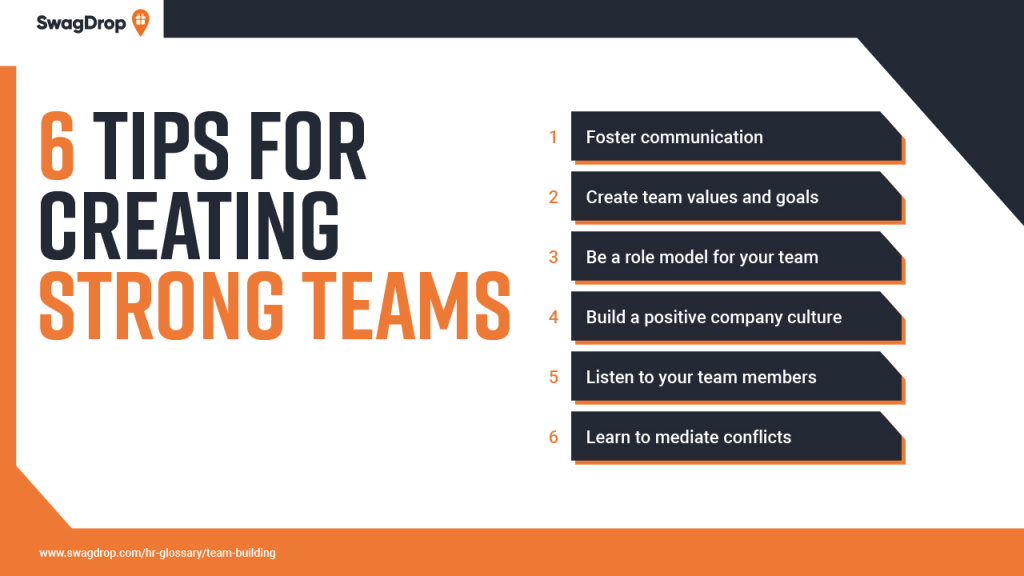 Foster communication
Fostering communication is a crucial aspect of team building and can greatly improve the effectiveness of teams.
Communication breakdowns can lead to misunderstandings, mistakes, and conflicts that hinder progress. To avoid this, you need to establish open lines of communication within the team—and keep them open at all times!
One effective way to encourage communication is through fun team building activities followed by happy hours where everyone can share updates, express concerns, and ask questions. These times should be structured yet relaxed enough for everyone to feel comfortable speaking up.
If some of your teams work remotely, you can use technology creatively, for example, with video conferencing platforms, like Zoom, that allow remote workers to participate in real-time discussions with colleagues who are present at the team building event.
Create team values and goals
Creating team values and goals is a crucial step in building strong, successful teams—why not do this during a team building event?
Divide employees into smaller groups and ask each group to define their team's core values. These should be principles that guide you in your work and interactions with others. As a group, take time to discuss what matters most to each of you and identify key themes or ideas that resonate with everyone.
Next, set specific goals for the groups to achieve. The goals should be measurable and directly related to your mission. Make sure everyone knows what success looks like for each goal and whether there is a time limit, so there is no confusion about expectations.
It is also important that individual team members have personal development goals that align with the overall vision of the group. Encourage open communication about these goals so that everyone can support each other and work together toward the shared vision.
Be a role model for your team
Being a role model is critical to building a strong and effective team. As a team leader or facilitator, you set the tone for the work environment and culture. Your actions are observed by the entire group—so make sure you lead by example.
First, you should consistently model the values and behaviors you expect from your team. If honesty is an important value to you, do your best to be transparent in all communications.
Secondly, show empathy for your team members' needs and concerns. This means actively listening to employee feedback without judgment or defensiveness.
Thirdly, maintain a positive attitude even in difficult times. Your behavior sets the tone for how others will react and respond to any given situation.
Value your personal development and that of your team. If you are constantly acquiring new skills, not only will you benefit, but you will inspire those around you to do the same.
Being a role model for your team requires consistency and commitment, but can go a long way toward creating an engaged workforce that trusts each other as they work toward achieving common goals.
Build a positive company culture
One way to build a positive company culture is to encourage open communication among team members. This means creating an environment where employees feel comfortable sharing their thoughts and ideas with each other, as well as with management.
Another factor is recognizing the achievements of your team members. Celebrating milestones and accomplishments not only creates a sense of pride within the team but also encourages them to continue performing at their best.
It's also essential for leaders to act as role models by embodying the values that they want their teams to uphold. Leaders can do this by consistently demonstrating behaviors such as respect, transparency, and accountability.
Fostering collaboration through team building activities or social events can also help develop stronger relationships between colleagues. It might take time and effort, but it will pay off in terms of increased employee engagement and retention rates.
Tips, tricks, and inspiration delivered straight to your inbox.
Subscribe to learn more on how to break through the bustle.
Listen to your team members
One of the most important aspects of team development is listening to team members. This is because employees who feel that they're being listened to and valued are more likely to be committed to their work and dedicated to achieving common goals.
As a leader, make sure you create an open and safe environment where team members can freely express their opinions without fear of judgment.
Encourage all team members to share their ideas, thoughts, concerns, and feedback to better understand what motivates them and how they think. They can do this in small or large groups by talking or writing everything down on a whiteboard, post-it, or piece of paper.
Active listening means paying attention not only to what your employees say, but how they say it. Listen with empathy, ask questions for clarification when needed, and show appreciation by acknowledging a job well done.
Remember, this doesn't always have to happen in the office. Sharing feedback is often easier during a fun team building activity that takes place in person or online—yes, online team building can be just as effective when done right and everyone gets a chance to speak!
Learn to mediate conflicts
Conflict happens, but if left unresolved, it can affect a team's success and productivity. That's why leaders must learn how to mediate effectively—both in the office and at team building events.
Acting as a buffer between team members when conflict arises and knowing how to handle workplace conflict without taking sides can have a big impact on the state of mind of the entire team.
Conflict resolution could even save you money in the long run by reducing turnover and workplace disputes.
Whether you're leading a large or a small group discussion, make sure you encourage open communication both by asking icebreaker questions and questions such as:
How did you feel about this situation?
What do you think would help resolve this conflict?
Effective mediation requires practice and patience. Approach each conflict with empathy and understanding as you work to find mutually beneficial solutions that will benefit all parties in the long run.
Now Over to You
Without effective team building strategies in place, productivity can suffer, and the overall morale of employees may decrease.
Sure, things such as the egg drop game might sound silly, but don't underestimate the power of investing time into these types of exercises; they can be game-changers for organizations looking to improve employee engagement and overall success!
We hope we inspired you to come up with a few innovative ways to strengthen your team while having fun at the same time! If so, why not take a moment today to explore our HR Glossary and discover all we have to offer?