Are you looking to hire top-quality candidates for your business? Or maybe you're concerned about the safety and security of your workplace?
Whatever your reasons, conducting background checks on potential employees is crucial in today's fast-paced world.
Not only do they help ensure a higher quality of hire but also improve data security and increase legal compliance.
In this article, we'll explore the benefits of background checks and introduce you to three top providers for 2023.
Let's get started!
What Is a Background Check?
Definition
A background check is a legal investigation of a potential employee's history and is part of an employer's due diligence.
Depending on the job, the type of check an employer conducts can vary, but it often includes:
a criminal background check
an identity check
an education and credentials check
This is because the purpose of a background check is to help verify an applicant's identity, employment history, education credentials, criminal records, and other information that may impact their eligibility for a position.
For these reasons, a background check may also include health checks, drug screenings, and in some cases, even social media checks.
During the pre-employment hiring process, almost all employers conduct work authorization and reference checks, meaning they contact previous employers or references listed on an applicant's application.
However, a background-check process may be conducted at any time in both the public and private sectors if an employer deems it necessary.
If the position is a management position or one that requires working with vulnerable populations such as children, the applicant may be subject to a more thorough background check.
The purpose is to shed light on whether a potential new employee is honest, trustworthy, able to do the job, and is who they claim to be. In other words, companies can avoid hiring someone who could pose a risk in the workplace or become a liability. For all these reasons, a background check is typically the final step in the recruitment process.
5 Benefits of Background Checks
A background check will give you confidence that the candidate you select is qualified for the job and will be a good fit for your company. Let's take a quick look at some other benefits of conducting a background check:
Higher quality of hire
Thorough background checks help companies ensure that they are bringing in qualified candidates who will be able to perform well in their roles.
Gaining access to the criminal history, education verification, and employment history of each applicant leads to a higher quality of hire – employees who are not only capable but also have clean records.
A high-quality workforce benefits businesses in many ways:
These employees tend to stay longer with the company, reducing turnover rates and associated costs like training new hires.
They also bring valuable skills and experience that make them productive members of the team from day one.
In addition, having a reputation for hiring high-quality candidates makes a company more attractive to high-quality talent elsewhere.
It creates an environment where excellence is expected and rewarded leading to growth within teams as well as individual careers.
Investing in background checks when hiring new employees may seem costly at first, but it ensures long-term success by giving you the confidence that you have made sound decisions.
Tips, tricks, and inspiration delivered straight to your inbox.
Subscribe to learn more on how to break through the bustle.
Increased workplace safety
Employers have a responsibility to provide a safe work environment for their employees, and hiring someone without taking the necessary precautions can put everyone at risk.
Criminal history checks can reveal if an applicant has any violent or aggressive tendencies, which could potentially lead to physical altercations in the workplace.
Additionally, drug-screening tests can ensure that new hires are not under the influence while on the job, further reducing the chances of accidents or injuries.
Employment verification through background screening can also help identify false credentials or fabricated work experience that could pose a danger in certain industries, such as healthcare and construction.
Investing time and resources into comprehensive background checks shows that you take safety seriously and prioritize making employees feel valued and protected at work.
Lower negligent hiring risk
Negligent hiring occurs when an employer hires someone who has a history of violent or criminal behavior, and that person goes on to harm another employee or even a customer while on the job.
By performing thorough background screening, you can identify potential red flags in a candidate's history that could indicate they are prone to violence or other risky behaviors.
A comprehensive background check will typically include an examination of criminal records, employment history, education verification, credit history, and more.
By considering all these factors during the hiring process, employers can get a better sense of whether candidates have what it takes to succeed without putting others at risk.
Improved data security
In today's digital age, organizations that rely heavily on technology are at risk of cyberattacks and data breaches.
Background screenings help companies ensure that they are hiring employees who do not have a history of malicious activities or a criminal record related to cyber crimes.
Many industries require compliance with federal regulations such as the Fair Credit Reporting Act (FCRA) when handling sensitive information.
Conducting thorough background screenings helps ensure that companies remain compliant with all relevant legislation and avoid costly legal penalties.
Increased legal compliance
As an employer, it's your responsibility to ensure that you're hiring individuals who are legally allowed to work within your industry and meet all requirements.
Moreover, depending on your industry or business type, there may be specific regulations that require certain types of background checks or verifications.
For example, some positions may require fingerprinting, driving records, drug screening, or knowing whether an applicant is on the sex-offender registry as part of the pre-employment process.
By accessing an applicant's background-check results, you can ensure that you are in compliance with federal and state laws and protect yourself from an encounter with law enforcement.
3 Top Background-Check Sites for 2023
More and more companies are realizing that conducting background checks helps them hire the right people and create a safe work environment. Let's take a look at three background-check providers:
First Advantage
First Advantage is a top background-check site that offers comprehensive and reliable screening services to businesses of all sizes.
With over 30 years of experience, First Advantage has established itself as a leader in the industry by providing advanced technology and exceptional customer support.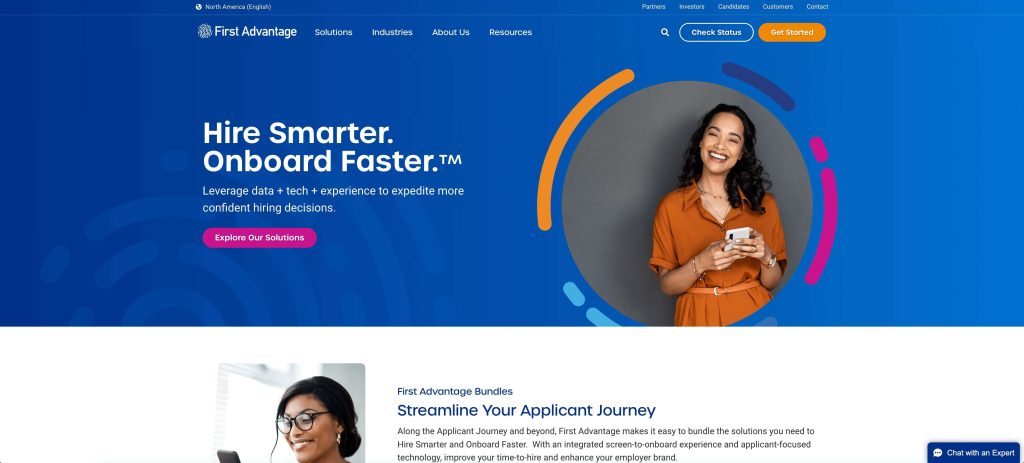 One of the key features of First Advantage is its user-friendly platform, which allows for easy ordering and tracking of background checks.
The website also provides access to detailed reports that include criminal records, employment history, education verification, professional licenses, and more.
Another advantage offered by First Advantage is its extensive integration capabilities with HR management systems. This allows for seamless integration into existing workflows and ensures efficient hiring processes.
First Advantage also prioritizes compliance with state laws and regulations like FCRA (Fair Credit Reporting Act) and with the EEOC (Equal Employment Opportunity Commission).
They offer specialized products for industries like healthcare or transportation where specific requirements must be met before making hiring decisions.
First Advantage stands out as a dependable option for companies looking to make informed hiring decisions while ensuring legal compliance throughout their screening process.
GoodHire
GoodHire offers a comprehensive range of screening services for employers, including criminal history checks, drug tests, education and employment verification, credit history reports, and more.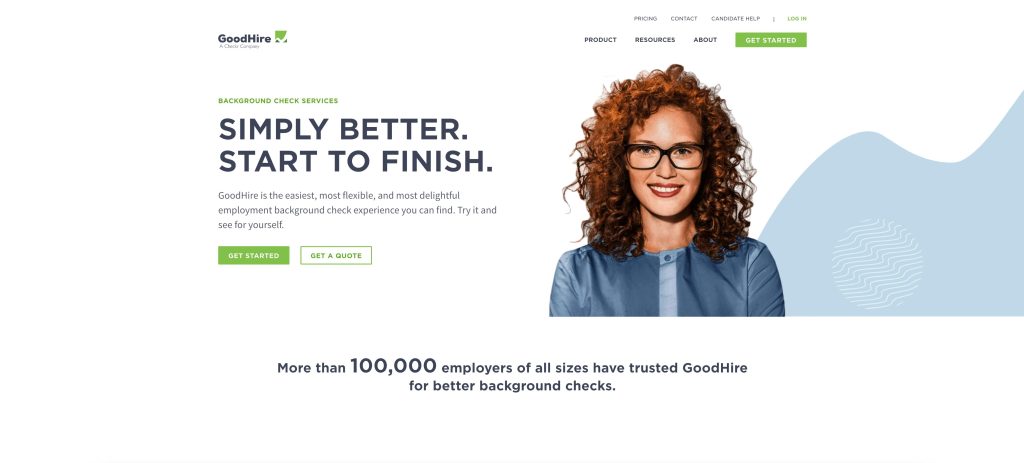 One of the best things about GoodHire is its user-friendly interface that makes it easy to use even for those who are new to background screening.
The company also ensures compliance with federal and state laws related to hiring practices, such as FCRA regulations.
GoodHire screens potential hires based on their social security number or other identifying information like full name, date of birth, and address.
Their search capabilities include national databases containing public records from across the US, such as bankruptcies, court records, and driving histories.
Another great feature offered by GoodHire is integration with popular HR software systems like BambooHR and Workable, which streamlines the hiring process for busy recruiters.
Plus, there are multiple packages that cater to small businesses or enterprise-level corporations, providing options that suit all budgets.
GoodHire is an excellent choice for companies looking for reliable background-check providers that prioritize accuracy and ensure legal compliance during the pre-employment screening process.
Checkr
Checkr stands out for its efficient and user-friendly platform. Its integrations with various HR systems enable seamless background screening processes for small businesses and large corporations alike.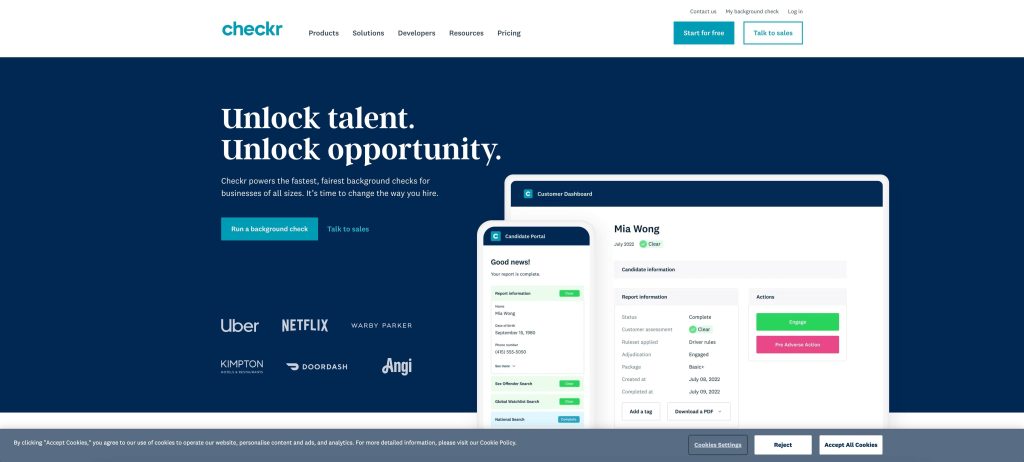 Checkr is a great background-check company for employers because it's also easy to use – you can invite up to 25 candidates in a single pass and access simple reports to make hiring decisions quickly!
Plus, Checkr's built-in compliance features ensure FCRA compliance.
These are just a few examples of dependable options in terms of providers when conducting pre-employment background checks.
Whatever you decide, remember that it's important that the background-check services provider you choose complies with FCRA guidelines so you can make informed employment decisions based on facts, not assumptions.
Tips, tricks, and inspiration delivered straight to your inbox.
Subscribe to learn more on how to break through the bustle.
Now Over to You
Conducting a thorough background check for employment is more important than ever when making hiring decisions.
Fortunately, by working with an established provider, employers can obtain an accurate background report about each candidate and use this in their decision-making process.
If this has helped you and you'd like to learn even more terms, or help your human resources department with a useful resource, check out our HR Glossary today.