Manually managing your employees' information is a massive challenge in today's growing workplace, especially if you have many people under your wing.
You're in luck, though!
A human resource information system (HRIS) is just what the doctor ordered to improve the efficiency of your core HR processes.
Stay with us to discover how an HRIS changes your life for the better. 
What Is an HRIS?
Definition
A human resource information system—or HRIS—is an HR software solution that collects and stores an organization's information about its employees in a single source.
Think of HRIS as a centralized database that streamlines day-to-day tasks, like people management, while eliminating paper-based and manual HR processes.
Since core HR tasks are more efficient as a whole, businesses can keep pace with evolving workplace trends by facilitating accurate reporting and record-keeping. 
HRIS vs. HRMS vs. HCM
The main difference between HRIS, HRMS, and HCM is the various HR functions a company might choose to enable.
HRIS is the keeper of administrative employee records, storing HR data on job status, contact information, compensation, etc. This HR software can incorporate processes such as recruitment, from the onboarding program to new hire orientation.
HR management system (HRMS) is a tool that manages HR processes throughout the employee lifecycle. An HRMS is sometimes used interchangeably with HRIS, but it mostly covers applicant tracking, payroll, or talent management. 
Lastly, human capital management (HCM) is a system that encompasses every aspect of workforce management, including employee experience, employee engagement, and analytics. 
Now that you have a broader understanding of what HRIS is, let's take a look at the benefits.
Benefits of HR Information Systems
Companies of all sizes, from small businesses to enterprises, may want to use an HRIS to support their HR department for the number of obvious benefits it offers.
Aside from holding all employee data in an easily accessible system, it also:
Keeping on managing basic employee information in Excel spreadsheets is simply not efficient. As you can see, the right HRIS solution can take your business to the next level.
But what should you look for when selecting your HRIS solution? Read on to find out.
Main Functionalities of an HRIS
HRIS software helps you overcome any upcoming hurdles.
That's why a strategic HRIS must include multiple key functions that benefit your business, such as:
Applicant-Tracking System (ATS)
Make your recruitment process a breeze with an applicant-tracking system.
With this feature, you ensure the hiring process is simpler by housing all necessary data in one convenient location.
An ATS tracks applicants' resumes and information, helps guide the entire hiring process, and enables recruiters to match job roles with suitable candidates.
It also helps increase the quality of a hire's work from day one by attracting talent that has similar values to the company.
Benefits administration
Managing employee benefits takes a lot of data and paperwork, which makes it tedious and hard to handle.
A good HRIS provides employee self-service options that allow workers to review benefits information when they have questions about:
Life insurance
Disability benefits
Medical coverage
Retirement saving plans
A benefits-management feature ensures employees can make approved changes to their data and view the selected benefits while also freeing HR departments' time.
With a good HRIS, you reduce the likelihood of making costly errors and eliminate the wasteful reliance on paper.
Employee self-service
It's tiring to keep track of so many employee requests, especially if they're crammed into an overflowing dossier or slow-moving spreadsheet.
Nowadays, it's key for an HRIS solution to include self-service functionalities that let workers:
Request time off
Enroll in their own benefits options
Track sick time or paid leave
With an HRIS, employees can view vital company data, such as employee handbooks (and other company documents) or access forms or performance reviews.
Providing all this information allows workers to request changes via a form directly in the HRIS, which swiftly arrives in the HR department.
Learning and development (training)
According to Gallup, 87% of millennials say that opportunities to learn and develop their skills are essential criteria when applying for a new job. 
Fortunately, an HRIS can improve your learning and training process by tracking employee performance and qualification and outlining available courses for a particular set of skills.
To ensure you equip workers with the proper knowledge, an HRIS includes all training documents and videos necessary to increase development.
Furthermore, you can track their progress from start to finish. Since the analytics are more visible, you see where employees need more training and what they excel at.
Payroll management
Payroll can take up a lot of HR professionals' time.
Most companies spend over 21 hours on taxes, making it the most time-consuming part of running a company. 
Even if you do it more efficiently, it's easy to slip up. When you're doing taxes on your own, while stressed with work, you can make a simple error that costs you hundreds of dollars.
That's why an HRIS with a payroll module is a must in any modern business that wants accuracy.
An HRIS automates your workers' pay schedules while storing time and attendance data. As a result, it saves you valuable time to concentrate on other important matters.
All you need to do is simply input the banking information and let the payroll system do the rest.
Performance management
Performance management is vital for managing your people.
With performance tracking directly integrated into your HRIS, you can examine an employee's performance over time through visually-enticing graphs or tables.
The available options are:
Anonymous surveys and evaluations
Self-assessments
Setting developmental goals
Using a performance-tracking solution is especially great for managing remote employees. Remote staff feel more encouraged to complete training and surveys from the comfort of their own homes. 
You can generate these performance reports once or multiple times a year, which saves you a lot of time and effort.
Author's Tip: Show your employees some love and appreciation by giving them a thoughtful custom gift!
Reporting and analytics
Your business produces a vast amount of information, with global data creation projected to grow to more than 180 zettabytes by 2025.
With all this valuable data at your fingertips, you need to use it to your advantage and enable better decision-making.
Ninety percent of business professionals say that analytics are vital to any digital transformation initiative.
Through an HRIS, you can create meaningful reports that analyze trends across your business, including:
Employee turnover rates
Late clocking times
Employee wellness
Absenteeism
In a nutshell, this module helps with better data management, showing business owners what their company is succeeding at, where it can improve, and how they can ensure it runs at peak efficiency.
Time and attendance tracking
There might be times when too many employees will try to take advantage of your company by bolstering their pay when clocking in and out.
You can avoid this situation with a proper HRIS that offers top-notch time-tracking capabilities. This way, the manager will know the exact time of arrival, and any lateness issues are easily detected.
This module allows you to accurately and easily track the amount of leave taken and makes exploitation impossible. It also saves time both for employees and managers with only a click of a button!
What's great about this module is the self-sufficiency, which allows staff to enter their own leave requests without back-and-forth emailing or constant phone calls.
***
To help you see what a good HRIS might look like, take a look at the next section for top software to consider.
HRIS Software to Consider
Choosing the right HRIS solution might be difficult if you don't know what you're looking for.
But after learning the main functionalities of HRIS software, you might start to have an idea of what your perfect solution looks like.
To inspire you, here are some HRIS software solutions to consider.
Paycor
You're a leader everyone depends on. But who do you rely on when it comes to building winning teams?
The answer: Paycor. 

This platform is an all-in-one HCM system that gives you a competitive edge and helps you build an amazing workplace.
Designed for HR leaders, Paycor is a single source of truth for all employee information that makes your team's life easier, while offering tailored solutions for your business needs.
Best for: Companies in niche industries, such as Healthcare or Retail.
Monday.com
What makes monday.com so magical?
Aside from being an innovative way of working, it also has uncanny features such as:
Spellbinding and charming design
Miraculous project management processes
Add-ons that make the boards bewitching
With pre-built templates, forms, and surveys, you can open sesame your way to better workforce planning and eliminate time-consuming manual tasks.
Get enchanted by this tool, which offers visually stimulating dashboards you can personalize to your liking, making the job more interactive for your employees.
Best for: Small or midsize businesses (SMBs) and HR teams of any size.
Rippling
Imagine never having to manually update employee information again!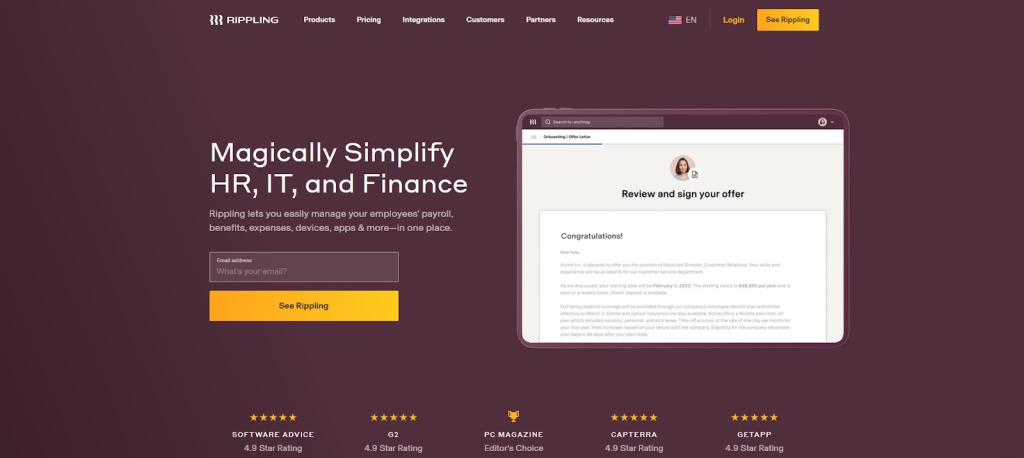 Rippling is the #1 rated HRIS, offering unique features that simplify finance, HR, and IT.
This software solution helps modern, all-digital workforces manage their employees' devices through highly automated workflows that they can control from a convenient dashboard.
Did you know Rippling helps you effortlessly onboard new hires in 90 seconds? 
Best for: Small companies.
BambooHR
Pandas are not the only ones that need bamboo to thrive.
With BambooHR, any business or growing workplace can elevate its employee experiences to new heights.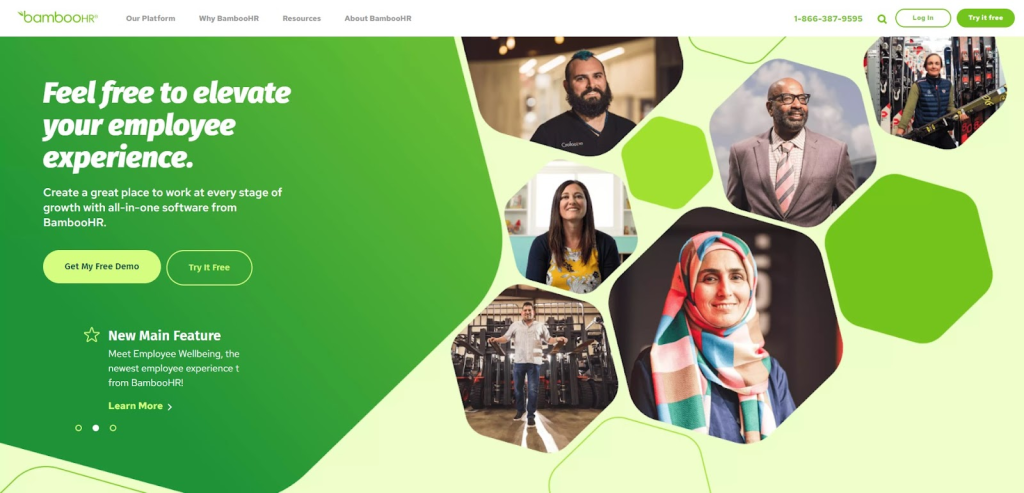 BambooHR is easy to love because it offers plenty of third-party integration and customization.
What makes this tool the best HRIS solution is its user-friendly mobile app, which staff can use to effortlessly perform tasks.
BambooHR also helps companies reduce turnover, boost engagement, and retain talent, all while keeping your data organized and putting an emphasis on company culture.
Best for: Small and midsize businesses. 
Learn More About HR
Treat your employees the way they deserve by investing in the best HRIS software for your business.
Hopefully, you now have a better understanding of what a human resource information system can do for your company—and you'll take active steps toward success.
Curious about more HR terms? Want to brush up on tried and tested HR strategies? Head on over to our HR glossary for more.
Frequently Asked Questions (FAQs)
We've covered pretty much everything around HRISs in this piece, but there are a few FAQs we still need to clear.
Q1. Should I get an HRIS for my business?
While every business has unique requirements, you might want to consider getting an HRIS if you struggle with:
Hiring independent contractors
Recruiting skilled workers
Keeping pace with evolving trends
Analyzing data effectively
Q2. Who uses an HRIS?
The people who use an HRIS are HR managers who need assistance in managing the complexity of the growing workforce and automating HR operations in their business.
Q3. How does an HRIS help recruitment?
An HRIS automates the recruitment process by:
Running background checks
Creating job posts
Tracking candidate sources
Benchmarking compensation packages