A Human Resource Management System (HRMS) is a game-changer for businesses looking to optimize their HR functions and streamline those never-ending administrative tasks.
In this article, we define what an HRMS is, distinguish it from other similar terms, and explain step-by-step how this type of software has revolutionized the way HR departments work.
Read on to learn more about the best HRMS software options available that can help you improve the user experience through cloud-based applications, automation, and real-time data management!
What Is an HRMS?
Definition
An HRMS, or Human Resource Management System, is a type of software that helps companies manage human resource functions.
At its core, an HRMS serves as a centralized database for employee information. This means that all relevant data can be stored in one place, making it easier for HR teams to find what they need, when they need it.
And that's not all!
Employees can also access and manage their personal data, view work schedules, make requests for time off, and view payroll information including online paychecks – all without going through HR!
Thanks to available cloud-based information technology, these self-service portals can be accessed via a web portal or mobile app, allowing access anywhere, anytime.
HRMS vs. HRIS vs. HCM
HRMS, HRIS, and HCM are all terms that refer to software solutions designed to streamline various HR functions.
While these acronyms may seem interchangeable at first glance, each one has a distinct purpose.
HRMS is an end-to-end solution that covers a wide range of HR processes, from recruitment to offboarding.
An HRMS typically includes features such as payroll processing, benefits administration, and time tracking.
On the other hand, HRIS (Human Resource Information System) is primarily focused on managing employee information.
Its main function is to provide access to accurate and up-to-date data about employees, including their job histories, performance reviews, and certifications.
HCM (Human Capital Management) encompasses both the strategic and operational aspects of human resources management.
It emphasizes the optimization of talent management by aligning it with business goals through automation and best practices in decision-making.
While there might be some overlap between these systems' functionalities, they ultimately serve different purposes depending on the needs of your organization.
Benefits of HRMS Software
An important advantage of cloud-based human resources software solutions is their scalability across organizations of all sizes.
They enable companies to handle increasing numbers of employees, all without needing extra infrastructure investment!
Let's take a look at a few more benefits:
HRMS software helps streamline HR processes, making them more efficient and less time-consuming. With all employee data centralized in one place, administrative tasks are much easier to manage.
Then there is improved decision-making on issues such as talent management, succession planning, and workforce planning, through real-time access to HR metrics and analytics. 
HRMS software also helps optimize the employee experience by providing user-friendly interfaces and mobile apps for easy access to information such as employee records and benefits. 
Additionally, HRMS systems offer learning management modules that help employees take control of their own professional development. The result is increased employee engagement and job satisfaction.
When you have a clear overview of your workforce management data, you can make better-informed decisions, so let's take a look at what the key features of an effective HRMS should look like!
Main Features of HR Management Systems
HR management systems offer a wide range of features that help companies streamline their HR processes and manage employee data more efficiently. Here are some of the most important of these:
Centralized employee database
One of the key features of an HR management system is a centralized employee database. This feature allows the HR department to store all employee information in one place, making it easy to manage and access.
HR can maintain accurate records of employee contact information, such as job titles, salaries, and performance reviews, with a centralized employee database.
This feature eliminates the need for manual record-keeping using spreadsheets or error-prone paper-based systems – all while maximizing usability with a user-friendly design.
It also simplifies administrative tasks by providing quick, real-time access to important employee documents such as contracts and certifications.
HR can even refer to historical data on past hiring processes and identify trends over time using metrics provided by the software.
Having all this data in one place allows for better decision-making when it comes to workforce planning!
Employee self-service access
Employee self-service access lets employees access and update their personal information and view their payroll and benefits information at any time without having to go through the HR department.
This saves time and resources for the company and gives employees more control over their own data.
In addition, many HRMS software programs offer a mobile app that allows employees to manage their work-related activities from anywhere using a smartphone or tablet.
With this feature, they can do the following – and more! – easily:
request vacation or sick days
clock in and out remotely
check schedules
receive notifications about upcoming training sessions
Another advantage of self-service access is that it reduces administrative tasks for the HR team by automating many routine tasks related to managing employee records.
The system automatically updates employee records when someone makes changes via self-service portals, eliminating the need for manual entry by an administrator.
Self-service access has revolutionized the way companies manage their employee data, giving employees more autonomy to manage their own employment status.
Learning and professional development management
Learning and development management is an important function of any HRMS software. It allows employers to create customized learning paths for their employees, monitor their progress, and provide feedback.
With the help of this feature, organizations can easily identify skill gaps in their workforce and develop training programs to fill those gaps. This not only helps improve employee performance but also increases overall productivity.
The learning management system (LMS) module in an HRMS allows employers to deliver training content in a variety of formats (videos, articles, quizzes, assessments, etc.). Employees can access these materials anytime, anywhere via a cloud-based platform or mobile app.
In addition, this feature allows managers to track the progress of each employee with real-time analytics and reporting dashboards.
They can also use this data to identify high-performing employees who are ready for promotion or new roles within the company, all while providing their teams with valuable opportunities for growth and advancement.
Payroll and benefits administration
Payroll and benefits administration involves managing employee compensation and ensuring that salaries, bonuses, taxes, and other benefits are processed accurately and on time.
An HRMS can streamline this process and make it easier for HR teams to manage payroll efficiently.
With an effective payroll system, employees can access their pay stubs and benefit statements at any time through the company's self-service portal or mobile app.
This empowers employees to take control of their finances and frees up the HR team from administrative tasks.
In addition, accurate tracking of employee data is also essential for compliance with legal requirements such as tax-filing obligations or labor laws.
A robust HRMS that has built-in capabilities for these tasks can therefore be of great benefit, ensure the timely distribution of information, and increase productivity through automation and reducing the burden on managers.
It also minimizes errors and improves the accuracy of financial data, leading to better decision-making for managers and HR departments because reports are available in real time.
Performance management and appraisals
Performance management and appraisal help companies ensure that their employees are meeting the expectations and goals set for them. With a good HRMS, companies can streamline these processes.
One important function of the performance management module is setting employee goals. This allows managers to align individual goals with company goals and ensure that all employees share a common vision.
Another important function is tracking progress throughout the year. Regular check-ins allow managers to provide real-time feedback to employees on their performance, rather than waiting for an annual review.
Performance appraisals are also automated through HRMS software, making it easier for managers to conduct evaluations for all employees consistently and according to company-wide standards.
In addition, these tools allow employees to access their own data and view their performance reports at any time.
By using HRMS software to manage performance appraisals, organizations can better monitor employee development, identify areas where additional training is needed, and promote the long-term success of the business.
Reporting and HR analytics
One of the main benefits of using a human resource management system (HRMS) is the ability to generate reports and analyze HR data.
With reporting and analytics capabilities, HR departments can gain valuable insight into their workforce, identify trends, and make data-driven decisions.
Reporting capabilities in an HRMS allow for the creation of customized reports based on specific metrics or parameters.
These reports can provide information on employee turnover rates, training progress, performance appraisals, and more. This helps HR teams stay informed about the state of their workforce and take appropriate action.
By compiling various data sets from different sources, such as payroll software or an applicant tracking system (ATS) these tools create real-time dashboards that provide key insights, such as headcount by department or compensation analysis by job level.
With access to accurate reports and advanced analytics tools through an HRMS solution, organizations can optimize their talent management strategies while improving decision-making processes related to human capital management.
Talent acquisition and onboarding workflow
Talent acquisition is about attracting and recruiting top talent for your organization.
An effective HRMS can streamline this process by automating recruitment workflows, from posting job openings to screening resumes and scheduling interviews.
An applicant tracking system (ATS) is an important feature offered as part of many HRMS solutions. ATS tools help streamline the hiring process by providing job-posting templates and automating resume screening processes with machine learning algorithms.
Once you find the right candidates, proper onboarding is critical to their success and retention.
A good HRMS should have a comprehensive onboarding workflow that walks new hires through all the necessary paperwork, familiarizes them with company culture and policies, assigns them training materials tailored to their role, and sets clear expectations for performance goals.
This not only saves time for HR teams by reducing administrative tasks, such as data entry or sending emails manually, but also helps new hires feel welcomed into the organization and learn their job duties faster.
Time tracking and attendance management
Time tracking and attendance management are important functions of HRMS software. With this tool, employers can keep track of employee working hours, attendance patterns, breaks, and absences in real time.
This allows them to ensure that employees are showing up on time and are paid correctly for their work.
By using the time tracking module, HR departments can streamline administrative tasks related to payroll, processes that can be time-consuming without automation.
HR managers get access to timesheets with detailed information about each employee's hours, which ultimately helps them make informed decisions.
In addition, the system also helps companies identify trends such as high absenteeism rates or late arrivals among their workforce, enabling them to take corrective action quickly.
Ultimately, when an HR team has a robust time tracking solution that is integrated with the core functions of HR, it saves valuable resources while improving overall efficiency, leading to better results in the long run.
HRMS Software to Consider
When it comes to choosing HRMS software, there are numerous options on the market. Each of these systems has unique features that cater to the specific needs of businesses.
Here are some popular HRMS software solutions to consider for your business:
Deel
Deel is a cloud-based HR management system for remote team management, relieving the burden on HR departments through automation and cloud-based technology.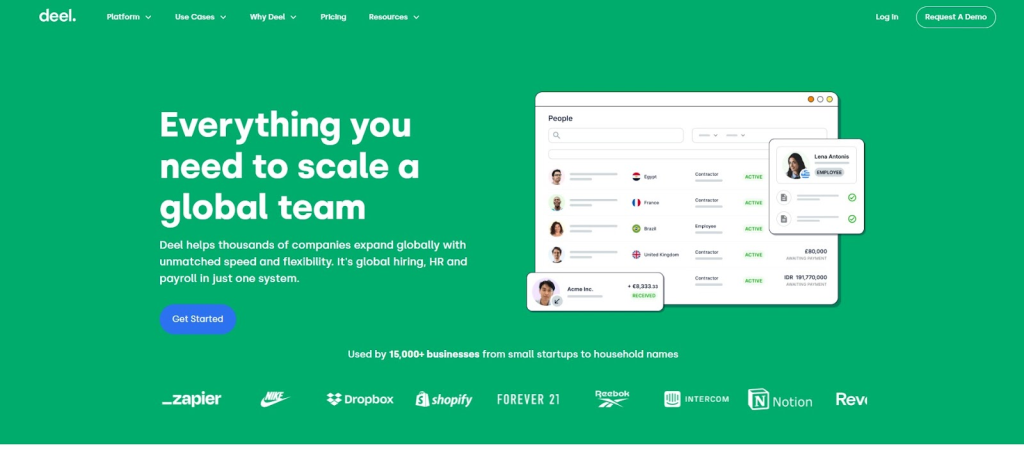 With Deel, companies can automate their HR processes and streamline administrative tasks such as payroll, timesheets, onboarding/offboarding processes, and employee benefits.
With its user-friendly interface and mobile app, Deel allows managers and employees to access employee information and easily manage employee records data and records – anytime, anywhere.
Best for: Businesses with remote teams seeking to reduce the burden on their HR departments through automation and cloud-based technology.
Rippling
Rippling is a cloud-based HR management system that automates various HR functions and helps streamline administrative tasks.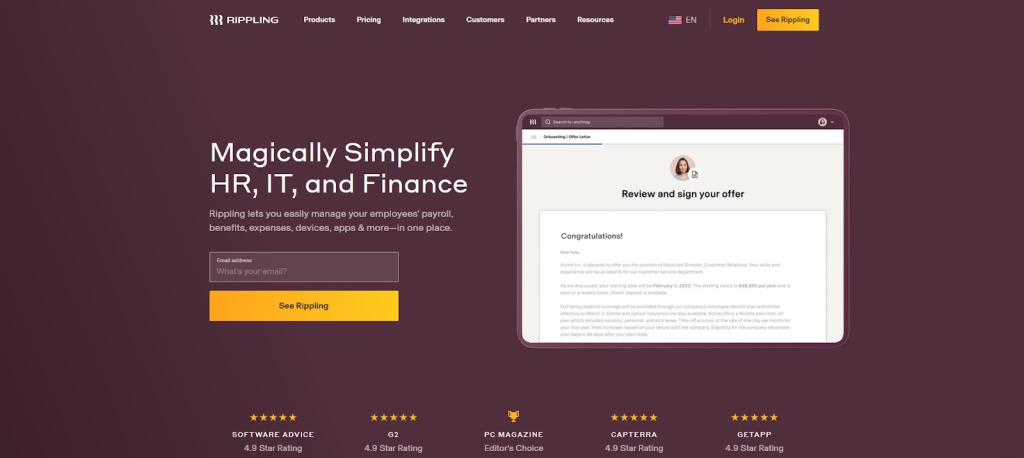 The platform offers an array of features, including payroll processing, benefits administration, time tracking, employee onboarding/offboarding, workforce planning, talent management, and more.
One of Rippling's standout features is its user-friendly interface. Moreover, Rippling integrates with popular business software such as Slack, Google Apps, Salesforce CRM, and others.
Best for: Small and mid-sized businesses looking for a user-friendly HR solution to streamline admin tasks and employee information management.
Paycor
Paycor offers an affordable core HR–system solution that combines recruitment process automation with an ATS, certification dashboards, and metrics reporting tools.

One of Paycor's standout features is its applicant tracking system (ATS). This module allows HR teams to manage the entire recruitment process, from job postings to new employee training and onboarding.
Paycor also offers real-time analytics and reporting capabilities that enable HR teams to track KPIs related to workforce planning, talent management, and succession planning, as well as self-service access for employees.
Best for: Businesses of all sizes that want to optimize their HR processes through automation and cloud-based technology.
BambooHR
BambooHR is another popular option for small businesses due to its user-friendly interface that includes multiple templates for real-time performance reviews and learning management.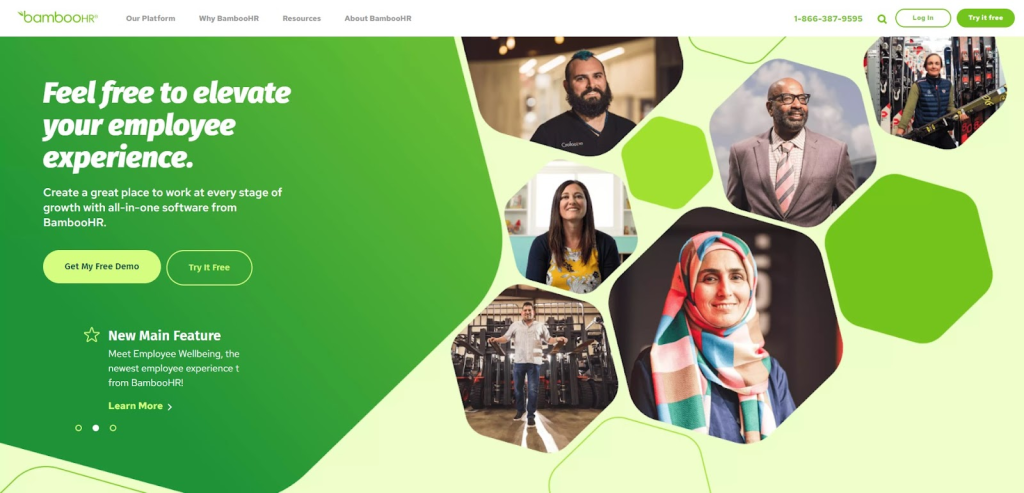 One of the standout features of BambooHR is its ATS, which automates the recruitment process. BambooHR also streamlines administrative tasks and offers mobile apps for Android and iOS devices.
BambooHR has several modules to help HR departments optimize their talent management strategy. The learning management module allows employees to access training materials, while the succession planning module helps identify top talent within the organization.
Best for: Small businesses looking to streamline their HR processes without sacrificing functionality or ease of use.
Remember, when choosing a suitable HRMS solution, always make sure that it meets your company's needs – there is no one-size-fits-all!
Learn More About HR
An efficient, feature-rich HRMS system can help you manage your workforce throughout its lifecycle, have access to real-time data to support decision-making processes, and ultimately save you time and money.
And a mobile app that allows you to access employee information anywhere, anytime is critical in today's fast-paced business world!
If you're looking for top talent retention strategies or simply want to learn more about human resources terminology and concepts, check out SwagDrop's comprehensive HR glossary.
Understanding these terms will help you better navigate the ever-evolving field of human resources while staying ahead of the competition.