Today's modern corporate world is demanding, even more so when it comes to the human resources department.
Shortage of talent, retaining employees, or keeping up with changes are only a few of the challenges HR faces—and it doesn't get easier.
Unless businesses start using HR software.
But out of the myriad options, how do you know which software to choose?
Stick with us to find the perfect HR software that'll solve many of your issues.
What Is HR Software?
Human resource software helps organizations automate daily tasks and core HR processes such as: 
Payroll and compensation management
Benefits administration
Time and attendance tracking
Talent management
Recruiting, onboarding, and offboarding
Most HR software is highly customizable to an individual company's needs, budget, and goals.
So, by using the right software, you save valuable energy and better allocate your time and resources toward more profitable and productive projects.
But how exactly does HR software benefit a company? 
What Are the Benefits of HR Software?
HR software has many advantages, but here are the most vital ones:
Reduces time spent on repetitive tasks. By spending more time on high-impact administrative tasks, HR management can focus more on long-term strategic projects. 
Reduces errors. A global study commissioned by Automation Anywhere revealed that employees spend more than three hours a day on repetitive tasks which are prone to human error. Automating mundane and manual tasks will reduce the number of critical mistakes. 
Ensures your business stays compliant. With HR software, you ensure your business conforms with federal regulations, such as GDPR or health and safety training compliance.
Accurate metrics. Better analytics help drive better decision-making. Easy access to real-time employee information and data helps organizations reach their business goals faster. 
Simplified benefits administration. HR software simplifies the process of managing benefits, giving you the necessary tools to achieve your employee benefits goals. 
These are only a few of the benefits you can experience if you invest in a good HR tool.
With that in mind, let's take a look at the different types of HR software.
Types of HR Software
There are many different types of HR software that streamline core HR tasks. Discover the six most common ones here:
Applicant tracking system (ATS)
An ATS is recruiting software that helps optimize the hiring process from beginning to end. It helps manage candidates by providing resume screenings and job postings and storing applicant data.
Through a more digitized hiring process, employers save more time and money.
It also allows you to focus on what matters most: your candidates.
Human resources information system (HRIS)
A human resources information system is a core data management system that streamlines multiple HR functions such as:
Managing payroll and benefits
Maintaining regulatory requirements
Tracking applicants
It can be a single software designed to integrate with other apps, or act as a central database in an all-in-one HR system.
Onboarding software
A good employee onboarding process has the power to increase employee retention and boost employee morale. 
That's why it's important to invest in onboarding software that streamlines the process of introducing new hires to a company, from talent acquisition to new hire orientation. 
It typically takes care of training tracking, employee surveys, or pre-boarding packages. 
Performance management software
HR managers use a performance management tool to establish performance standards and goals, while also evaluating and tracking a person's individual job performance.
By using a combination of methodologies and technologies, such software ensures people in the company are aligned with – and contribute to – the strategic goals of the business.
Time tracking software
Employees and managers use a time tracking software platform to track, report, and analyze the time spent on tasks.
It allows managers to know which tasks are taking a lot of time and costing the most money, while also allowing them to plan their budget better.
Employee engagement software
Employee engagement software helps companies boost employee satisfaction and retain top talent.
Such a tool helps managers understand what employees value and think through dynamic surveys and polls, as well as through feedback, coaching, and analytics.
With employee engagement software, you can improve individual and team engagement.
Why is engagement so important?
Simply because engaged employees care about their performance and go beyond what's expected of them to contribute to the business's success. 
***
But what makes great HR software? Discover the answer in the next section.
8 Elements of Great HR Software
There is no one-size-fits-all HR software solution.
Companies face different challenges in their human resources departments and might look for unique features that solve their issues. Some might want stable payroll software, while others look for a better onboarding experience and recruitment process. 
However, there are some key features that are expected from an ideal HR solution, such as:
#1: Payroll and benefits management
All human resource management systems should have employee benefits and payroll management.
Why?
Because it allows you to run payroll processes directly through the software and ensures employees are paid timely and accurately. Such software might also include financial administration like healthcare and retirement.
On the other hand, benefits administration refers to creating and managing employee benefits, while also ensuring government regulations compliance.
#2: Automation
HR software is designed to help you save a lot of time and money in the long run through automated processes.
One of its best features is that it automates repetitive tasks, which in turn increases efficiency and productivity.
Try to look for software that eliminates human labor in areas such as taxes, time-off tracking, etc.
#3: Mobile accessibility
Good HR software has a free mobile app.
Employees might need to access HR data on the fly, especially for things such as time-off requests or benefits information.
Mobile accessibility frees some responsibilities from being tied to a physical office, and workers can access a self-service portal that gives them the ability to view, manage, track, and complete their tasks.
It's also a time-saver since it allows the staff and administration to access information they need without having to email, call, or visit the HR department.
#4: Software integrations
Any HR solution worth its salt should be able to integrate well with existing software.
That's why you should look for software that offers third-party integrations with other business applications, rather than restricting you to using modules provided by the vendor.
#5: Data visualization and analytics
While data visualization and analytics are less common features of an HR system, it's still worth looking into.
With automated reporting, you can get real-time insights into absenteeism, employee turnover, performance, payroll costs, etc.
As a result, by analyzing this vital data, you enable better decision-making.
#6: Data security
Data protection is vital for any organization, as it prevents a business's information from hacking, phishing, or identity theft.
Most of these HR tools are cloud-based, which means that your business data – including employee data, personal information, and financial data – is stored online.
When searching for the right HR software, make sure that the solution you choose has adequate protection in place, such as data encryption.
Furthermore, good HR software automates compliance and reporting. By keeping track of all your data, HR software should identify areas where compliance may be lacking.
This way, you can take corrective measures quickly and efficiently and ensure you meet regulatory compliance.
#7: Applicant and new hire tracking
One feature that's sought out is the ability to automate and optimize the recruitment process.
HR software makes the hiring process easier to handle since it offers pre-made templates. Moreover, an ATS can reject or accept applicants based on set criteria, which saves you costs and resources.
It doesn't stop here, though!
A good HR solution also helps you develop retention strategies that ensure you retain top talent in your business. 
How?
By allowing you to track the behavioral pattern of each employee and providing you with forecasts on possible resignations.
The software can send concerns to HR and even propose solutions.
#8: Performance management
Your business can benefit from an effective performance management system.
You need such software because it ensures that employees work toward achieving the company's strategic goals.
A good solution allows HR teams to focus less on manually managing performance reviews and more on coaching, supporting, and training employees.
An effective performance management system ensures your recognition program is unbiased and helps you establish performance-based pay systems.
Psst! One way to show your staff how much you appreciate them is by offering them a promotion gift. This article will surely get you inspired!
11 Top Human Resource Software Platforms
While there are many tools that solve day-to-day mundane HR tasks, it's hard to find THE ONE.
If you're looking for perfect HR software, then you've come to the right place. This list features many tools that offer something unique within their area of specialty.
Let's take a look at the top 11 human resource software platforms (in no particular order!).
BambooHR
BambooHR is a great HR software because it focuses on what matters most for any organization: the people.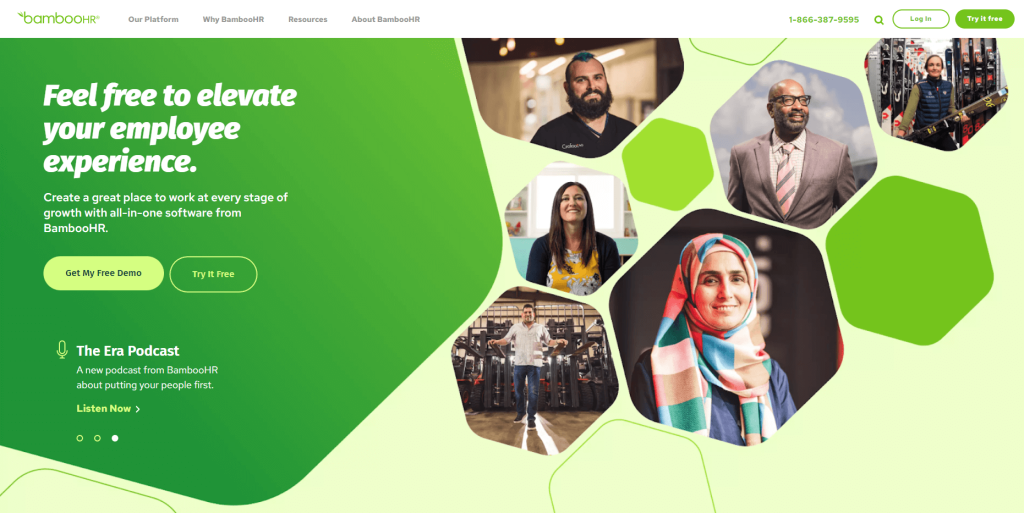 BambooHR offers plenty of third-party integration and customization. It helps you retain talent, reduce turnover, and boost engagement – all while emphasizing company culture and productivity. 
What makes this tool great is its user-friendly mobile app, which employees can use to perform tasks efficiently and which also keeps your data organized.
It has many features, such as:
Paid time off (PTO)
Reporting and analytics
New hire onboarding and offboarding
Mobile hiring app
Employee wellbeing programs
| | |
| --- | --- |
| Pros | Cons |
| Has a holistic and thorough approach to HR | Pricier than other software |
| It's easy to set up | Lacking benefits administration features |
| Integrates seamlessly with other software | |
Best for: Small and midsize businesses (SMBs).
Free to try? Yes. 
Rippling
Rippling is a unique HR solution that prides itself on magically simplifying finance, HR, and IT.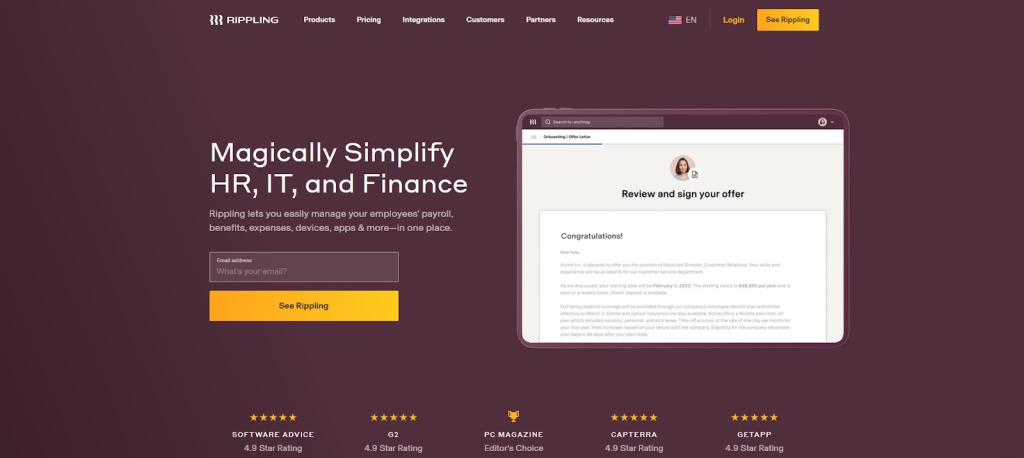 This tool easily helps you manage your employees through highly automated workflows that you can easily control from the convenient dashboard.
The software is appropriate for modern, all-digital workforces, since you remotely manage your employees' devices, as well as apps such as Slack, Office 365, etc.
What's great about this solution is that you can effortlessly onboard new hires in 90 seconds! ??
Some of its many features include:
Applicant tracking system
Time and attendance
Pulse surveys
Talent management
Learning management system
Payroll
| | |
| --- | --- |
| Pros | Cons |
| Highly customizable | Limited mobile accessibility |
| Good setup tools | Slow screen changes |
| Large selection of integrated apps | The complexity might intimidate smaller businesses |
Best for: Small companies.
Free to try? Yes.
Gusto
In the crowded space of payroll services, Gusto stands out the most. ?

Though it's still a young company, Gusto continues to improve and add new functionalities.
What makes Gusto special?
Gusto offers an exceptional user experience that appeals to many managers unfamiliar with the payroll process. Its well-oiled system leaves no room for compliance risks.
Choose this software for its core HR functions that satisfy the needs of small businesses with ease and make employee satisfaction its #1 priority.
Gusto has many good features:
Employee onboarding
Self-service portal
Compensation management
Benefits management
| | |
| --- | --- |
| Pros | Cons |
| Flexible | Contractors and time off require separate screens |
| Exceptional user experienc | Gusto Simple doesn't include time tracking |
| Good customizable reports  | |
Best for: Small businesses.
Free to try? Yes.
Zenefits
Do you sometimes feel like you spend too much time on boring HR tasks?
Zenefits can fix that. ?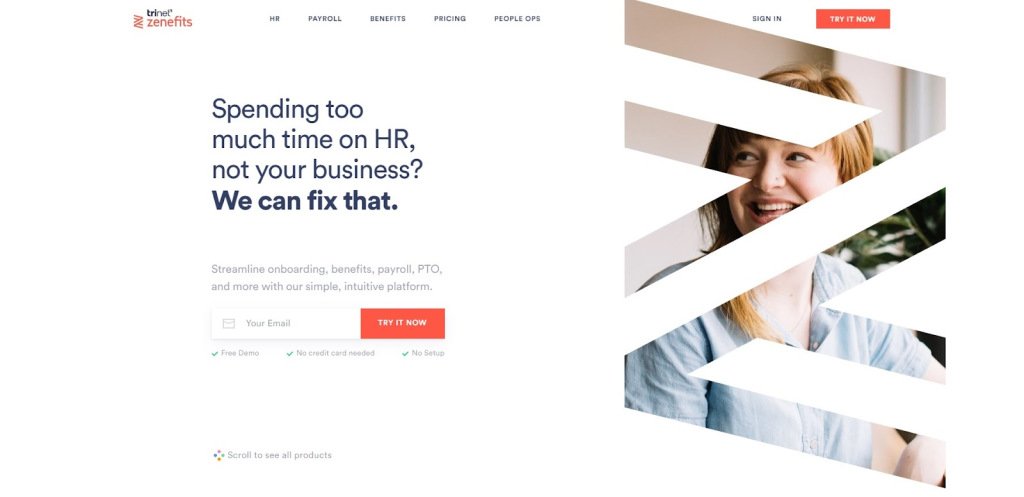 This HR tool covers most of your administration needs in an easy-to-manage platform.
Most professionals pick this software solution due to its automated onboarding workflow and how easy it is to streamline the entire enrollment process.
Plus, the platform is mobile-friendly, which means that it's entirely customizable.
Zenefits offers many benefits through its core features:
Employee performance
Onboarding workflows
People analytics
Time and scheduling management
| | |
| --- | --- |
| Pros | Cons |
| Good user experience | Mobile application is limited for admin tasks |
| Strong business intelligence features | May be overwhelming for very small businesses |
| Comprehensive benefits administration and plan-building | |
Best for: Entrepreneurs in startups or SMBs.
Free to try? Yes.
Monday.com
When we say Monday, we're not talking about the day of the week, but about monday.com, the flexible workflow platform.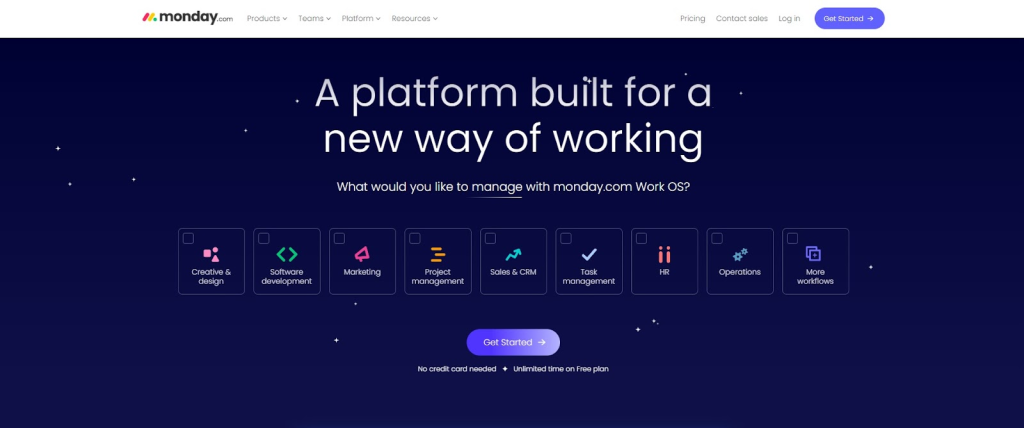 Monday.com is more than just HR software.
It's a functional tool that offers visually stimulating dashboards you can customize to your liking, making it fun and interactive for employees.
In addition, it has pre-built templates, forms, and surveys you can use to streamline your workforce management process. Since it's so flexible, you eliminate many time-consuming manual tasks.
Let's take a look at its features:
360-degree feedback
Employee onboarding
Applicant tracking
Employee self-service portal
Easy data visualization
| | |
| --- | --- |
| Pros | Cons |
| Has a clean, visually stunning design | Unable to easily track project goals |
| Smooth project management | UI has limited features |
| Add-ons make the board fun and personal  | Paid plug-ins |
Best for: Small or midsize businesses and HR teams of any size.
Free to try? Yes.
Paycor
In addition to being an amazing payroll service, it's also an all-in-one human capital management (HCM) system.
Image Source: Paycor
Designed for HR leaders, Paycor is committed to offering you a customized experience that caters to your business needs, and is not just a one-size-fits-all solution.
Overall, this HR tool is excellent for those who want to streamline core human resources tasks since it offers a digital solution that focuses on your HR needs.
Its basic plan includes features such as:
Expense management
Online tax reporting
Tax services
Compensation planning
Talent management
| | |
| --- | --- |
| Pros | Cons |
| Automated payroll | Time tracking is an add-on |
| Multiple paid plans available | Expensive for payroll software |
| Unlimited payroll runs | Lots of added fees |
Best for: Companies in niche industries, such as manufacturing, healthcare, retail, or education.
Free to try? Yes.
Sage People
If you're a multinational company with lots of needs and requirements, then Sage People may be the right option for you.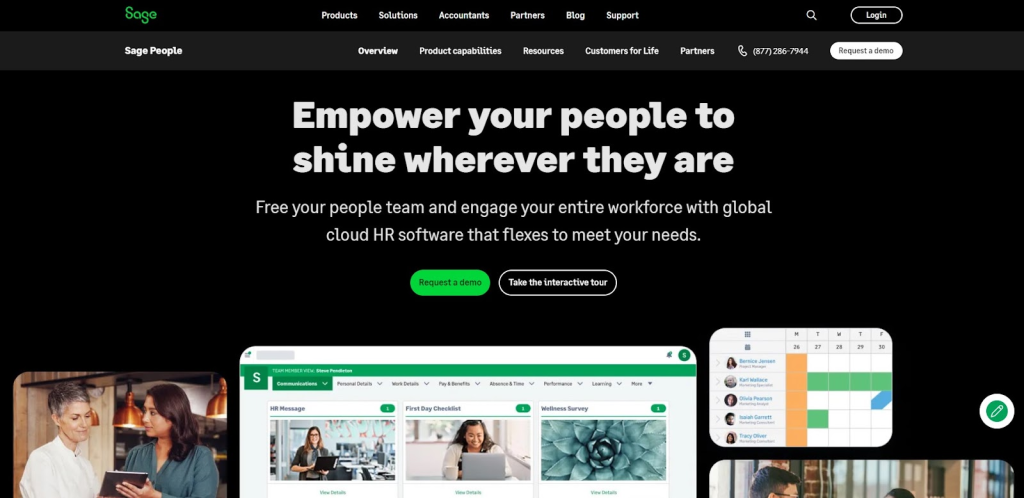 Designed with extensive configurability, Sage People is a flexible cloud solution that aims to empower the HR department. It also enables better business flow through inclusivity, agility, and resiliency.
Sage People frees up HR leaders' time to focus on what drives a business's success and its people.
This formidable HR platform caters to all requirements of larger enterprises, and offers features like:
Job profiles and administration
Salary revision and increment management
Employee recognition 
Performance plans
Tracking and management tools
Duplicate candidate prevention
| | |
| --- | --- |
| Pros | Cons |
| Built on Salesforce's platform | Setting up takes a long time |
| Good integration with third-party vendors | Expensive for small businesses |
| Suitable for multinational organizations | May alienate non-Salesforce shops |
Best for: Large businesses and enterprises.
Free to try? Yes.
Namely
Tired of feeling stressed and frustrated over manual HR tasks?
Then here's a solution that'll make a difference.
Namely makes your organization a place where company culture thrives and innovation is your new normal. 
What makes Namely good is its high-end employee management and engagement features.
Not only does this software improve your processes, but it also helps you stay compliant and allows staff to gain access to all the HR information they need.
This human resource management system offers some special features that are worth mentioning:
Goal tracking
Custom approvals
Electronic signature
Compliance database
Task lists
| | |
| --- | --- |
| Pros | Cons |
| Designed around the needs of SMBs | Expensive for larger businesses |
| Strong performance review features | Limited compensation section |
Best for: Small and midsize businesses.
Free to try? Yes.
Deel
Ready to see what a good Deel looks like?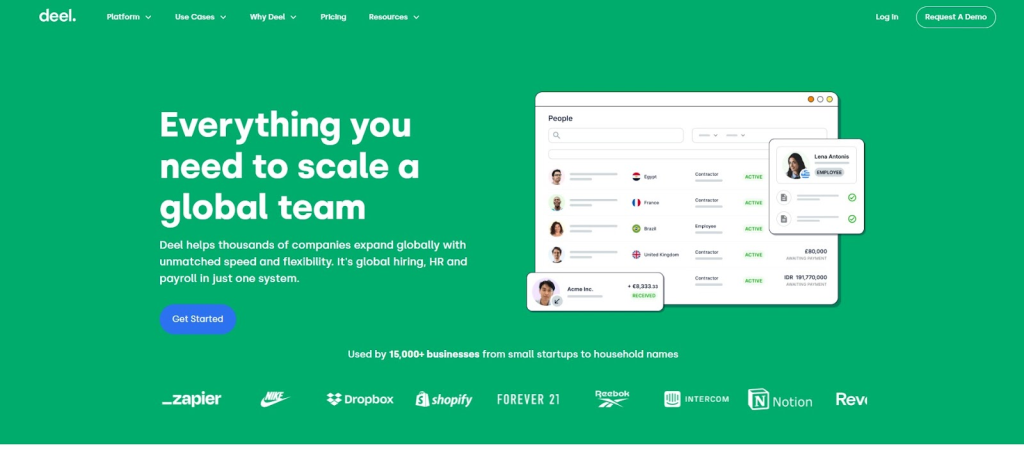 This is the tool you need to manage international teams of all sizes – no matter where they work from – without breaking the bank.
With remote work now part of our daily lives, it's vital to have a comprehensive solution that streamlines the workflow so you can run future projects efficiently.
This tool allows you to hire from over 150 countries by generating custom contracts based on local laws and helping you collect the necessary paperwork.
Deel has these main features:
Local compliance monitoring
Overview of benefits and perks 
Off-cycle payroll adjustments
Dedicated account managers
Expense reimbursement tools
| | |
| --- | --- |
| Pros | Cons |
| Easy compliance requirements | Missing features |
| Handy advance payment features | The UI is sometimes difficult to understand |
| Modern user experience  | Poor customer service |
Best for: Global and international teams.
Free to try? Yes.
Deputy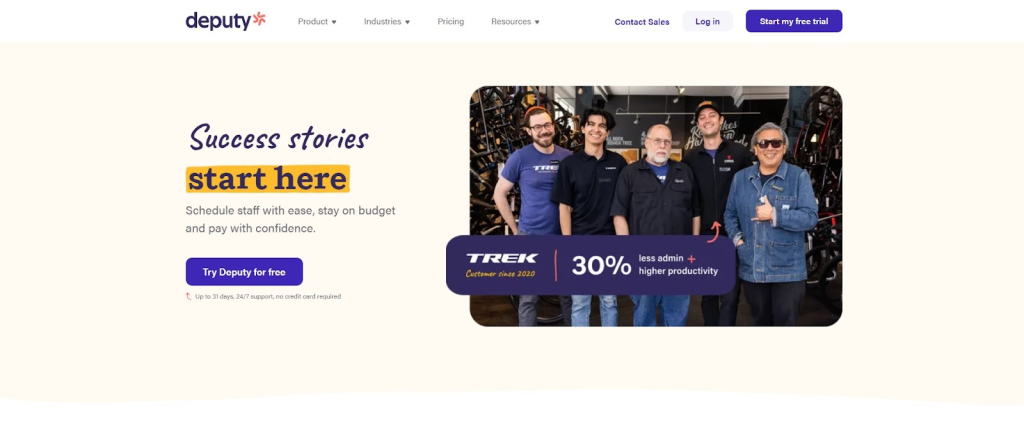 Deputy has enough core HR features to make it competitive in this industry, but it's not broad enough for large businesses.
Still, if you need a trusty HR tool, Deputy is your best bet. Aside from solid mobile support, great UI, and a long list of integrations, this HR tool also has 24/7 customer support.
It offers basic features such as:
Calendar management
Self-service portal
Attendance tracking
Payroll management
Reporting and analytics
| | |
| --- | --- |
| Pros | Cons |
| Intuitive user interface | Available in English only |
| Great mobile solutions | Not a robust enough tool  |
| Open shifts and easy shift swapping | |
Best for: Small businesses or independent contractors that need a general HR tool.
Free to try? Yes.
SAP HXM Suite
This HR software is perfect for small businesses since it offers outstanding features that automate most mundane HR tasks.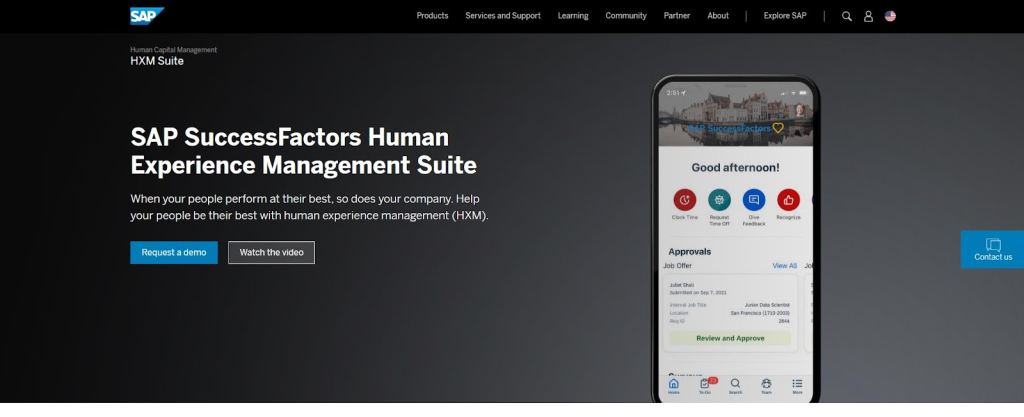 SAP SuccessFactors helps create truly dynamic, employee-centered, and engaging experiences.
The suite is created to support workers throughout their careers and enable HR professionals to accelerate business growth and enable success.
The list of features SAP offers is as follows:
Talent management
Time and attendance
Payroll software
People management and analytics
| | |
| --- | --- |
| Pros | Cons |
| Intuitive setup and video tutorials | Lacks add-on options |
| Amazing performance tracking features | Is more expensive than most competing software |
Best for: Small to midsize businesses.
Free to try? Yes.
HR Software Comparison Chart
To make your decision easier, here's a handy comparison table with all the essential information about the aforementioned human resource software platforms.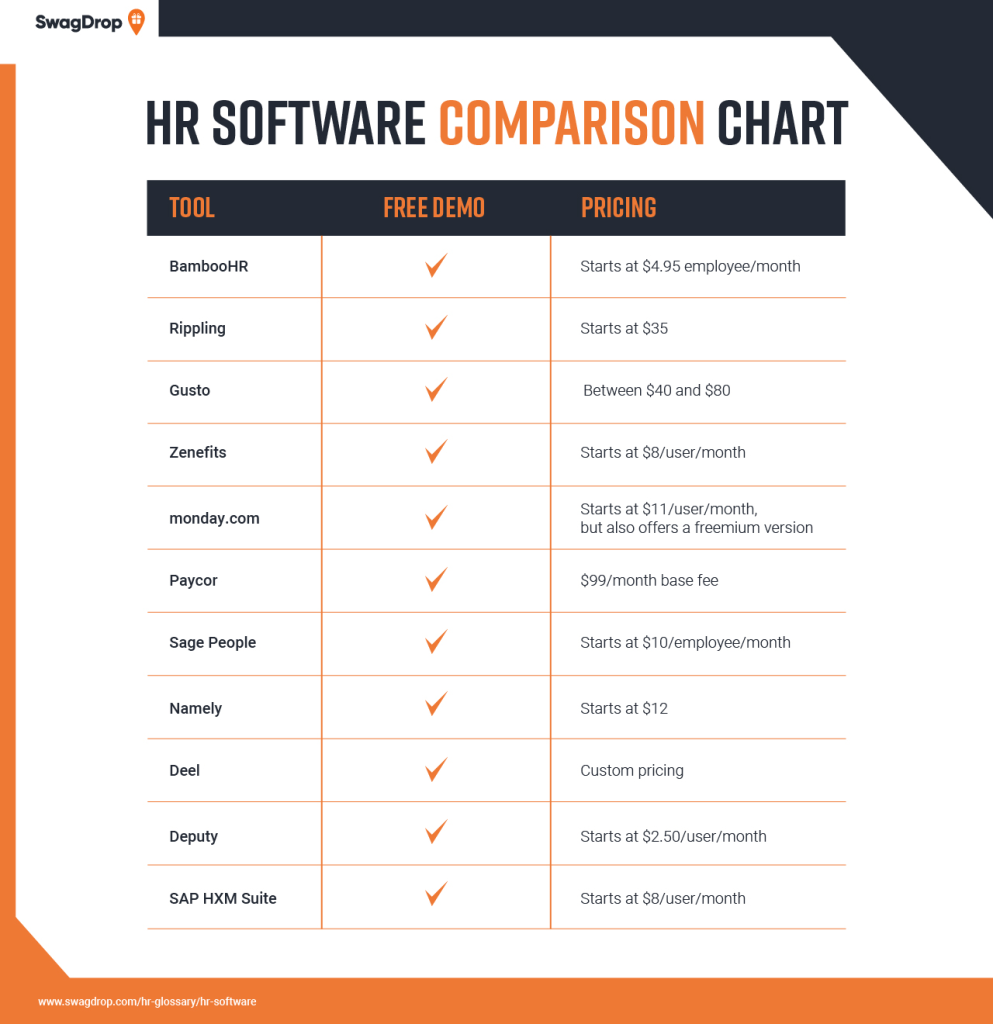 Author's note: If you are interested in seeing a complete list of the best HR tools for companies that want to boost human resources in 2023, we've got you covered. 
Streamline Your HR Processes
Picking the right HR software depends on your needs, business size, and budget.
This article offers all the details you need to take the next step and make an informed decision regarding the success of your HR department.
Ready to learn more about HR?
Visit our HR glossary for more useful tips and strategies that will make your workflow faster. 
Frequently Asked Questions (FAQs)
If you have any Qs about HR software, the answers are here.
Q1. How can I tell which HR software is right for my business?
Here are some quick tips for finding the right software for your company:
Identify your needs: Think about what features you're missing or what obstacles your HR team is currently facing.
Research vendors: We've already shown you a comprehensive list of vendors that are unique and offer plenty of features, so start your research here.
Make a shortlist: Make a list with software that looks like a perfect match with your company's objectives and compare them.
Try a free trial: Free trials give you a first-hand experience of what it's like to use the solution.
Q2. What is an HR database used for?
An HR database helps store employee records in a single cloud-based platform. It keeps your employee profiles organized and at hand.
Q3. Are there different types of HR databases?
There are many types of HR databases, such as:
Software for payroll
Software for onboarding
Recruiting software
Candidate sourcing software
Employee recognition platforms
Benefits administration software