Organizations that want to solve problems faster need to adopt an agile approach to revolutionize their way of work.
How so?
Because the mindset and principles of agile have slowly worked their way into the human resources industry, transforming how companies hire, develop, and manage their people.
But what is agile HR?
Find the answer to this question—and more—in this article.
What Is Agile HR?
Definition
Agile HR is a new and innovative approach to rethinking and redefining human resources functions, moving away from traditional HR's rigid rules.
In a nutshell, it solves many common HR challenges by:
Adapting to new situations more effectively
Having a more flexible approach to talent management
Being more responsive to customer needs
Probably the most important aspect that agile HR improves is in the onboarding process, where it enables the flexibility that HR teams need to successfully attract and retain top talent. 
While the agile methodology is more a mindset you can adopt than something immediately apparent, many companies use this approach to keep up in a fast-moving world.
Those who implement agile strategies increase their productivity, revenue, and time-to-market by 60%, says a survey by Harvard Business Review. 
But are these the only benefits?
Read on to find out why so many HR departments want to adopt an agile mindset. 
Tips, tricks, and inspiration delivered straight to your inbox.
Subscribe to learn more on how to break through the bustle.
What Are the Benefits of Agile HR?
An agile HR approach yields the following benefits at an organizational, team, and individual level:
Increased productivity: A study by Deltamatrix discovered that agile teams are 25% more productive than those who take a more traditional approach to their HR needs. 
Improved team collaboration: Agility helps design an organizational culture that maximizes communication and collaboration among team members from different departments. 
Better adaptability: The agile method allows organizations to quickly adapt to changing conditions.
Greater output measurement: Business agility enables better decision-making through direct results related to performance, cost, and time of any initiative. 
Moreover, agile HR lets you organize your work and keeps your employees engaged by helping them feel confident enough to take ownership of their work. 
By now, you're probably excited by the prospect of transforming your business into an agile organization.
If so, take a look at the six principles of an agile approach to get started.
6 Principles of Agile Teams
Learning about agile principles is just the starting point of your journey. Implementing them is where the real fun begins.
If you're ready to start your agile transformation, take a look at these six principles of successful agile teams.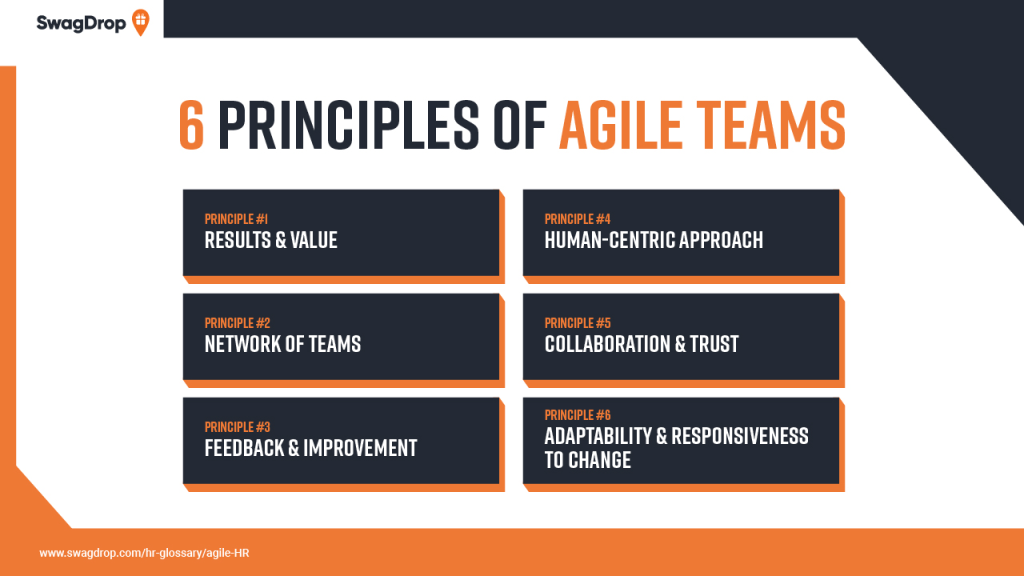 Principle #1: Results and value
The agile way of work changes how businesses approach project management by getting results quicker.
This means that HR leaders focus on outcomes rather than the lengthy process of setting what they want to accomplish and developing a plan for how to achieve it.
With an agile approach, it's simple to identify the goals of your initiative and break them down into achievable steps.
For example, let's say you want to reduce employee turnover. To achieve this goal, you might concentrate your efforts on improving the onboarding process for new hires by assigning them a work buddy.  
Principle #2: Network of teams
By implementing agile practices, you say goodbye to traditional company hierarchy systems that rule with an iron fist, and hello to the more collaborative approach of a network of teams.
This way, companies can build empowered, self-organizing teams that support a more scalable and structured work environment.
With such a synergistic network of teams, you can approach possible issues strategically and create a culture of collaboration and engagement that effectively tackles projects.
Principle #3: Feedback & improvement
Agile values help HR teams gather real-time feedback from stakeholders, customers, and employees for continuous improvement.
For example, this is extremely helpful when you're holding meetings.
Instead of asking people to comment on the presentation at the end of the meeting, you can use agile practices to encourage them to give feedback as they're watching the presentation.
To help support your agile initiatives, you can use HR tech to simplify this process and keep your people engaged with your company. 
Principle #4: Human-centric approach
Your employees are not only business tools, but human beings who are instrumental in ensuring your success, especially when you engage them with their work.
A Gallup study discovered that engaged employees led to a boost of 22% in profitability and 21% in productivity. 
Through a more human-centric approach, you design a better people-centered solution that:
Elevates the employee experience
Understands customer needs, motivations, and expectations
Fosters a positive new-hire experience
As a result, this approach leads to more involved and happier human capital.  
Principle #5: Collaboration & trust
How can HR embrace the future and create an environment of trust?
Through an agile approach, HR management can get continuous feedback results directly into their hands. Therefore, it fosters high levels of collaboration and trust due to the in-house process.
Picture a team of individuals who analyze these results, see what they're doing well, and what needs to be changed—all while encouraging co-creation.
Author's Tip: We know how hard it can be to bring people together, so here are some team-building activities your employees will love!
Principle #6: Adaptability & responsiveness to change
Even if change comes later in development, an agile environment allows you to welcome these shifting requirements.
Since it emphasizes communication and encourages frequent feedback, teams know what's going on from the start and can react to change if necessary.
The agile methodology has two ways of handling responsiveness to change:
Collaboration—everyone on the team solves problems and makes decisions together.
Iteration—rather than implementing everything all at once, the team makes changes throughout a development period.
***
With these six principles, you're set up for success.
If you want to make your HR processes even more agile, follow us in the next section for some great tips. 
How to Make Your HR Function More Agile
Agile HR will most likely feel like a whole new world of work for many organizations.
But the good part is that you don't need to adopt the full methodology to benefit from agile HR. You can select the features you want to change to suit your business needs—and start from there.
Below you will find steps for making some HR functions more agile.
Identify problems, resources, & responsibilities
The first step you need to take to build agility in your business is to identify the exact issue you're trying to solve.
You can discover the areas you need to work on by consulting with relevant stakeholders or asking for feedback.
Once you've identified the problem, you assign a capable team to tackle it. Most likely, your team will use agile methodologies like Scrum, Kanban, or other useful HR tools to manage the project. 
Ensure your team has the resources it needs to succeed. This means you offer training and coaching opportunities to improve the team's overall performance and effectiveness. 
Organize your backlogs
Backlogs are lists of required tasks that support a large strategic plan.
Without an organized backlog, your agile teams can't deliver regularly, which means that your business is not responding to your customers and markets fast enough.
Agile teams need to have clearly defined backlogs with actionable requirements that show how much work they can complete during a certain period.
This ability allows you to create a stable, adaptable, and predictable delivery process.
Facilitate communication & feedback
Regular communication with team members involved in the project allows employees to better understand expectations.
If the staff doesn't regularly communicate, they're not aware of changes or can't address any issues.
As a result, this no-communication practice leads to delays and other avoidable problems that strain your customer relationships.
Here's what you can do to avoid this unpleasant situation:
Consider the feedback from both the team and clients
Identify barriers and frustration points
Analyze if there's a fair workload
Support employee growth
Learning and growth are intertwined and an important part of an agile workforce.
To reap all the benefits, equip your HR teams with the skills and knowledge required to adopt agile HR practices. This might mean providing training in agile methodologies or software.
Tips, tricks, and inspiration delivered straight to your inbox.
Subscribe to learn more on how to break through the bustle.
Now Over to You
Agile is the future of work, and you need to be ready for it.
Start small and experiment with this approach until you find something that fits your business needs.
If you want to learn more about other HR terms, then we invite you to visit our comprehensive HR glossary.