Talent management is a crucial aspect of any business strategy, yet it's often overlooked or undervalued.
As the workforce continues to evolve and new generations enter the job market, companies need to adapt their approach to attract and retain top talent.
In this article, we'll explore the definition of talent management and why it's important for your organization.
We also go over some practical strategies you can implement today to build a strong pipeline of high-performing employees who will drive your business forward in the years to come.
Whether you're an HR professional or a leader, read on for valuable insights into how to optimize your talent management process.
What Is Talent Management?
Definition
Talent management is the process of attracting, developing, and retaining employees capable of helping an organization achieve its goals.
It encompasses everything from recruitment and hiring to training and development, performance management, succession planning, and more.
At its core, talent management is about identifying individuals who have the potential to become high-performing employees and providing them with the resources they need to succeed.
This includes creating a supportive work environment that fosters growth and development at all stages of the employee life cycle.
Talent management also involves aligning business goals with individual career paths to maximize employee engagement and job satisfaction. 
By investing in the professional development of your employees, you can build a strong pipeline of talented people who are invested in their roles and committed to the success of your organization.
Ultimately, effective talent management requires a comprehensive approach that addresses both short-term needs (e.g., filling skill gaps) and long-term business goals (e.g., building leadership or driving innovation).
Why Is Talent Management Important?
Talent management plays a critical role in shaping the success of any organization by ensuring that it has the right people with the necessary skills to achieve its goals.
In today's highly competitive business landscape, talent management is more important than ever before. A company's ability to attract and retain top talent can be a significant differentiator between success and failure.
With an effective talent management program in place, companies can reduce their turnover rates while increasing employee engagement and productivity.
Moreover, organizations that prioritize talent management tend to have stronger employer brands which help them attract top candidates from diverse backgrounds into their workforce.
These candidates are usually attracted when they see how much emphasis an organization puts on employee development opportunities, such as training programs or mentorship initiatives, which eventually leads to higher retention rates.
In addition, talent management helps companies identify future leaders within their ranks through succession planning initiatives. This ensures continuity, even when key employees leave or retire unexpectedly.
Talent management is essential for optimizing human capital investments and creating a better work environment where employees feel valued, leading to overall growth for both the individual and the company.
7 Top Talent Management Strategies
By prioritizing your human capital alongside other key assets like technology or infrastructure, you can set your organization up for sustained growth over time. Here are seven proven strategies to help you do that: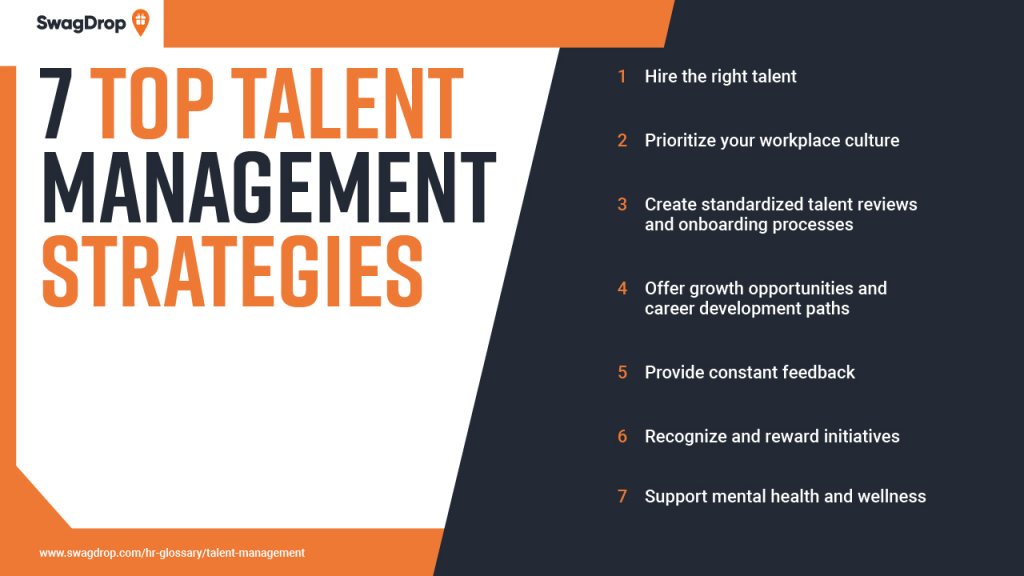 Hire the right talent
It's crucial to hire the right people for your organization – but how can you ensure that you're bringing in top-tier talent? It all starts with a thorough hiring process.
First and foremost, be sure to clearly define the job requirements and necessary skills. This will help attract candidates who have the experience and expertise required for success in their new role.
Next, evaluate resumes carefully to identify candidates who possess not only relevant skills but also a cultural fit with your organization.
An employee who doesn't fit into a company culture will most likely be unhappy and unproductive. Therefore, it's important that you hire candidates who share your company's values.
Look beyond technical abilities and consider factors like personality traits, communication style, and work ethic.
During interviews, use behavioral-based questions to gain insight into how candidates have handled situations similar to those they'll encounter on the job. And don't forget to pay attention to nonverbal cues, like body language and tone of voice!
In addition, involving current employees in the hiring process can provide valuable insight into whether an applicant will feel comfortable with the team and the company culture as a whole.
Prioritize your workplace culture
Your company's culture influences every aspect of employee experience, shaping their attitudes towards their work, colleagues, and the organization as a whole.
To create an attractive corporate culture for talent acquisition and retention, focus on developing shared values that align with your business goals. This includes creating a supportive work environment where employees feel valued and appreciated for their contributions.
Branded employee merchandise has a positive impact on employee engagement, retention, and satisfaction, too. Employees who receive corporate gifts feel more valued in the workplace and are more motivated to be productive.
Additionally, it's important to promote diversity and inclusion in your workplace to foster innovation through different perspectives. Encourage open communication channels across all levels of the organization to ensure everyone feels heard.
A positive work-life balance is also crucial for maintaining employee satisfaction. Providing flexible schedules or remote work options can help achieve this balance while promoting productivity.
Finally, make sure to recognize exceptional performance and reward initiatives regularly. Celebrating successes not only boosts morale but also reinforces cultural values that contribute to a thriving workforce.
Create standardized talent reviews and onboarding processes
Establishing a consistent approach to evaluating and integrating new hires ensures that all employees have equal opportunities for growth and talent development within the organization.
Incorporating standardized talent reviews as part of your performance management system allows the HR department to make data-driven decisions related to human capital management.
By analyzing key metrics such as performance ratings, goal achievement rates, and skill sets, organizations can identify individuals who possess the high potential needed for leadership roles.
Likewise, streamlined onboarding processes are essential for setting up new hires for success from day one.
Consistent onboarding experiences not only help reduce the time it takes employees to become productive but also contribute significantly to overall employee satisfaction levels.
Providing new team members with comprehensive training programs, clear expectations regarding their job responsibilities, and access to necessary resources like mentoring or professional development courses, will ensure they feel supported throughout their journey within your company.
In this way, you'll be promoting an environment where continuous learning is valued at every stage of an employee's career – and they'll notice it!
Offer growth opportunities and career development paths
Offering growth opportunities and career development paths is another top talent management strategy that can help retain high-performing employees.
People want to feel like they are growing in their roles, acquiring new skills, and advancing in their careers.
As an employer, you can facilitate this by providing training programs, mentorships, coaching sessions, or job-shadowing opportunities.
By investing in your employees' growth and development you also create a sense of loyalty from them towards the company.
Employees who feel valued tend to stay longer with an organization and produce better work results.
Employers need to understand each employee's individual goals so that they can tailor career development plans accordingly.
This means taking time to listen to what the employee wants out of their role within your company and then working together on creating a plan that will allow them to achieve it while still serving the business goals.
Showing interest in your employees' personal goals goes beyond professional advancement. It shows that you care about helping them succeed both personally and professionally.
Offering growth opportunities through targeted career development plans not only benefits individuals within the workforce but is essential for long-term success for businesses too.
Provide constant feedback
Providing constant feedback helps employees stay engaged and motivated, and it also allows employers to identify areas where they can improve. There are several ways to provide consistent feedback:
Firstly, managers should schedule regular check-ins and performance reviews with their team members to discuss progress, address concerns or challenges, and offer support if needed.
Secondly, human resource management should encourage employees to share their thoughts through anonymous surveys or suggestion boxes. This approach gives staff a voice in improving workplace culture while identifying any issues that may need addressing.
Thirdly, providing real-time feedback is crucial as it ensures continuous improvement. Managers must be comfortable giving both positive and constructive criticism promptly so that employees have an opportunity to course-correct quickly.
Using technology-enabled performance tools such as 360-degree reviews gives everyone involved a more comprehensive view of employee performance while tracking performance metrics over time.
Consistently providing feedback is critical for effective talent management because it enables businesses to maximize employee potential by cultivating growth mindsets among workers.
At the same time, employees feel seen, heard, and valued at every stage of their career development journey.
Recognize and reward initiative
Recognizing and rewarding initiative can also help companies retain their top-performing employees.
By acknowledging an employee's hard work, dedication, and contribution to the company's growth, employers can create a sense of appreciation and motivation among their workforce.
One way to recognize an employee's initiative is by providing them with public praise. This can be done through various channels such as social media, internal newsletters, or email blasts to the entire team.
A simple "thank you" for a job well done can go a long way in boosting morale.
It's also important to reward employees who exhibit excellent performance consistently.
Rewards don't always have to come in the form of monetary compensation; they could be anything from additional vacation time, flexible hours, or recognition programs like Employee of the Month awards.
Employees are more likely to remain loyal when they feel valued at work, so cultivating an environment where employees feel appreciated will help retain your best talent in today's competitive marketplace.
Support mental health and wellness
The mental health and wellness of employees should be a top priority for any organization. When employees feel their best, they are more likely to perform at their highest level and contribute positively to the company.
One way to support mental health is by providing access to resources such as counseling or therapy services. This can help employees work through personal or work-related issues that may be affecting their well-being.
Additionally, promoting a healthy work-life balance can also have a positive impact on employee mental health.
Encouraging breaks during the day and offering flexible schedules can allow employees to better manage stress levels and maintain overall wellness.
Another way to show support for employee well-being is by creating a culture that values self-care.
Dedicate time during team meetings or events to discuss ways in which everyone can prioritize taking care of themselves both in and outside of work.Supporting employee mental health and wellness not only benefits individual workers but also contributes to the success of the entire organization. 
Now Over to You
As the business world evolves, so does talent management.
It's no longer enough to simply hire top talent and hope for the best.
To truly succeed in today's competitive environment, companies need a solid talent strategy and must prioritize their human capital.
By implementing effective talent management strategies and creating an environment where employees feel valued, challenged, and supported, you can attract new employees and retain high-performing employees who are committed to your company's success.And with a solid understanding of human resources terms – you'll find everything you need in our HR glossary – you'll be well-equipped to bring high-performing individuals onto your team.
Frequently Asked Questions (FAQs)
Here are a few commonly asked questions and answers about talent management:
Q1. Does talent acquisition mean talent management?
Talent acquisition is the process of attracting and hiring qualified employees, while talent management is about developing and retaining those qualified employees.
This means that if you recruit and hire good employees but don't invest in their development, you won't retain them or realize their potential.
Q2. What is a talent management system?
A talent management system (TMS) is an integrated software platform that supports key talent management processes through software modules.
This enables organizations to link workforce planning to their business strategy and support the organization's current and future goals.
Q3. What's the future of talent management?
The future of talent management lies in strategies that are relevant to the business, inclusive, democratic, and inspiring, enabling individuals to grow and realize their potential (and become new talent magnets).
Imagine what would happen if everyone was given the chance to develop.