The talent market is no doubt a ruthless place.
Nowadays, having a candidate who's happy to join your company one day, then hunting something new the next, is routine.
That's why building a talent pipeline and streamlining your sourcing process makes the difference between hiring the right or wrong candidate. 
But before you start building a strong candidate sourcing process, you must first read this article and understand:
What candidate sourcing is
Why it's important
How to fill your talent pool
What Is Candidate Sourcing?
Definition
Candidate sourcing is searching and identifying candidates that match your required abilities and interests for open positions in your company.
Usually, if you don't invest in quality sourcing methods to search the talent pool, passive and active job seekers won't know about your company's open roles.
Since acquiring and retaining talent is a common HR challenge, candidate sourcing helps hiring managers engage with prospective applicants who can fill current or future positions. 
Through a strong candidate sourcing strategy, you can find details about the right candidates, such as their names, evidence of their qualifications, and contact information.
But is candidate sourcing that important? Continue reading to find out.
Why Is Candidate Sourcing Important?
While building a strong talent-sourcing strategy requires time and money, it also delivers the following benefits:
Attracts passive candidates: Passive candidates are people who aren't actively looking for a job. Even if 70% of the workforce are passive job seekers, it doesn't mean you should underestimate their power since they might still consider your job openings.
Improves quality of hire: Sourcing candidates can improve the overall quality of hire since it increases the potential candidate pool. As a result, you get better hiring options by ensuring you find qualified candidates with the right skills and experience. 
Shortens time to hire: Building a talent pool significantly improves your time-to-fill rates since the best candidates are already vetted and pre-screened. When it comes to filling open positions, candidate sourcing helps you save time and resources while also fostering engagement and improving acceptance rates. 
Now that you've seen why a good candidate sourcing process is vital to any business, it's time to move on and take a look at the differences between candidate sourcing and candidate recruiting. 
Tips, tricks, and inspiration delivered straight to your inbox.
Subscribe to learn more on how to break through the bustle.
What's the Difference Between Candidate Sourcing and Candidate Recruiting?
The main difference between candidate sourcing and candidate recruiting is the approach.
Sourcing is the process of searching, identifying, and reaching out to potential candidates who might fill current and future job postings.
In a nutshell, you can consider sourcing as a small step in your recruiting strategy that builds your talent pipeline.
So, after researching candidate profiles and collecting screened resumes, you move on to the recruitment process.
Recruiting means screening and selecting the ideal candidate through in-person or video interviews and carrying out an evaluation in the hope of extending an offer.
Most of the time, the HR department handles both stages of finding quality candidates.
However, other companies have people called 'sourcers' who exclusively handle the sourcing efforts, which hand over candidates to the recruitment team if they seem like a good fit.
In addition, it's not uncommon for businesses to use recruitment, hiring, and sourcing tools to aid them. 
But how exactly do you build a strong candidate pool? We know the secrets, so stay with us to find out. 
7 Candidate Sourcing Strategies to Fill Your Talent Pool
Here are some sourcing techniques that'll fill your funnel with top-tier talent and improve your hiring process.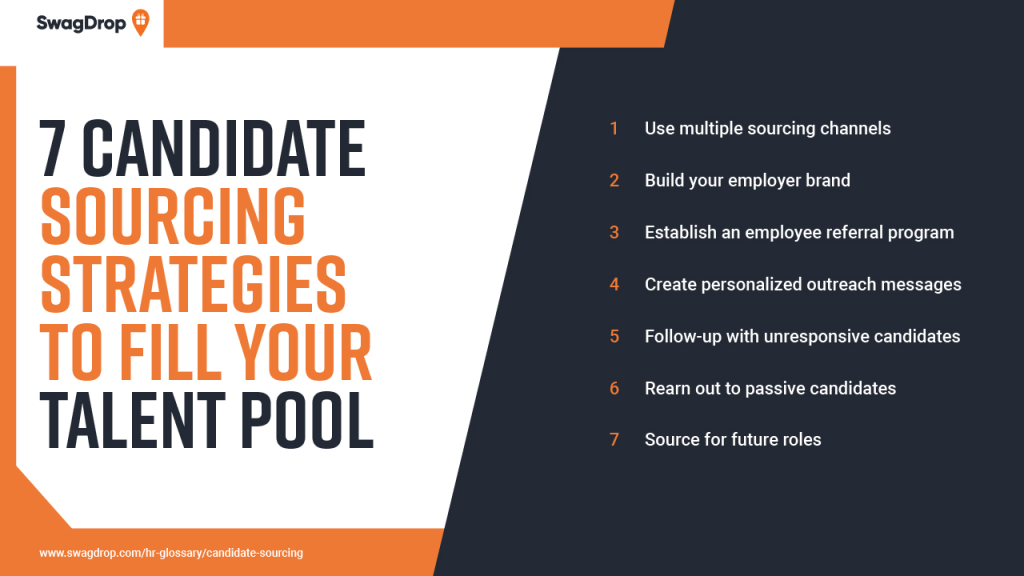 1. Use multiple sourcing channels
Most recruiters have a go-to channel where they find the types of candidates they're looking for, such as LinkedIn.
But while the most common methods are good for a reason, you shouldn't stop there.
Use less frequent candidate sourcing strategies such as job boards, professional and social networks, resume databases, online communities, or in-person events such as conferences or meetups to find the best talent.
Author's Tip: If you're out of ideas, ask your team members for insights.
2. Build your employer brand
According to a LinkedIn report, 75% of job seekers consider a company's brand before applying for a job. 
If your organization has a negative reputation online, chances are candidates won't apply for your open positions, especially if they're already hesitant about changing employers.
In today's digital world, your brand needs to stand out from the competition through a comprehensive marketing strategy. 
You can start by conducting a brand audit. For example, you can encourage employees to leave reviews and provide insight into how you run your company.
If the answer is less than desirable, you should revamp your brand. 
We are here to assist you and build the brand loyalty you seek. We can help you determine which business aspects need to change as well as the ones you should keep. 
3. Establish an employee referral program
Referrals are an excellent method for sourcing candidates.
Candidates referred by existing staff members often end up being your most successful employees because people you know and trust will point you in the direction of someone similar.
Another idea is to ask friends, family, and connections on social media platforms if they have someone in mind.
Many organizations have employee referral programs with non-monetary or monetary incentives.
So, if you don't have one, it costs nothing to create a referral program. All you have to do is share your most pressing job titles and motivate your team members to participate with cash bonuses or other rewards. 
4. Create personalized outreach messages
Creating personalized outreach messages improves the candidate experience and helps you find the right prospects.
Here are some tips for creating good outreach messages that aim your efforts at the candidates rather than your goals:
Include a minimum of two unique details in the first sentence
Target your candidate's objectives
Paint a brief picture of the role 
Have an engaging subject line
Explain how they can contribute to your company
Give them enough information to pique their interest
Be careful about overloading the potential candidate with too much information. If you're unsure, ask your recent hires for feedback and use their responses to test different messaging methods. 
5. Follow-up with unresponsive candidates
Sometimes you get candidates who respond to your first cold outreach email, while others don't.
While it's nice to receive a response on the first try, you didn't spend so much time building lists to stop at one email.
Luckily, HR tech can help you stay on top of these follow-ups and keep in touch with candidates who aren't ready yet to seek new opportunities. 
A general rule of thumb is to wait six months before reaching out to a candidate but you can re-engage them by:
Sending them corporate news
Wishing them a happy birthday
Congratulating them on a milestone
Even if it doesn't yield any results, you're on your candidates' radars when they're ready to turn a new leaf or recommend someone who would be a great fit.
6. Reach out to passive candidates
Passive candidates are easier to recruit than you might think.
With nearly 96% of employees looking for a new job in 2023, it's important to focus your efforts on passive candidates to get a competitive advantage, as they have the potential to become your best hires. 
Author's Tip: With passive candidates, you can share engaging content that sparks interest without being too promotional.
7. Source for future roles
Let's say you have a job to fill.
Naturally, you're going to recruit people suitable for that job; that's how most sourcing processes go.
However, experienced recruiters are more proactive in their efforts, so they also build personas for roles they might need in the future, based on the skill sets required and your company's culture. 
As a result, when your hiring manager needs a content writer who also dabbles in graphic design, you'll have some candidates in your applicant tracking system ready for an interview. 
Tips, tricks, and inspiration delivered straight to your inbox.
Subscribe to learn more on how to break through the bustle.
Now Over to You
You need to be tactical if you want to retain top talent.
We hope that these insights will give you the competitive edge you need to fill your pipeline with the right candidates for your business needs. If you want to explore other HR terms, don't hesitate to check out our HR glossary.