You can have the best tools, the greatest benefits packages, or the most panoramic office view but everything pales in comparison with having the right people in your company.
These past years have shown us that employees are an asset that needs to be valued and nurtured — and that our focus should be on the employee experience.
That's why the employee life cycle plays an essential role in the development of any organization.
Begin your adventure to greatness by learning what the employee life cycle is and why it matters so much for business owners.
What Is the Employee Life Cycle?
Definition
The employee life cycle is a management model used to envision how employees interact with a company, from their hiring to departure.
Inspired by customer mapping, this journey has different stages that an employee chronologically goes through, such as attraction, recruitment, onboarding, retention, development, offboarding, and advocacy.
P.S. We'll talk more about these stages later on, so stay with us!
The employee life cycle model is a continuous process that helps you:
Retain top talent.
Grow your brand reputation organically.
Refine your recruitment process.
This proven method should be a part of your human resource strategy since it contributes to your organization's growth and improves your department's effectiveness and profitability.
Plus, it ensures your employees are engaged, happy, and productive.
However, there's more to the benefits of a good employee journey, so let's dive deeper into them in the following paragraphs.
Why Does the Employee Life Cycle Matter?
Recruiting and retaining top talent in an organization is challenging for most HR professionals. However, it's vital to put effort into your retention initiatives since the average cost-per-hire is $4,683. 
Companies need to understand that the employee life cycle is a game-changer that acknowledges an employee's needs and helps you work toward satisfying them.
By creating a good employee life cycle strategy, you can reap the following benefits:
Improved employee engagement: Employee engagement is a state of mind that's hard to quantify. It's a concept that measures how engaged employees are with their work or how they feel about their jobs. While only 32% of workers engage with their work, organizations with engaged staff members experience lower employee turnover rates, less burnout, and increased productivity. 
Better company culture: To create the company culture of your dreams, you need a well-built employee life cycle. Since your workers interact with your culture in some way at each stage of the journey, understanding how it impacts the employee can help instill your values in them. In addition, the amount of time you put into each phase of the cycle shows how much you care about their experience. 
Increased professional development: Employee development should be your company's focus, which means providing growing and training opportunities for your workers. It must depend on the specific needs and wants of the employee so you can increase the chances of a positive experience.
Enhanced team cohesion: A HR team that takes the time to understand the valuable insights the employee life cycle offers enhances collaboration between team members and other departments. Furthermore, you aid managers in supporting employees at each phase of the journey.
However, the key to a worthy employee life cycle strategy is recognizing how a worker interacts with your company at each stage.
Follow us in the next section for an introduction to these famous phases. 
What Are the 7 Stages of the Employee Life Cycle?
As promised, we'll look at each phase of the employee life cycle in depth so you know how to tackle them.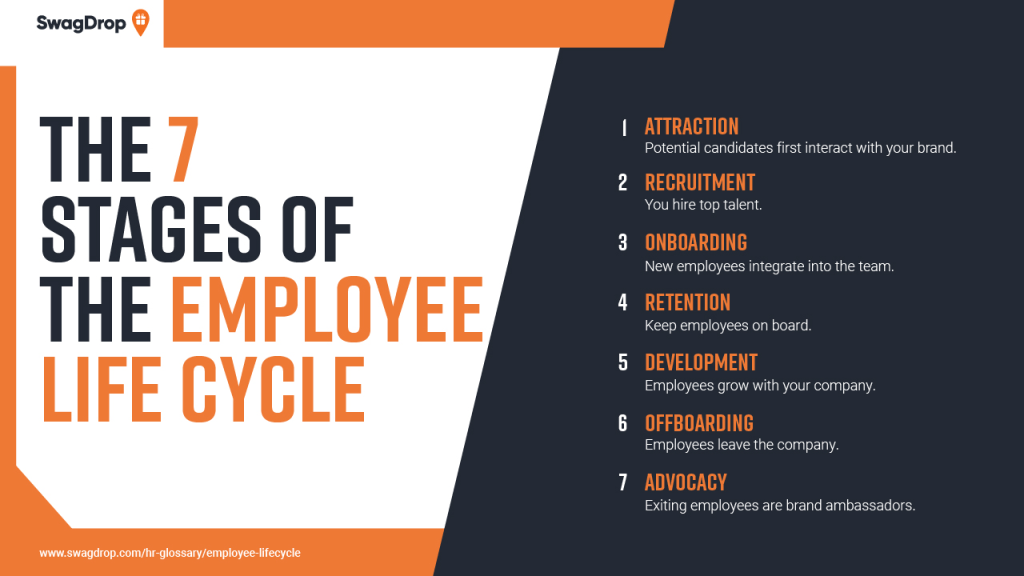 Attraction: potential candidates first interact with your brand
Your relationship with an employee begins in the attraction phase.
In simple terms, the attraction stage is when you're trying to attract candidates interested in your job postings and your company's values, culture, and mission.
You might think it starts when an employee applies for a new job, but it begins when future hires first see your brand on social media or other channels.
As a result, maintaining your brand's image is essential for helping potential candidates understand what it's like to work for your company while attracting the type of candidates you want. 
To emphasize this point, 86% of job seekers research company reviews and ratings when deciding where to apply for a job. 
Author's Tip: You can create the right candidate experience by writing compelling job descriptions or having a strong career page.
Recruitment: you hire top talent
The second phase of the employee life cycle model is the recruitment stage.
After you've attracted the people you want, you launch your recruitment plan, which means thinking about how you're going to recruit these potential candidates.
This step is important because you focus on bringing talent to the company, whether that's through the old-fashioned way or using recruitment tools to aid you. 
Moreover, how you treat prospective recruits will influence the perception of your company, even for those who don't get the job.
Ensure you create a good impression by:
Advertising the job on multiple channels to entice a broader range of candidates. 
Creating great job advertisements where you list more than core skill sets and instead outline the available benefits. 
Using employee referrals to your advantage, meaning current employees point to other similar candidates. In addition, you can incentivize this behavior by rewarding employees for their referrals. 
Onboarding: new employees integrate into the team
The onboarding process is the third stage of any employee life cycle. 
During the onboarding stage, you help employees understand their roles and expectations and integrate them into your organizational culture. The goal is to become a productive team member as soon as possible.  
This phase is critical because it builds the foundation for the employer-employee relationship, especially since it's a time of excitement and hopefulness.
You can structure it into different parts, such as:
Pre-boarding, which is the period between when the person signs an employment contract to their first day. It provides the perfect opportunity to announce your new employee.
The first day of work is when your new hires show up to work. To leave a lasting first impression on your rookies, embrace them in your company with a new-hire welcome kit, a welcome letter, or branded apparel.
Adjusting to the work environment means employees get settled with their new roles. Check with them regularly to ensure they are satisfied and have everything they need. 
While onboarding is an ideal time to make people feel at home, you need to tailor the process to each employee's needs so they understand their role better.
Author's Tip: Show them a clear path to success through a regular appraisal system that contains swag goodies everyone will love. 
Retention: keep employees on board
Now that you've fully integrated new hires into your company, you should focus on retaining them.
During this lengthy retention stage, aim to keep your new employees on board while they contribute to your business's success.
Employee retention is the cheaper way to maintain staff numbers — you retain current employees instead of recruiting new ones. The best way to ensure you have a productive and happy workforce is by making certain your employees are content in their roles. 
Author's Tip: You can identify employees who deserve a promotion through regular engagement surveys.  
Development: employees grow with your company
Once your employees become productive members of your company, you should continue investing in their progress and offer a list of career development opportunities.
In fact, most employees look forward to this the most in a new job, with 40% of workers reporting that career advancement opportunities within the company are essential to their job satisfaction. 
Here's what you can do:
Offer a buddy system, where mentors in a specific role share their knowledge with the employee. 
Craft a career path with your employee where you discuss their future in your company and take proactive steps to achieve their goals. 
Sponsor courses for promising employees to encourage learning, depending on your budget. 
Offboarding: employees leave the company
All good things inevitably come to an end.
Employees might decide to move on for many reasons, including retirement, seeking a new position, or personal reasons.
At this stage, you should conduct exit interviews where you encourage honest feedback from your former employees to find out why they left or discover ways to improve your overall employee experience. 
Remember that the offboarding process is not just about the employee leaving, but also about your remaining staff members.
When employees leave, it can affect morale, so be sure to support your team!  
Advocacy: exiting employees are brand ambassadors
If you had a good employee life cycle across all stages, chances are your former employees will become invaluable ambassadors for your organization's brand.
Sounds too good to be true?
According to a study, employees who've experienced a positive exit are 3x more likely to recommend the organization to friends and acquaintances than those who had a neutral experience. 
If an employee had a negative experience, they might:
Damage your brand's image.
Disrupt team morale.
Affect your recruiting abilities.
Ensure your employees leave on good terms by making them feel heard and proud of their contributions, to avoid future friction.
Author's Tip: If your culture allows it, stay in touch with your former employees by sending them cards or emails during the holidays or inviting them to corporate events. 
Now Over to You
The employee life cycle is an adventure pivotal to any HR department.
It's your bread and butter that has an immense impact on your recruitment, retention rates, and employee experience.
When you streamline and invest in an employee life cycle management strategy, you ensure you have a healthier and more successful workforce.
Now that you understand what it can do for your business, it's time to start thinking about other aspects of your company that might need an overhaul. We can help you figure out what's missing with our HR glossary.