Looking to strengthen the working relationship between you and your employees and clients? Corporate gifting is the answer. 
Imagine a business environment where your brand stays top-of-mind for potential clients, and your employees eagerly anticipate coming to work. 
That's the power of an effective corporate gifting strategy.
This guide will explain: 
How to choose the best corporate gift to show appreciation
The tangible incentives that make gifting important for your ROI
What to consider before giving business gifts to your clients
Ready to dive in? Keep reading.
Table of Contents
Business Benefits of Corporate Gifting
Key Considerations for Corporate Gift Giving
What Is Corporate Gifting?
Corporate gifting involves giving branded gifts to improve your business relationships—whether it's giving appreciation gifts to thank loyal clients, celebrating employee milestones, or building bonds with stakeholders. 
Every corporate gift serves as a touchpoint to emphasize your brand and the value you bring.  
Even research shows that emotionally connected customers have a 306% higher lifetime value, making corporate gifting a strategic business move.
Now, let's cover the business benefits of corporate gifting to see how it can set your business apart.
Business Benefits of Corporate Gifting
Corporate gifting is a calculated business strategy with many benefits. Let's take a look at the key benefits: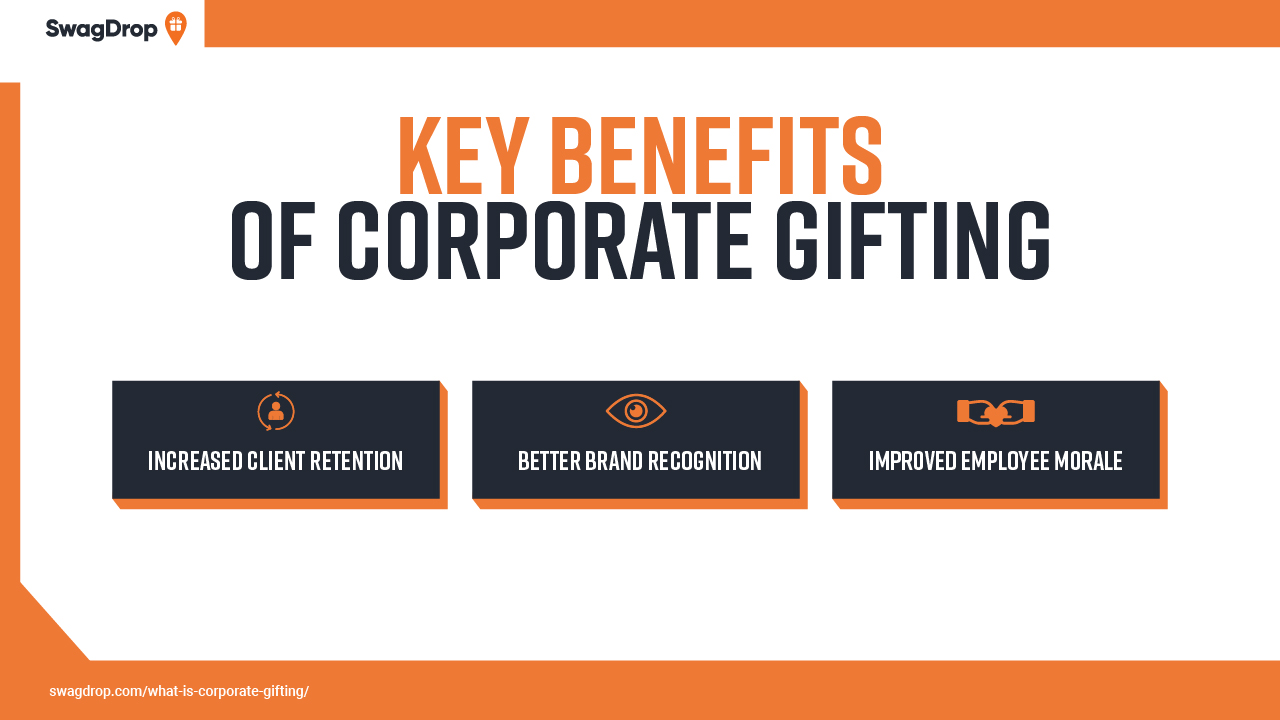 Increased client retention: Remember the saying "Out of sight, out of mind"? Well, a high-quality, thoughtful corporate gift keeps your brand in the client's consciousness—encouraging repeat business. 
According to Hubspot, a 5% increase in customer retention can increase profits by 25-95%. 
A corporate gift can also serve as a warm welcome for a new client, setting the stage for a strengthened client relationship. Plus, happy clients are more likely to provide referrals, even if you're a small business.
Better brand recognition: Gifts featuring your logo serve as a constant visual reminder of your brand. One study found that nearly 9 out of 10 consumers remember the brand associated with a promotional item they've been given in the past couple of years.
This is invaluable in setting you apart from competitors and establishing long-term brand loyalty.
Improved employee morale: A motivated employee is a productive employee. According to Gallup, teams with high employee engagement rates are 21% more productive. 
Improving morale through employee gifting will add positivity to the workplace and also improve your bottom line.
So, here are 5 types of corporate gift ideas that can help you hit the mark every time…
Top 5 Corporate Gift Ideas
Choosing the right gift can convey your appreciation better, help you improve business relationships, and boost brand awareness. 
To make this easier for you, here are 5 perfect gift ideas that will leave a lasting impression: 
1. Branded swag
When it comes to corporate gifting options, branded swag is a popular choice. 
This corporate gift idea includes everyday items imprinted with your company name or company logo—turning them into mini billboards. 
Some popular branded swag items include:
The TRIMARK T-Shirt:
Or this durable Out of The Woods® City Tote:
Branded T-Shirts: They boost brand recognition and can spark conversations around your company 
Customized mugs: Make every cup of tea/coffee a branded experience
Tech gadgets: Modernize your brand's image with each use
Branded notebooks: Keep your brand top-of-mind during important tasks
Tote bags: From grocery shopping to carrying work essentials, their versatility ensures ongoing brand visibility
Overall, branded swag also works for social media promotions—because most gift recipients often share their gifts online—which increases your brand's visibility.
Pro Tip: If you're giving away gifts for which recipients need to pick a size, like custom tees, consider using our pop-up shop feature. This will allow people to pick a gift that best fits them.
2. Gift boxes and gift baskets
The beauty of a corporate gift box or gift basket lies in its versatility—it can be as extravagant or as simple as you like.
Customized boxes and baskets add a layer of thoughtfulness that pre-made gifts often lack. You can decide to delight a grilling enthusiast with a bodacious BBQ gift set: 
Or get something special like the Moment of Calm Gift Set for lovers of quiet times: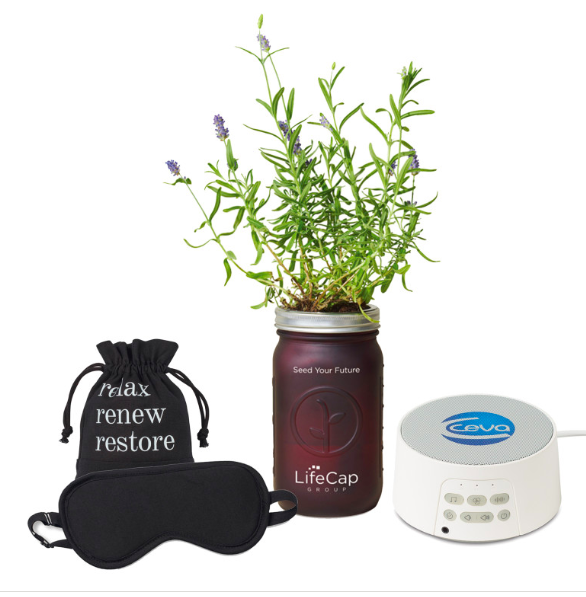 Here are some ideas to get you started:
Seasonal baskets: Create Christmas or holiday-themed boxes to celebrate the season
Cultural gift boxes: Fill them with traditional items for a culturally relevant gift
Milestone moments: Customize them for work anniversaries or project completions
Hobby-centric boxes: Curate relevant items based on the recipient's interests
Self-care baskets: Consider adding stress-relief items for high-pressure roles
Key takeaway: Always consider the gift recipient's interests when curating a gift box.
Tips, tricks, and inspiration delivered straight to your inbox.
Subscribe to learn more on how to break through the bustle.
3. Personalized items
Gifting personalized items is one way to make your gift recipient feel extra special and valued. It also adds a personal touch that helps build a deeper connection between the giver and the recipient.
Examples of personalized corporate gifts include:
This Bullet Nash Gel Stylus Pen that always stands out.
Or this classic Pedova™ UltraHyde JournalBook®:
Monogrammed notepads: Customized gifts like these are great for office use and make each note-taking experience special
Customized pens: A daily-use item like this feels more exclusive when personalized
Engraved keepsakes: Think of plaques or glassware etched with a special date, quote, or message to the recipient
4. Gift cards and gift vouchers
Gift cards and vouchers give the recipients more freedom than other types of corporate gifts. They get to choose exactly what they want, reducing the occurrences of unwanted or inappropriate gifts. 
Plus, gift cards and vouchers are great for large, diverse teams where individual preferences are too varied or unknown.
Here are some tips on selecting the right type of gift card or voucher:
Make it occasion-specific: Go for holiday-themed cards at Christmas or dining vouchers for work anniversaries
Align to your brand: Choose cards from stores that resonate with your company values
Pick the right format: Decide between digital gift cards which are more convenient or physical gift cards for more tangible delight
5. Experiences
Sometimes, offering experiences as corporate gifts can hold more value than physical items. Because they can easily create lasting memories and deeper emotional connections. 
Examples of experiential gifts include:
Spa days for relaxation and well-being: ideal for high-stress roles or as a 'Thank You' for hard work
Travel packages that offer a complete getaway: serve as an extravagant reward for significant accomplishments
Workshops or training sessions: They enrich professional skills and show investment in your employee's or client's personal growth.
Now that we've covered the top corporate gift ideas, keep the following considerations in mind to make your corporate gifting truly effective…
Key Considerations for Corporate Gift Giving
Thoughtfulness and strategy in your corporate gifting process can go a long way in making a positive impact. 
Here are some key considerations and best practices to keep in mind:
Budget: Establish a clear budget that aligns with your objectives and also adheres to any corporate policies regarding gift-giving
Timing: Plan your gifts around meaningful occasions like the holiday season, birthdays, anniversaries, or company events
Cultural sensitivity: Always take into account the cultural background of the recipient. What might be a well-received gift in one culture could be inappropriate or even offensive in another
Compliance with corporate policies: Always review company policies, company culture, and any relevant laws that may restrict the type of gifts you can give
Value: Go for gifts that are modest and relevant to your industry. Lavish or frequent gifts can give the wrong impression.
Here are some tips and best practices to guide you:
Include a personalized note to add a final touch of thoughtfulness
Check on delivery times, especially for international gifts, to ensure they arrive when intended
Keep a record of all corporate gifts given and received for transparency and compliance purposes
Maintain professionalism and ethics at all times
Be cautious when gifting during sensitive times like ongoing contract negotiations or disputes.
With these covered, you're well-prepared to make impactful choices in your corporate gifting efforts.
Tips, tricks, and inspiration delivered straight to your inbox.
Subscribe to learn more on how to break through the bustle.
Ready to Order Corporate Gifts?
A well-timed gift—thoughtfully branded swag or an exclusive experience—can boost brand recall and build long-lasting business relationships.  
Plus, checking with cultural practices and your company policies ensures your gifts are always on point and valued.  
Feeling inspired? Finding the right gifting company is the next step to success.
With SwagDrop, you can customize corporate swag gifts that align with your company culture and are as memorable as the thought behind them. 
Happy gifting!