Swag boxes are designed to help you establish an emotional connection with your employees and customers.
In this guide, you'll learn:
What the difference is between swag boxes, swag bags, and subscription boxes
What custom swag boxes are and why they're important
What the most prominent types of swag boxes are
How to create your own swag box
Let's get into it.
Table of Contents
Swag Boxes vs Swag Bags vs Subscription Boxes
The Four Most Popular Types of Swag Boxes
How to Create Your Own Swag Box
What's a Swag Box?
As you can probably imagine – especially if you've been reading our blog! – a swag box is basically a box that's full of branded merchandise and customized items.
It can include a truly wide range of promotional products.
From delicious treats, fashion accessories, and skincare products to best selling books, stickers, t-shirts, and hoodies.
It might also include work essentials or workout equipment.
You name it, it can be in there.
Let's now have a look at a great swag box so you can get a clearer idea of what a swag box might look like:
As you can see, this swag box includes some swag essentials, like a reusable water bottle, a tee – apparel is always a very popular option when it comes to company merch – some pins and stickers, as well as candies.
It looks pretty and manages to promote the company's aesthetic.
The items are customized in a way that works to promote the company's logo in order to increase brand awareness.
In other words, the box gets the message across.
Which is one of the main reasons why swag boxes are important and companies should be using them.
Another significant reason could be that swag boxes are great at communicating appreciation and recognition to employees and customers.
More on this a little further down in this post – spoiler alert!
Let's move on to the next section where we're looking at the differences between swag bags, swag boxes, and subscription boxes.
Swag Box vs Swag Bag vs Subscription Box
Although this post focuses on swag boxes and swag packs, we think that discussing the differences between swag boxes and other similar terms will be helpful to you and your company.
Put another way, knowing what each of these terms is all about will help you make sure you're taking the right approach in terms of your swag strategy.
We've already given a simple definition of a swag box.
Let's now discuss what a swag bag is.
A swag bag is, as the name suggests, a bag that includes all sorts of merch and promotional items.
In other words, it is a goodie bag that's usually given to physical or virtual event attendees, or to party guests.
Here's an example of such a goodie bag from a festival that American company Yelp organized.
The so-called 'Yelp after party box'.
On the other hand, a subscription box is usually a monthly subscription box that's sent to people who have previously signed up to the service in order to receive items every month.
The box generally includes a set of promotional sample products from local businesses in an attempt to promote themselves, raise awareness, and connect them with consumers.
Some of the best subscription boxes out there might be free subscription boxes – for example, the Amazon Prime sample subscription box or the Graze snack subscription box – or they might have a fee.
These boxes are usually lifestyle boxes that offer the subscriber a number of products that are usually used within a specific timeframe.
For example, subscription boxes might include skincare products or treats and snacks.
Let's see a nice example of a subscription box that'll give us a very clear idea of what such a box is all about.
We're talking about the SinglesSwag subscription box.
Have a look:
Subscribers get a different set of items with a 'treat yourself' attitude each month.
In terms of the items that can be included in such a subscription box, the sky's the limit!
Now, let's get to the four most popular types of swag boxes.
The 4 Most Popular Types of Swag Boxes
After having established what a swag box is, let's have a look at the four most popular types of swag boxes out there.
Here's the first one.
Type #1: Swag box for employees
The first, and one of the most popular, types of swag boxes that companies usually go for are swag boxes for employees.
A swag box for employees might be an onboarding welcome kit to give to new employees or a swag box to celebrate an employee achievement or anniversary, or simply a box to show employees your appreciation.
In all these cases, a swag box for employees is a way of showing how much you appreciate them and show them that you care.
For that reason, it needs to be full of stuff that's personalized but also useful and of high quality.
Let's have a look at the snapshot below:
This is a new hire welcome kit from creative agency, Guild.
In other words, the first box a new hire receives from the company.
As you can see, it's a stylish and thought through example of an employee swag box that includes some great promotional items.
Let's get to the second type of boxes you might be using.
Type #2: Swag box for customers
The second type of swag box that's widely used and is as popular as the one mentioned above is the swag box for customers.
Similar to giving employee appreciation boxes, you can also share boxes with your best and most loyal customers in order to thank them for their support and show them how much you value them as important members of your company.
A swag box for customers is also a great way to stay in touch with customers and communicate with them in a fun and alternative way.
A fantastic idea for a swag box for clients might be a well curated food pack that might include premium food products.
Or it can be a wine set, for example.
Below I'm showing you how a swag box for clients might look, especially if you decide to go for the food pack.
Before we get to the third type of swag box, let's just say that client gifts, like the ones shown above, are a great and direct way to say 'thank you' to your clients and give back to them in a meaningful way.
Let's move on to the third type of swag box we have for you.
Type #3: Swag box for virtual events
The third type of swag boxes we think it's necessary to mention, especially given the current situation, is the swag box for virtual events.
The COVID-19 pandemic has led many organizations to either postpone their events or transform them to online events.
The fact that an event might be happening online shouldn't mean that the organizer doesn't take care of the attendees as they would have done in the case of a physical event.
On the contrary, it means that exactly because personal and professional connections might be more difficult to make because of the physical distance and the absence of eye contact, you should find alternatives to make it up and create a memorable experience.
Swag is definitely a way to create memorable experiences for event attendees.
Be it physical or virtual.
Below you'll find the set of branded items that was sent to attendees of Skucon 2020 – a conference for the promotional products industry.
To cut a long story short, whether you're organizing a digital marketing conference or a Valentine's day virtual event, make sure you're sending out some fabulous gifts because this'll help create a connection with people and also enhance their overall event experience.
Let's get to our final type of swag box in this list.
Type #4: Swag box for prospects
The final box we think you'll find useful is a swag box for sales prospecting.
You might think that boxes of swag work better when shared with people you already know like your employees or long time clients, but swag boxes for leads should also be on your radar.
We're going to start with a sentence from Drift that says it all:
In other words, what the swag team from Drift's telling us is that by using swag you can basically start creating a relationship that gets personal extensions.
Swag takes the relationship between your company and the prospect to another level.
It helps you establish an experience that can't and won't be the same as other companies that might have approached them.
That basically means that, through swag, you might get more time to show the value your company can add to the prospect's business.
Another point that needs to be mentioned is the fact that swag actually helps you to increase your touchpoints with the prospect.
Additionally, it raises awareness of your business' services and products, thus making it more likely that the prospect understands what you're offering and chooses to go for it.
The key highlights by a consumer study by the Promotional Products Association International (PPAI) from 2017 in the United States might convince you.
According to the report, more than eight in ten respondents stated that they're more likely to do business with a company they've received swag items from rather than from organizations that they haven't received branded items from.
This shows us that swag can truly be an influential sales and business vehicle that might get you closer to a prospect.
We've talked quite a lot about different types of swag boxes and how they might be useful to your business.
Let's now discuss how you could create your own swag box and get the most out of the promotional products' power.
How to Create Your Own Swag Box
We're now taking you through the process of creating your own swag box.
Before we get into more detail, here's an outline of the 6-steps process to creating your own swag box.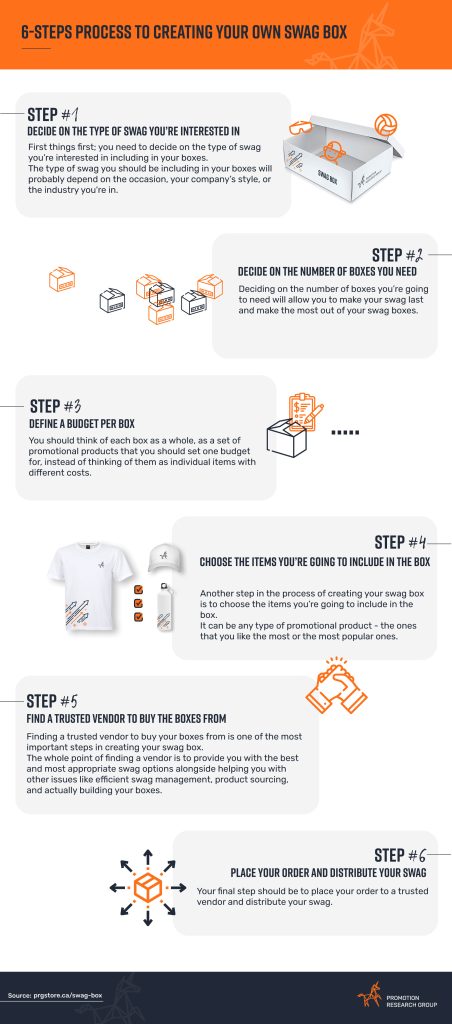 Let's now dive deeper into the first step.
Step #1: Decide on the type of swag you're interested in
The first step in terms of creating your own swag box is to decide on the type of swag you're interested in including in your boxes.
In other words, make a list of the items, goodies, or promotional products that are trending and make sure you include them so you can elevate your swag box's content and make it a success.
The type of swag you should be including in your boxes might depend on the occasion, your company's style, or the industry you're in.
As a general rule, it can be any object you find useful and want your employees and customers to have from you.
Let's get to the next step.
Step #2: Decide on the number of boxes you need
The second step is to decide on the number of boxes you need.
The reason you need to do that is because you want your swag to last and want to make the most out of your swag strategy.
Making last minute decisions can be stressful, time consuming, and might even make you lose money.
Put another way, you'll most probably need to buy in bulk and avoid paying a raised retail value for each box.
So you need to plan upfront and make sure that the number of boxes you're going for actually corresponds to your swag needs, and the number of people you'll be sharing your boxes with.
For example, if you're planning to get swag boxes for your new hires you should be thinking about the number of people you're hiring every year and make sure the number of boxes will cover your hiring needs and you won't have to deal with unexpected situations.
Moving on.
Step #3: Define a budget per box
The third step we think is essential when creating your swag box is to define the budget for each swag box you're creating.
In other words, you should think of each box as a whole, as a set of promotional products that you should set one budget for, instead of thinking of them as individual items with different costs.
This is important because it'll allow you to plan upfront and set some realistic financial goals.
It works the same way as when you're planning and setting your procurement strategy.
This will help you save valuable time.
Additionally, it'll allow you to control your expenses and make sure you're not making any unnecessary outlays in terms of your promotional products strategy.
The good thing is that promotional products' budgets are totally predictable and can be entirely controlled, which of course allows you to define your budget and stick to it.
Let's move on to the next step.
Step #4: Choose the items you'll include in the box
A rather important step is to choose the items you'll include in your swag boxes.
What needs to be mentioned here is that in order for this step to be successfully performed, you first need to have completed the previous steps, especially in terms of choosing the type of swag you're interested in as well as setting your budget per box.
Put another way, after you've set your budget and decided on the type of swag you want to share with your employees, clients, or prospects, you can get on with choosing the items you'll include in your boxes.
If you've set a high budget for each box, you can include items of higher price or a bigger quantity of items.
Whether your budget is small or big, or whether you decide to go for bigger quantities of items or a simple few, you can be sure that there are swag options to help you create the ideal swag box.
How?
By finding a trusted vendor to buy your boxes from.
Let's get to the fifth step and talk more about this.
Step #5: Find a trusted vendor to buy the boxes from
Finding a trusted vendor to buy your boxes from is one of the most important steps in the process of creating your promotional boxes.
Although some might, the majority of companies out there don't have a designated swag team that operates in house and deals with all aspects of swag and corporate gifting.
That's why finding a vendor will help you deal with and solve many swag issues.
A trusted vendor won't just give you swag options and leave you to deal with the rest of the process yourself.
The whole point of finding a vendor is to provide you with the best and most appropriate swag options alongside helping you with other issues like efficient swag management, product sourcing, and actually building your boxes.
They might also help you in terms of controlling packaging as well as the shipping logistics which you might not know lots about.
We know that the coordination of the kitting and shipping are no easy tasks.
Having to store the leftovers is also not ideal.
Thankfully, a vendor, like ourselves, is a merch specialist that can share valuable knowledge in regards to how swag works and what might be the ideal swag options for your case.
Tips, tricks, and inspiration delivered straight to your inbox.
Subscribe to learn more on how to break through the bustle.
This won't just help you save money and make sure you're not spending on things you shouldn't or investing on the wrong kind of swag, but will also help you save time and focus on sharing remarkable memories through promotional products.
There'll be no more uncomfortable kitting around the boardroom, office, or kitchen table!
Let's get to the final step.
Step #6: Place your order and distribute your swag
The final step would be to place your order and distribute your swag.
After you've completed the steps discussed earlier and you've made your decisions about the quantities you'll be including, types of products you'll be going for, and your budget for each box, you can go on placing your order.
When placing your order, you should go through all the elements that you want your boxes to have.
Additionally, you shouldn't forget to share with your vendor any additional queries you might have or other personalization touches you might want to include in your boxes.
These might be handwritten notes or other personalized notes that include thoughtful words.
Ultimately, you distribute your swag boxes, thus sharing some appreciation and happiness.
You might want to send boxes to one location or many different locations at once.
You might also want them to get to the recipients at a specific date, for example a few days before that event or conference you've organized.
The options are entirely up to you and your choices depend on the reason why you're sending those fabulous swag boxes.
Now Over to You
There you have it.
You're now one step closer to knowing what's a promotional swag box and how to create a custom swag box.
Regardless of the reason why you need a swag box, always remember what the ultimate goal is here.
That's to establish an emotional connection between your brand and the person who's receiving the box.
If you need help in that direction, we're here to help.
With over three years of experience in swag packs and corporate gifting, we can take your swag to the next level.
Just leave us a comment with the requirements of the project and we'll get back to you as soon as possible.
Thanks for reading!
Featured Image by Commonsku.