As competition in the job market grows, it's becoming increasingly challenging to attract and retain qualified candidates.
That's where talent acquisition comes into play.
In this article we'll explore what talent acquisition is and how it differs from recruitment, and provide you with six best practices and expert tips to help you develop an effective talent acquisition strategy for your organization.
So buckle up and get ready to take your hiring process to the next level!
What Is Talent Acquisition?
Definition
Talent acquisition is a strategic approach that goes beyond traditional recruitment strategies by focusing on building long-term relationships with potential candidates and creating a strong employer brand.
Unlike traditional strategies that focus on filling open positions as quickly as possible, talent acquisition is a proactive process.
It's about creating a strong employer brand that attracts the best applicants. This includes developing compelling job descriptions and using social media platforms to reach a larger pool of qualified applicants.
Another key aspect of talent acquisition is providing an exceptional candidate experience.
This includes making the application process easy and straightforward, getting current employees involved in both the hiring process and onboarding process, and providing timely feedback to prospective hires.
Ultimately, talent acquisition requires meticulous planning and execution from start to finish.
By taking a more holistic approach to recruiting top talent—one that focuses on building relationships rather than just filling vacancies—organizations can develop a robust pipeline of talented individuals who are eager to contribute their skills and expertise over the long term.
What's the Difference Between Talent Acquisition and Recruitment?
Talent acquisition and recruitment are two terms that are often used interchangeably—and understandably so. Both have the same goal: to hire people to fill open positions.
But while they overlap in many ways and both have similar goals, recruitment is more about filling open positions, while talent acquisition focuses on long-term workforce planning.
The biggest difference, it can be said, is in the approaches to achieving these goals: one is tactical (recruitment), the other strategic (talent acquisition).
Recruitment involves finding candidates to fill open positions in a company. It is focused on the short-term goal of filling vacancies quickly and efficiently.
On the other hand, talent acquisition focuses on identifying, attracting, and retaining top candidates for current and future needs. The aim is to build a strong pipeline of qualified candidates who can contribute to the organization's long-term success over time.
Recruiting is typically reactive, while talent acquisition takes a proactive approach by building relationships with potential new employees before there's even an open position.
6 Talent Acquisition Best Practices
Talent acquisition is a strategic process that involves identifying, attracting, and retaining the best talent for an organization. Here are six best practices to help your HR department improve your talent acquisition strategy:
Build a strong brand identity
One of the most important aspects of successful talent acquisition is building a strong brand identity.
Your employer brand should reflect your organization's values, culture, and mission. It's what sets you apart from competitors and attracts top talent to join your team.
To start building a strong employer brand identity, it's essential to define your company culture first.
Start by asking yourself:
What are the core values that guide everything you do?
How would you describe your workplace environment?
These elements will help shape how potential candidates perceive your company.
The next step is to ensure that all communication channels consistently portray this message. This includes your website, social media accounts, and employee interactions with applicants during the hiring process.
Consistency in messaging reinforces who you are as an employer and strengthens candidate engagement.
Having a clear and compelling employer brand identity can help you establish yourself as a desirable place to work and make all the difference when attracting talent.
Provide detailed job descriptions
Detailed job descriptions can help streamline the recruitment process and attract the right candidates for your open positions.
A well-written job description should provide clear and concise information about the role, responsibilities, required qualifications, and any other relevant details that potential applicants need to know.
This helps applicants decide whether or not they are qualified for the job and saves both parties time.
Make sure you understand what applicants are looking for and emphasize whatever that is—from compensation to career development opportunities
It's important to outline what makes your company unique in your job ad. Make sure you highlight your employer brand in every job posting by emphasizing what sets you apart from your competitors.
At the same time, try to use language that is easy to understand. Avoid overly technical terms or acronyms that may confuse potential applicants.
Use social media to reach more candidates
Social media has revolutionized the way we communicate with others, and talent acquisition is no exception. Utilizing social media platforms to reach potential candidates can be a game-changer.
One of the primary benefits of using social media for talent acquisition is its ability to reach a wide range of individuals who may not have otherwise heard about your company or job openings.
Social media allows you to target specific demographics, industries, and skill sets through sponsored ads or boosted posts.
Another advantage of leveraging social media is that it provides an opportunity for employers to showcase their brand identity and culture.
By sharing photos, videos, testimonials from current employees, and other engaging content on various platforms like LinkedIn, Twitter, or Facebook, companies can attract top talents aligned with their values.
It's essential also to remember that social media isn't just a one-way street; it's an interactive platform where you can engage with potential candidates in real time.
Responding promptly and professionally to inquiries helps build trust between your organization and prospective hires.
Finally, maintaining an active presence on social networks will help establish your company as a thought leader within your industry while reinforcing recruitment efforts simultaneously.
Posting relevant articles related to human resources and human resource management trends shows that you care about employee development.
Make your job application easy
Making the job application process easy is a crucial aspect of talent acquisition.
In today's fast-paced world, candidates value a quick and seamless application experience. An overly complicated or time-consuming application can deter potential candidates from applying altogether.
To make your job application process easy, start by streamlining your online applications.
Ensure that your website is mobile-friendly, optimize your forms for easier completion, and use applicant tracking systems to automate certain parts of the hiring process—such as resume screening—to save time on both ends.
Additionally, provide prompt feedback throughout the hiring process so that candidates feel informed and valued.
By making the job application process easy for potential candidates, you increase their likelihood of applying and help create a positive first impression of your company.
Tips, tricks, and inspiration delivered straight to your inbox.
Subscribe to learn more on how to break through the bustle.
Get your employees involved
Involving your employees in the talent acquisition process can greatly improve your chances of hiring the best candidates from the talent pool.
Your current team members are a valuable resource for identifying potential new team members, as they understand the company culture and skill sets required for success within their roles.
Encourage employees to refer qualified candidates by implementing an employee referral program.
Offering incentives, such as bonuses or recognition, can boost participation and motivate staff to actively participate in recommending applicants from their networks.
In addition to referrals, involve employees in the interview process. Ask them to participate or come up with relevant interview questions and suggest them to the talent acquisition team.
Empower your team by providing them opportunities for professional growth through training programs or mentorship initiatives.
This will create engaged employees who are more likely to advocate on behalf of your organization when it comes time for new hires.
Satisfied and fulfilled workers often make great ambassadors attracting top-tier talent!
Provide a top-notch candidate experience
Providing a top-notch candidate experience is crucial in attracting and retaining the best talent.
It's not only about filling open positions but also creating a positive image of your company that can attract job seekers to future job openings.
To begin with, it's essential to communicate regularly with potential candidates throughout the hiring process. Providing timely updates on their application status can go a long way in keeping them engaged and interested in your company.
It's also important to make sure that all communication is clear, concise, and personalized. Avoid generic messages or automated responses that don't address specific concerns or questions from the candidate.
Furthermore, ensure that your recruitment process is transparent by providing an overview of what candidates should expect during each stage.
This will help reduce anxiety levels among candidates who are unfamiliar with the recruitment process while ensuring they feel valued as individuals rather than just other applicants.
It's essential to treat everyone who applies equally, regardless of whether they end up getting hired or not.  
Expert Tips for Effective Talent Acquisition
Defining your talent needs, establishing a dedicated career site, and being patient will lead to effective hiring practices and ultimately successful talent management and relationship management in your organization.
Here are a few expert tips for effective talent acquisition: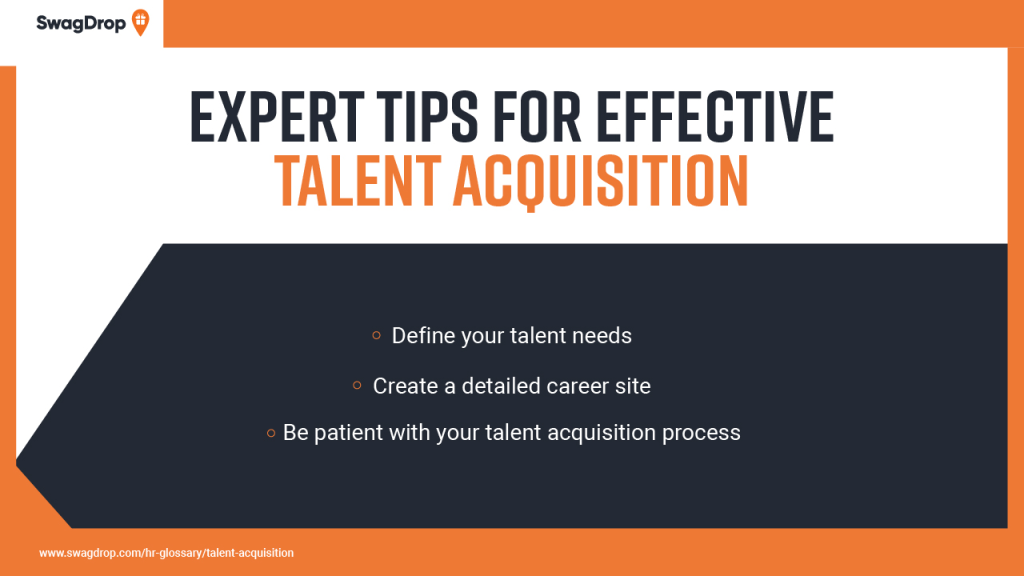 Tip #1: Define your talent needs
To effectively acquire talent, it is crucial to have a clear understanding of your company's talent needs.
This requires taking a step back and evaluating the current state of your workforce, as well as identifying areas where additional skills or experience are needed.
One way to define your talent needs is by conducting a thorough job analysis for each open position.
This involves breaking down the tasks and responsibilities required for the role, along with the necessary skills and qualifications.
By doing so, HR professionals can create more targeted job postings that attract qualified candidates who possess the desired skill sets.
Another important factor in defining your talent needs is considering long-term goals and succession planning.
Identifying key positions within your organization that may become vacant in the future allows you to begin building a pipeline of potential candidates.
It's also worth noting that defining your talent needs should not be done in isolation within HR but rather with input from relevant stakeholders such as hiring managers or department heads.
This helps ensure alignment between organizational goals and recruitment efforts.
Tip #2: Create a detailed career site
Creating a detailed career site is a crucial component of effective talent acquisition. Your career site serves as the first impression for potential candidates and can make or break their interest in your company.
To create an impactful career site, it's important to start with the basics: clear and concise job descriptions that accurately reflect the open positions within your organization.
Candidates want to know what they're applying for, so make sure you provide them with all the necessary information.
In addition, consider including employee testimonials, videos showcasing your workplace culture, and information about benefits and perks (such as a healthcare scheme for the reimbursement of medical and dental expenses) offered by your company.
These elements allow candidates to gain insight into what it would be like to work at your organization beyond just the job duties.
Make sure that your website is mobile-friendly since many candidates are likely searching for jobs on their phones or tablets.
It's also essential that you optimize your website for search engines so that it appears prominently in relevant searches.
Don't forget about user experience!
A well-designed website with easy navigation will encourage potential employees to spend more time exploring opportunities within your company rather than getting frustrated and moving on quickly.
Tip #3: Be patient with your talent acquisition process
Talent acquisition is a complex process that involves multiple stages, from identifying the right candidates to screening, interviewing and eventually hiring them. However, it's important to be patient with it.
Rushing through the talent acquisition process can result in making hasty decisions and ultimately settling for mediocre candidates.
Instead of trying to fill vacancies quickly or meet deadlines, take time to evaluate each candidate thoroughly.
This will help you avoid rushing through important steps like conducting thorough background checks or negotiating job offers.
Another one is maintaining communication between the human resources department and candidates throughout the entire recruitment cycle, even if there are delays at times.
Keeping them updated helps maintain their interest and shows that you value their candidacy enough not to leave them hanging without any news about their status.
Remember that success comes from finding the right fit between employer and employee; therefore taking time in every step of this delicate balance ensures achieving long-term positive results for both parties involved.
Tips, tricks, and inspiration delivered straight to your inbox.
Subscribe to learn more on how to break through the bustle.
Now Over to You
In today's job market, attracting and retaining the best talent is more important than ever.
With a solid talent acquisition strategy in place, companies can go from defining their talent needs to building a strong employer brand, attracting top-notch candidates, and ultimately finding the right fit for open positions.
By using these tips along with a solid understanding of HR terms—you can find everything you need in SwagDrop's HR Glossary—you'll be well-equipped to make strategic hires that benefit everyone involved.
Remember: becoming a talent acquisition specialist takes time and patience. As you continue to refine your approach over time and learn from any mistakes made along the way, success will follow. Good luck!