With the growing globalization of remote working, a new metric has emerged as vital in a company's hiring process: diversity, equity, and inclusion (DEI).
Many businesses recognize that diversity is no longer just a fad but the proper way to hire underrepresented groups and build a fair work culture.
If you want to increase diversity, you must understand what diversity hiring means and why it's critical.
Luckily, this article answers both questions—and more! 
What Is Diversity Hiring?
Definition
Diversity hiring is a recruitment process that eliminates biases that might prevent qualified candidates from being hired.
It aims to source, screen, and shortlist potential candidates based on their aptitude and merit rather than personal characteristics unrelated to their job performance, such as:
Age
Race
Sex (gender identity or sexual orientation)
Religion
Ethnicity
National origin
Disability
Citizenship status
In a nutshell, diversity hiring focuses on a candidate's ability to perform a specific role instead of being accidentally discriminated against, ignored, or turned away for having a different background.
Today, diversity recruiting includes specific groups such as women, people of color, veterans, and the LGBTQIA+ community.
However, there's a common misconception that the goal of diversity is to increase workplace diversity for the sake of it.
Let's see why that's not the case. 
Tips, tricks, and inspiration delivered straight to your inbox.
Subscribe to learn more on how to break through the bustle.
What Are the Benefits of Diversity Hiring?
With a more diverse candidate pool, you can make your business more appealing to applicants, while also ensuring that it promotes your company culture and values. 
But that's not all! Here are some of the benefits of building diverse teams:
Wider talent pool: With a more diverse workforce, you can easily find the right person for the job. You broaden your scope to attract more super-talented recruits instead of limiting your access to only one group of people. 
Better understand your customers: Diverse organizations can market their business more effectively to different demographics. Staff with similar backgrounds promote better cultural understanding between your business and customers. 
Positive employer brand: Having diverse employees shows people that you're a forward-thinking and socially responsible company. This creates a positive brand image, making people want to interact with your organization. As a result, it boosts staff morale and increases business growth by attracting new customers and partnerships. 
Greater employee retention: Diversity is as much about talent retention as it is about acquisition. Employees are happier in an inclusive environment, meaning that they tend to be more loyal and inclined to stay with a company that respects their contributions. 
Increased profits and productivity: You might think that a diverse team creates more strife in the workplace, but the reality is that teamwork and cooperation enable a more productive environment. In addition, companies with diverse members are more financially successful. While boardrooms are still dominated by white males, more than 30% of board seats occupied by women delivered higher revenue in comparison to less gender-diverse counterparts. 
Smarter decision-making: Inclusive hiring pulls from an expansive pool of candidates and experiences, which helps you make more educated decisions 87% of the time. Plus, effective problem-solving, which involves working with others, can lead to innovative ideas that might not have been possible otherwise. 
Improved workplace collaboration: Since coworkers connect with similar peers on a deeper level, they strengthen their relationships by sharing experiences and backgrounds. 
More and more people are open about who they are, and businesses need to embrace this aspect to thrive in the long run.
To hire more diverse talent in your company, take a look at the next section for some key strategies. 
How to Hire More Diverse Candidates
It's important to start building up inclusivity from the beginning, as it ensures all employees feel valued and appreciated from the get-go.
To do so, here are some strategies for hiring more diverse candidates.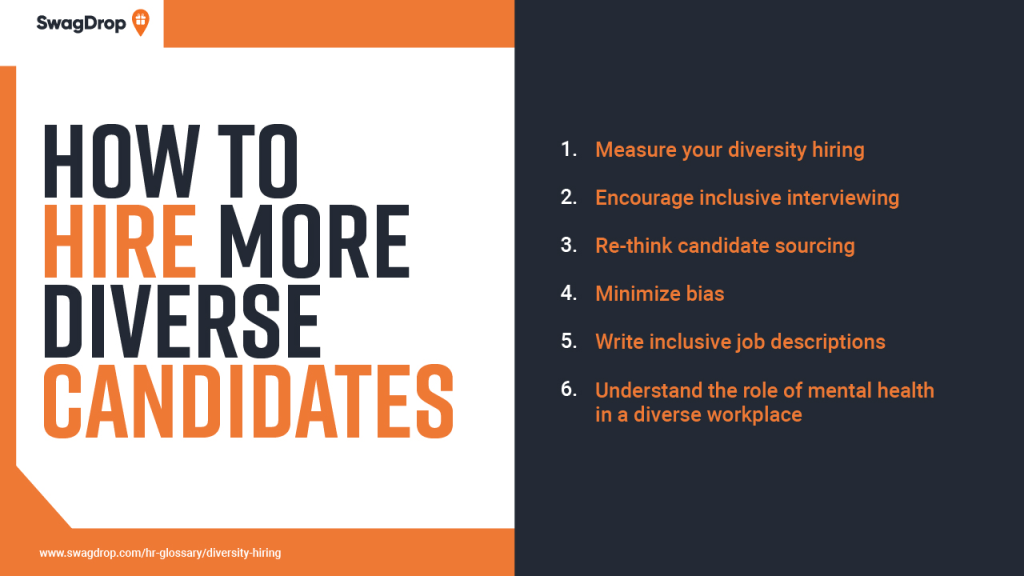 Step #1: Measure your diversity hiring
Metrics are vital to understanding your progress toward improving diversity and inclusion while banishing biased mindsets.
These diversity metrics should be more meaningful than a series of boxes to check, so you should establish a baseline for measuring the progress of your initiatives, such as:
Representation: comparing the percentage of diverse employees to industry benchmarks.
Recruitment: looking at how many individuals from a certain group apply to your open positions.
Advancement: showing how many diverse applicants make it to each stage of the recruitment process.
Selection: targeting how many individuals you hire compared to members from other groups.
Promotion: tracking the number of promotions awarded to people from a target group compared to others.
Author's Tip: If you want to celebrate your employees' promotions in style, look at these fun corporate event ideas.
Step #2: Encourage inclusive interviewing
Aside from eliminating the long list of qualifications in favor of a true assessment of the candidate's skills, you should also focus on improving your hiring practices.
For example, instead of having a hiring manager do it all, you can include other people from your organization in the interview process, especially diverse team members.
Listening to unique perspectives enhances the fairness of your hiring strategy while encouraging managers to be fully committed to bringing aboard the best talent.
Author's Tip: Ask your employees for feedback on interview questions, job descriptions, or other application materials.
Step #3: Re-think candidate sourcing
Attracting and retaining talent is one of the most common human resource challenges many companies face. 
Alongside diversity, it's even more critical to re-think your recruitment strategy and look beyond traditional sourcing methods such as LinkedIn or career websites.
Here are some modern candidate-sourcing ways to attract diverse employees: 
Join forces with an affinity organization
Reach out to diversity associations
Attend job fairs that are DEI-focused
Another great tip is to use the power of employee referrals, as it's one of the best ways to find and retain talent. Candidates referred by existing employees often end up being your most valuable members.
Looking for the perfect way to welcome new hires into your organization? 
Try to write a nice welcome letter to ease the first-day anxieties and make new employees feel like part of the team. 
Step #4: Minimize bias
Bias is a strong feeling in favor of or against one group of people, often based on unfair judgment.
You can divide it into two categories, conscious and unconscious bias.
Conscious bias shows itself in intentionally biased attitudes that you're aware of. However, it's easy to control since most organizations have zero-tolerance policies towards discrimination, racism, homophobia, and more.
Unconscious bias refers to biased attitudes and social stereotypes about a group of people that are outside your control and awareness. This makes it harder to eliminate since social factors such as the environment or upbringing shape it.
Organizations need to implement a program that addresses the concerns related to bias, and they can do so by:
Establishing clear and objective criteria during the hiring process, such as using neutral language and avoiding making assumptions about the candidates (assuming someone's gender or sexual orientation).
Being aware of unconscious bias helps immediately reduce your reliance on generalizations or stereotypes. 
Holding people accountable ensures you don't unintentionally screen out good candidates.
Surveying employees helps you discover what's happening during hiring, from the onboarding process to beyond. 
Adding best practices such as micro-affirmations, including gestures of inclusion, offering promotions, acts of listening, and being fair and balanced. 
Step #5: Write inclusive job descriptions
Job postings motivate candidates to apply to your company—or might unintentionally discourage them from applying.
For example, "strong" and "autonomous" are a few of the words perceived as male-specific that deter female candidates. On the other hand, terms like "thoughtful" might prevent male candidates from applying.
It's vital to make your job description as gender-neutral as possible to ensure equal opportunity.
Furthermore, listing every qualification might intimidate job seekers who would be a good fit.
In fact, 41% of women and 46% of men said that they don't apply to such jobs because they don't meet all the qualifications and they'd rather not waste their time and energy. 
Author's Tip: Only list the required skills relevant to the job to attract a wider range of applicants.
Step #6: Understand the role of mental health in a diverse workplace
Candidates from different backgrounds can face microaggressions, unconscious bias, and other headaches that take a toll on their mental health, which makes creating a healthy, diverse workplace a must.
Luckily, employers are now more aware of the various ways that DEI can impact a person's mental health, and so want to improve this aspect in their companies.
As a result, initiatives that assist diversity and inclusion can also support mental health and vice versa, with benefits for both employees and companies, such as:
Boosting positivity and enthusiasm
Reducing stress and anxiety
Lowering employee turnover 
Tips, tricks, and inspiration delivered straight to your inbox.
Subscribe to learn more on how to break through the bustle.
Now Over to You
Diversity hiring should be a fundamental part of your company's hiring process, and even if it won't happen overnight, it's still important to recognize and remedy biases.
So, if you're ready to build a diverse workplace, this is your sign to start. But not before checking out our HR glossary to explore other useful terms!