All employees are good at something; that's why you bring them to your company.
But what if you hired the wrong person for the job?
Despite their excellent abilities and qualifications, you soon find their job performance lacking.
When an employee fails to meet job requirements, it might happen because they're not suited for the work they were hired to do, but might excel in other, more fitting roles.
To avoid such situations, you need functional job analysis (FJA).
So what is FJA, and how does it help you maximize your business growth while assisting employees in finding their potential?
Discover the answer—and more—in this article.
What Is a Functional Job Analysis?
Definition
A functional job analysis is a method that identifies vital functions of a particular job and then assigns the right candidate to it.
Created by the United States Department of Labor, human resource management uses this method of job analysis to design compelling job descriptions and assess a candidate's aptitudes.
As a result, they can determine the essential skills needed for any role while ensuring they match the right candidate to a job and vice versa.
Furthermore, you can use it to identify tasks and activities associated with that specific job.
More specifically, you observe workers performing their jobs and compile a report based on the data. Based on the results, you can create a list of the skills and know-how required to complete the job.
There are different methods of job analysis, such as:
Surveys and questionnaires
Interviews
Record method
By observation or test
Most private and public sectors use this analytical technique to ensure current employees fill their roles and responsibilities to create a more productive and happier workforce.
But what's the true purpose of a job analysis process?
In the next section, let's examine the benefits of such an advanced technique and uncover its goals.
Tips, tricks, and inspiration delivered straight to your inbox.
Subscribe to learn more on how to break through the bustle.
What's the Purpose of a Functional Job Analysis?
Successful human resources professionals understand that employees are a crucial asset in their organization and know that placing the right people in the proper role will ensure long-term success.
So, the true goal of FJA is to allow companies to pay more attention to the employees who'll provide overall value to the business and create more engaged workers.
Furthermore, it offers ways to improve an employee's performance that can affect the productivity of other team members while keeping you informed about the qualifications required to fill specific positions.
So, after discovering the goals of FJA, let's put a more practical application to it.
4 Functional Job Analysis Steps to Follow
Below, discover the four practical FJA steps to ensure you assign the best workers to the right job titles.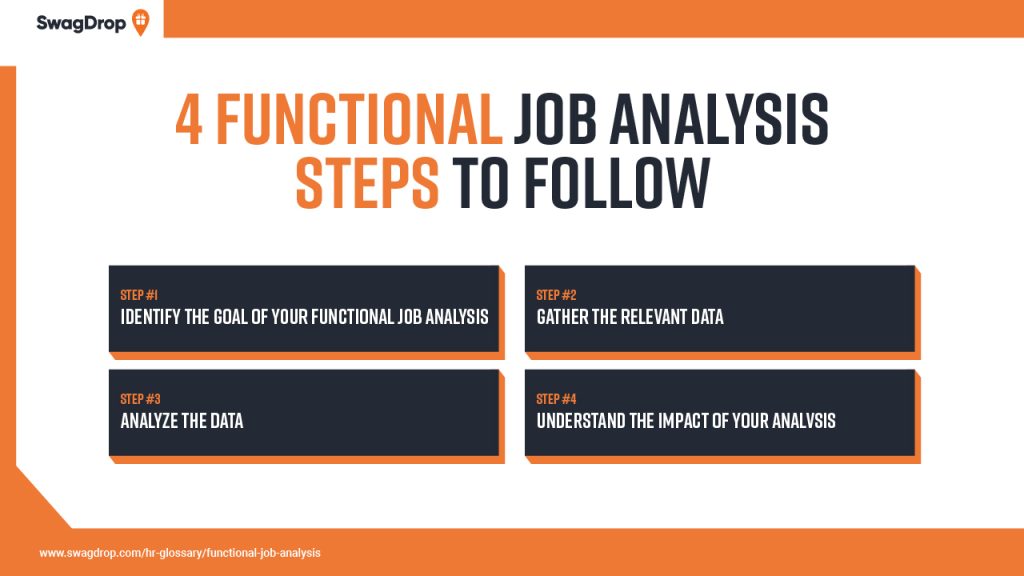 Identify the goal of your functional job analysis
Before you begin your job analysis, you must consider what you need it for.
The process usually involves:
The creation of a comprehensive job description
Better resource and budget planning
Training employees of different levels, which is often a common HR challenge
As a result, it dramatically influences business decisions such as budget, stakeholders, and project leads.
Through your goal, you ensure you hire in the right direction and create a logical team structure that fits your company culture, all while preparing for significant growth and expansion.
Gather the relevant data
Data gathering is a vital but time-consuming stage in the FJA process.
To do it properly, you must find a data-gathering method that works for you, such as:
Observation: The analyst observes the person doing their job in real life or on video. It is considered a neutral form of collecting data that doesn't interrupt day-to-day activities.
Interview: You can use this method alongside observational data and questionnaires. The job analyst asks specific questions focusing on daily activities and other duties.
Questionnaire: Through this self-designed or customized method, you can ask about job responsibilities, work environment, and necessary equipment.
Work log: The employee records data that make up a job, such as daily activities, time spent on tasks, and the urgency of each assignment.
Analyze the data
How much time you spend on analysis depends on the volume of collected data.
So, when you gather a large amount of information, you should rely on the standard error of the mean (SEM) which measures the reliability or precision of the results.
But this is not all.
You can use other methods to measure validity and reliability, including interjudge agreement, factor and cluster analysis, and other techniques enabling better decision-making.
Author's Tip: Use HR tech to your advantage and find the right tool to gather and analyze information efficiently.
Understand the impact of your analysis
The last, but most crucial, step is to realize the intended impact of the job analysis and the interventions derived from it.
For example, if an interview with two HR managers yields the same results as a structured study of all your managers, the former approach is much more practical than the latter.
With this strategy, you save time but also allow managers to focus on their tasks.
Furthermore, the ongoing digitalization and evolving landscape make business leaders realize that job analysis should be a streamlined, ongoing process that improves your position in the industry, not a one-time activity.
Author's Tip: Remember that your efforts will only stay relevant for a few years, so make sure the process is up-to-date.
Tips, tricks, and inspiration delivered straight to your inbox.
Subscribe to learn more on how to break through the bustle.
Now Over to You
Today, business leaders understand that they should care about their employee's mental health and their growth while motivating them to be productive.
In this era of digital recruitment that offers you a bigger talent pool, assigning different jobs to the right employees will make them stay with you and take your business to new heights.
To deepen your knowledge, look at our HR glossary for more practical terms.