Employees love to be rewarded and praised for their hard work, loyalty, diligence, and conduct.
That's why so many look forward to the unbiased evaluation and appraisal of their skills and abilities.
As a manager, you want your employees to perform at their full potential and reach business goals, but that won't happen without regular performance assessments.
Start creating excellent employee evaluations with the tips in this article to ensure you keep workers on the right track.
What Is an Employee Assessment?
Definition
An employee assessment is a practice where a manager evaluates and reviews an employee's performance, skills, and productivity.
It helps human resource departments gauge an employee's overall performance over a certain period and helps them decide on performance appraisals.
The employee evaluation process has one goal: to recognize areas in which the worker might need improvement to succeed in their current or future role.
However, companies can also use this opportunity to put a finger on why some problematic behaviors happen, such as misconduct or poor performance, or why an employee might deserve a promotion. 
Generally, HR professionals do annual reviews, but more and more companies have adopted the practice of providing regular feedback.
There are three kinds of feedback methods:
360-degree feedback, a multiple-analysis step involving self-evaluation and assessments from peers and superiors.
SWOT analysis, a process that evaluates the strengths and weaknesses of an employee.
Performance appraisal interview, which includes a face-to-face discussion between the manager and employee.
While constantly evaluating an employee's progress might seem tedious, read on to discover the benefits of an employee performance evaluation. 
Tips, tricks, and inspiration delivered straight to your inbox.
Subscribe to learn more on how to break through the bustle.
What Are the Benefits of Employee Assessments?
The appraisal process has benefits for both the employee and the company.
First, it helps employees perform self-assessments on their job performance, allowing them to work on their weaknesses and improve their strengths.
Second, employers can identify training needs, reduce turnover rates, and improve communication within the company.
Furthermore, according to a study, companies with a good employee experience report having double the return from sales compared to other organizations. 
Aside from boosting team productivity and the company's performance, the assessment also:
Helps employees discover their calling: Assessments can identify opportunities for growth and new career choices. Moreover, they help match employees with a role that might be a good fit for their abilities. This way, you ensure employee engagement, which is critical for employee retention. 
Pinpoint issues: A good assessment process answers many questions about the individual, such as what's stopping them from fulfilling their potential or where they might be lacking. A thorough investigation improves your training methods and helps you achieve employee goals. 
Boosted motivation: Appraisals might be stressful for the employees, affecting their mental health and well-being. Some employees fear facing the consequences of poor performance so instead of scolding them for not meeting performance standards, you should motivate them to reach their potential. You can also show them how much you appreciate their efforts with a thoughtful gift. 
Creates better communication: Evaluations allow you to have one-on-one meetings with an employee and discuss their goals and future in the company. It creates a safe space for the individual to voice their concerns and offer suggestions to become more efficient. Furthermore, it helps you build a better team composition. Maybe an employee fits better in another dynamic, or an employee's strengths might balance out someone's weaknesses. 
Identifies candidates for promotion: This process might shed light on people who deserve a promotion. These potential candidates might be someone who improved considerably from last time or has proven themselves in new ways. Performance evaluations also give you an idea of which employees to look at more closely. 
Are you excited yet?
You'll surely get hyped when you see our handpicked best practices for efficiently evaluating employees.
Hurry up to the next section to find out the secrets!
Best Practices for Efficiently Evaluating Employees
Now all you need is an action plan to craft the employee evaluations. Here are the best practices you should keep in mind.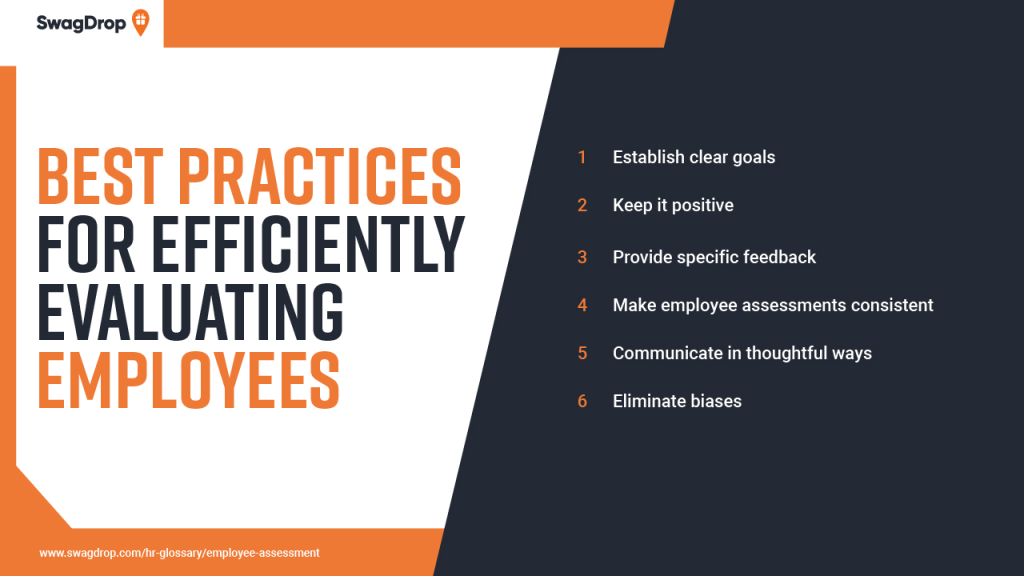 Establish clear goals
Employee evaluations should have crystal-clear goals and expectations.
These goals ensure that both the manager and employee know the requirements of the employee's tasks and define how you measure the desired outputs.
One key thing to remember is you should tailor these goals to the individual employee and the previously set objectives.
You can create goals based on a combination of the strengths and weaknesses of the employee.
Later, these goals translate into key performance metrics to assess an employee's competency.
Author's Tip: Keep these goals realistic and measure the performance according to a set of objective standards to prevent subjectivity.
Keep it positive
While some employees meet their objectives with flying colors, others won't always accomplish their goals perfectly.
It might seem frustrating that an employee doesn't work as well as the other team members, but you should focus on the positive aspects of their performance.
This leads to higher employee morale and engagement, creates a company culture of open communication, and breeds innovation.  
Author's Tip: Construct your meeting as a two-way conversation rather than have a situation where you drone off the feedback while the employee listens.
Provide specific feedback
According to a survey, 44% of managers agree that giving negative feedback is stressful. 
But the truth is employees want to hear it.
Specific and direct feedback might make you seem stern, but criticism and constructive observations can properly redirect employees' focus to do a better job in the future.
Start by telling them the positive aspects of their performance, preferably with specific examples, then steer the conversation to where they can improve and how the human resource management can help them work on these issues.
Make employee assessments consistent
Nowadays, HR professionals set regular feedback periods to encourage employees to perform better with each evaluation.
The benefits of this approach are:
You get a better understanding of what's happening. 
Employees work as a team.
You can make small adjustments throughout the year. 
Furthermore, performance reviews allow HR to examine their assessment plan and adjust it for the next cycle.
Author's Tip: Make sure to base the evaluation periods around a time convenient for the employee or their job responsibilities.
Communicate in thoughtful ways
Before performing these evaluations, be prepared to use thoughtful communication to encourage an employee, not bring them down for failing to meet expectations.
Avoid making the conversation all about the positives or the negatives. 
Being overly critical will demotivate an employee, but focusing only on the positives is not good either. There's always room for improvement since nobody's perfect.
Doing this will ensure the conversation is balanced, and employees won't get defensive.
Want to know a secret?
Make your employees happy and proud to work for you by offering them a strong benefits package that gets you noticed!
Eliminate biases
An assessment process is faulty if any discrimination and bias creep in.
Your HR department should ensure the assessments use only employee performance and general metrics set for everyone in the company as KPIs.
In addition, while employee conduct and appearance matter, performance should matter more than personality traits.
Gossip and ridicule over stereotypes have no place in a progressive work environment. While some jokes might seem harmless, others might carry unwanted judgments that affect the quality of an appraisal.
While it's hard to tackle diversity challenges, a diversity training program can create a culture free of conflict that respects different backgrounds. 
Tips, tricks, and inspiration delivered straight to your inbox.
Subscribe to learn more on how to break through the bustle.
Now Over to You
As you can see, employee assessments are vital to improving employee performance and productivity.
It's a task that requires careful thinking and planning while balancing criticism with praise and recognition. Even if an employee doesn't perform, you should focus on lifting them and bringing them to where they need to be.
If executed well, employee assessment addresses all the unseen issues while fostering employee loyalty.
Curious about more terms that improve your business's functions?
Then take a look at our glossary for more information!