When it comes to building a successful team, technical skills and experience are only part of the equation. Cultural fit is equally important. But what exactly does cultural fit mean?
It's about finding candidates who share your company's values, work style, and overall approach to business. When you hire for cultural fit, you're not just looking for someone who can do the job; you're also looking for someone who will thrive in your organization's culture.
In this article, we'll explore why cultural fit matters and how to hire for it effectively. So let's dive in!
What Is Cultural Fit?
Definition
Cultural fit is a term that refers to how well a job candidate aligns with the values and work environment of your organization.
It's about finding someone who not only has the technical skills to do the job, but also shares your company's mission, vision, and overall approach to business.
Every organization has its own unique culture. Some prioritize collaboration and teamwork while others value individualism and autonomy. Similarly, some place a strong emphasis on innovation; others are more risk-averse.
This is why, when assessing cultural fit during the hiring process, it's important to consider both hard skills (e.g., experience with specific tools or technologies) and soft skills (e.g., communication style, work habits).
Tips, tricks, and inspiration delivered straight to your inbox.
Subscribe to learn more on how to break through the bustle.
Why Does Cultural Fit Matter?
Cultural fit is a crucial aspect of any organization. It refers to the alignment between an employee's values, beliefs, and behaviors and those of their workplace. A good cultural fit can lead to:
better teamwork
higher productivity
lower turnover rates
higher levels of overall job satisfaction
Employees who have similar attitudes and work ethics to their colleagues and feel a sense of belonging to the company culture are more likely to be engaged and stay longer.
On the other hand, poor cultural fit often leads to tension between team members, low morale, and even disengagement, which negatively impacts employee turnover and performance metrics.
In addition, bad hires cost employers time and money; it takes more resources to train new hires than it does to ask a few cultural-fit interview questions during the recruitment process.
But while bad hires can drag a whole team down, the opposite is also true: selecting candidates who not only have the skills you need but also fit your company culture, can help build a thriving corporate culture. 
6 Steps to Hire for Cultural Fit
Hiring for cultural fit is critical to the success of any business. To ensure you hire the right candidate, there are certain guidelines and steps you can follow during the hiring process. These apply to both large companies and new startups: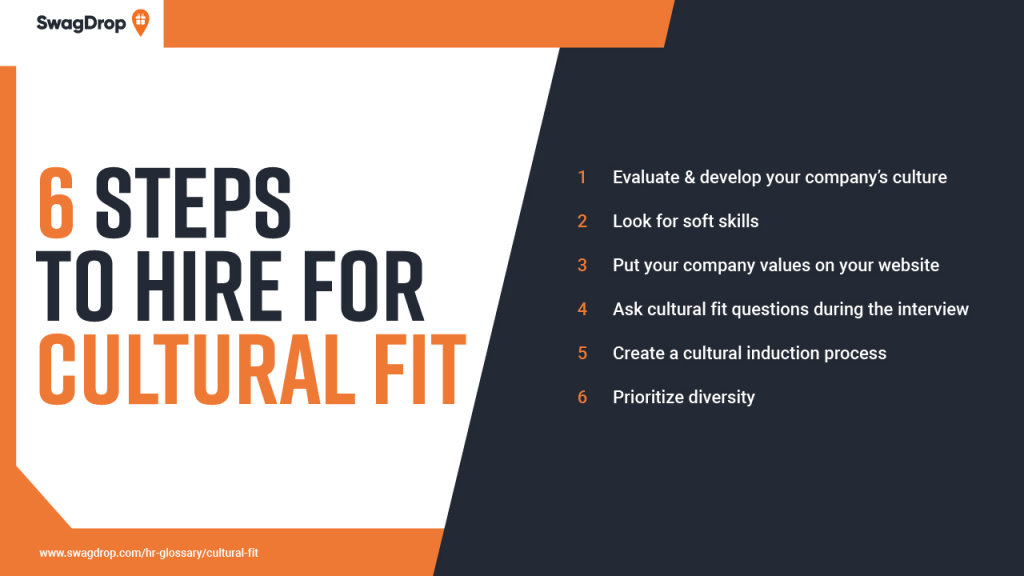 Step #1: Evaluate & develop your company's culture
Before you can hire for cultural fit, be sure to evaluate and develop your company's culture. This is the foundation of everything from the way you do business to how employees interact with one another.
To start, take a close look at your current work environment:
What are some of the key values that drive decision-making?
Are there any specific behaviors or attitudes that define your workplace?
Use this information to create a set of core values that describe your organization. These should be used as guiding principles for all hiring decisions moving forward.
It's also essential to involve team members in this process. Engage them in discussions about what they think defines good cultural fit within the organization, as well as any areas where improvements could be made.
Inquire if they have suggestions for things you should mention in job postings – whether on LinkedIn or other platforms or simply on your website – or qualities to look for during a job interview.
Continually assess and refine your company culture over time. As new hires come on board and team dynamics shift, make adjustments as needed so that everyone feels like they're part of a cohesive team working towards common goals.
Step #2: Look for soft skills
When it comes to hiring for cultural fit, soft skills matter just as much as technical competencies because they determine how well a potential candidate will fit into the company culture.
Soft skills are personal attributes that enable someone to interact effectively and harmoniously with others and can include things like:
communication abilities
emotional intelligence
adaptability
problem-solving aptitude
teamwork mentality
leadership qualities
Another benefit of looking for soft skills is finding someone who will be a 'culture add', rather than simply fitting into your established culture.
Human resources professionals should look for people who have complementary personalities and working styles that align with their organization's values.
While technical expertise might get you through the door, it's often softer elements, such as social graces and emotional IQ, that keep employees engaged long-term at companies where they feel comfortable being themselves every day.
Step #3: Put your company values on your website
Your company's core values are an essential component of its culture. They describe the beliefs, principles, and standards that guide how you do business. Displaying your organization's values on your website is a great way to communicate them to potential candidates.
Job seekers will want to know what kind of workplace environment they might be joining. By displaying your company's values prominently on the homepage, career page, and even job descriptions, you can give them a glimpse into what it would be like working for you. 
Additionally, showcasing these core values helps attract talent whose work style and competencies align with those of the organization. Candidates who share these beliefs will understand that their goals are aligned with yours and will be more likely to apply for open positions.
Such transparency also serves to foster team member commitment to common goals, encourage teamwork among colleagues, and increase employee engagement, as individuals feel pride in working toward a higher purpose.
Step #4: Ask cultural fit questions during the interview
Asking the right cultural fit questions during the interview process can help hiring managers determine if an applicant is a good fit for the organization's culture.
Add to your hiring practices a list of open-ended questions that delve into the applicant's work style, interpersonal skills, and attitude toward teamwork. Some examples of questions you could consider are:
"Can you tell me about a time when you had to collaborate with a difficult colleague?"
"How do you manage your workload and prioritize tasks?"
"What motivates you at work?"
"How do you handle constructive criticism?"
In addition, situational questions can also be useful to find out how well they would handle certain workplace scenarios.
Asking potential candidates about their experience with different work environments and corporate cultures will give you valuable insight into whether they are adaptable enough to fit into your company's environment.
It's also a way to determine if they have had experience working remotely or cross-culturally, which makes them more versatile employees. 
Including questions about cultural fit allows recruiters to see not only job-related competencies or certifications, but also to evaluate soft skills that often make for better employee engagement and retention.
Step #5: Create a cultural induction process
The cultural induction process should go beyond a simple orientation session and provide opportunities for new employees to connect with their colleagues, understand the company's values and expectations, and learn about the workplace environment. Here are some steps you can take:
To start with, involve current team members in the process. Consider assigning mentors or buddies who can guide new employees through their first few weeks on the job. This will help them feel more comfortable in their role and build relationships with their colleagues.
Then make sure your cultural induction process covers all of your core values and work style. Use templates such as handbooks or videos to communicate this information effectively – this ensures everyone is aware of how things are done within the company.
Finally, create opportunities for feedback during onboarding. Encourage open communication between staff members so that any issues can be addressed early on and new hires remain engaged. 
Don't worry about what might come out but use this opportunity to strengthen the corporate culture.
Step #6: Prioritize diversity
Diversity has become a buzzword in the corporate world and for good reason. Research shows that diverse teams with different backgrounds, perspectives, and experiences are more innovative and can lead to better business outcomes. 
To prioritize diversity during the hiring process means actively seeking out candidates from underrepresented groups and creating an inclusive workplace environment that values differences.
This could include partnering with organizations that focus on diversity recruitment or implementing blind resume screening to eliminate unconscious biases.
It's a good idea to have diverse interview panels consisting of team members from various departments and backgrounds. When candidates see people like them represented within the company's leadership team or workforce, they are more likely to feel comfortable during interviews.
A welcoming work environment where all employees feel valued regardless of their race, gender identity, or expression can lead not only to greater innovation but also increased retention rates among talented individuals.
Tips, tricks, and inspiration delivered straight to your inbox.
Subscribe to learn more on how to break through the bustle.
Now Over to You
Cultural fit plays a big role in employee engagement, retention, and productivity. It's not just about hiring people who can get the job done, it's about finding people who share your values and fit your work environment.
Cultural fit assessment should be an ongoing process that evolves as your company grows. By prioritizing cultural alignment through every stage of the recruitment process and beyond, you can build a high-performing team that drives success.
Our tips are designed to help you streamline your talent acquisition process to identify good cultural fits while promoting diversity in your organization, while our HR Glossary can provide further insight into building a strong workplace culture.