As companies strive to build a workforce that reflects the richness of society, diversity training has become a crucial component of any successful HR strategy.
Diversity training seeks to raise awareness about different cultures and provide employees with the skills they need to work together effectively.
In this article, we'll dive into what diversity training is all about and explore tips for creating an engaging and impactful program that promotes inclusion in your workplace!
What Is Diversity Training?
Definition
Diversity training is a type of workplace training that aims to promote an inclusive culture and educate employees about different cultures, identities, and backgrounds.
The goal of diversity training is to help all team members understand the importance of diversity in the workplace and how it can contribute to business success.
There are various types of diversity training programs available, each with its own focus:
Basic diversity training provides foundational knowledge of different cultures and helps to break down stereotypes and biases.
Awareness-based training seeks to raise awareness about specific topics such as unconscious bias or microaggressions.
Skill-based training focuses on developing skills like cross-cultural communication or conflict resolution.
Microaggressions training addresses subtle forms of discrimination that people from underrepresented groups may face in the workplace.
All of these types of training aim to create a safe space for individuals who have experienced these issues and to help others recognize their impact.
Regardless of the type of training you choose, you will help create an environment where everyone feels valued and respected. Let's take a closer look at them!
Tips, tricks, and inspiration delivered straight to your inbox.
Subscribe to learn more on how to break through the bustle.
4 Types of Diversity Training
Raising employee awareness of diversity issues allows companies to create an inclusive company culture while also driving performance improvements – such as higher retention rates for underrepresented groups. 
This can ultimately lead to profitability gains for the bottom line, so such initiatives are beneficial to all parties involved. There are roughly four different types of diversity training:
1. Basic diversity training
Basic diversity training is the starting point for any organization looking to build a more inclusive workplace. It provides an overview of what diversity means and why it's important, as well as introduces key concepts like unconscious bias and privilege.
This type of training often includes interactive activities and group discussions that allow participants to share their experiences and perspectives on various diversity issues. The goal is to create a safe space where everyone can learn from each other and build empathy for those from diverse backgrounds.
Basic diversity training also covers legal requirements around discrimination in the workplace, including sexual harassment, equal pay laws, disability accommodations, etc. This ensures that all employees are aware of their responsibilities under the law.
While basic diversity training may seem straightforward, it lays the foundation for more advanced types of diversity training. By ensuring that all employees have a solid understanding of what diversity is and its importance in the workplace, organizations can start building a culture that values inclusion at every level.
2. Awareness-based training
Awareness-based training focuses on building awareness and understanding of different cultures, backgrounds, and experiences. The goal is to help employees recognize their own biases and learn how to interact with all co-workers respectfully and inclusively.
During this type of training, learners are encouraged to examine their own beliefs and attitudes towards people who are different from them. By doing so, they can begin to see how these biases might be influencing their decision-making processes or interactions.
One common approach is interactive workshops or webinars that allow employees to interact with each other through role-playing or discussion of real-life case studies and develop a deeper understanding of what it feels like to be excluded based on race, gender identity, sexual orientation, socioeconomic status, or other factors.
3. Skill-based training
Skill-based diversity training is all about developing the skills needed to interact effectively with diverse co-workers and customers. It goes beyond teaching awareness and understanding of different cultures, backgrounds, sexual orientations, or gender identities.
Skill-based diversity training includes role-playing, conflict resolution strategies, and communication skills development. These programs provide employees with practical tools to resolve workplace conflicts in a respectful manner that fosters inclusion.
The goal of skill-based training is to empower team members with the confidence they need to communicate effectively. Rather than relying on assumptions or stereotypes about people from diverse backgrounds, employees are equipped with techniques to actively listen, respectfully ask questions, and respond appropriately.
Through this type of diversity program, initiatives can be taken to create a more positive work culture by promoting empathy-building mindsets. Skill-building helps retain underrepresented groups, which leads to better profitability metrics for companies and higher employee engagement.
4. Microaggressions training
Microaggressions are the subtle and often unintentional comments or actions that can contribute to a hostile work environment for underrepresented groups. They can range from assumptions about a person's ethnicity to the use of insensitive language without realizing it.
To combat microaggressions, many companies offer specialized training on how to recognize and address these types of behaviors. This type of diversity training aims to raise awareness of the impact of microaggressions and give employees tools to intervene when they witness such incidents.
Learners will explore different types of microaggressions, such as those based on race, gender identity, sexual orientation, and more. They will also learn how these small behaviors can add up over time and create a culture that is unwelcoming to diverse employees.
Ultimately, the goal of microaggression training is not only to help employees recognize their own biases, but also to provide them with strategies to create an inclusive environment where everyone feels valued and respected.
By directly addressing these issues through effective diversity initiatives, companies can increase employee retention while improving team member engagement across all demographics.
6 Tips for Creating a Diversity Training Program
Let's take a close look at six tips for creating effective diversity training initiatives: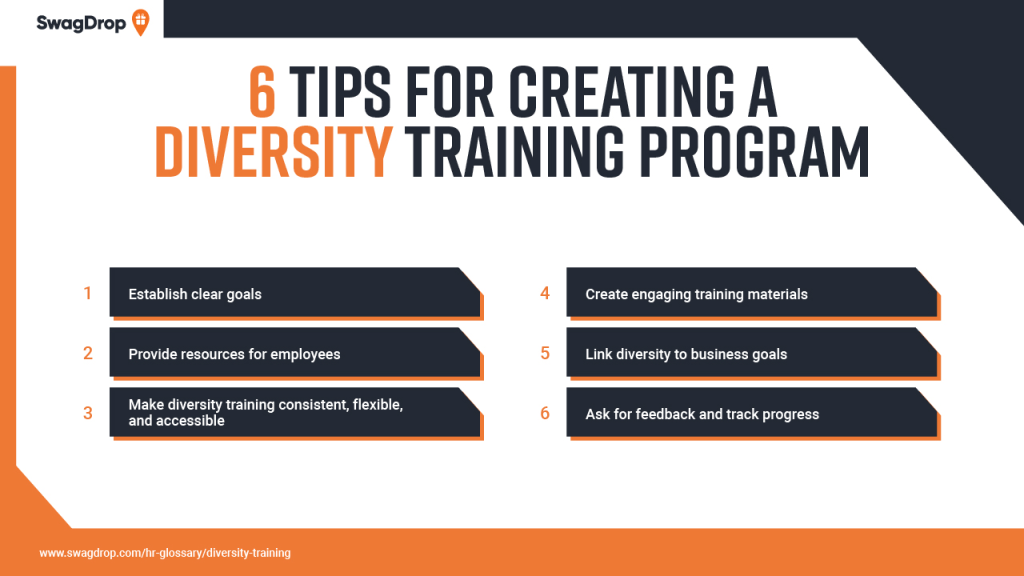 Establish clear goals
Establishing clear goals is a critical aspect of creating a workplace diversity training program. Without clear objectives, training can be unfocused and ineffective in achieving its purpose.
When setting goals for your diversity training, consider your organization's current state of diversity and inclusion to identify specific areas for improvement and establish measurable goals that can be tracked over time.
Another critical factor in setting clear goals is to involve all stakeholders in the process, including the human resources team and all employees within your workforce. In this way, you can gain valuable insight into the issues that need to be addressed.
Overall, well-defined goals form the basis for successful diversity training by providing direction and clarity about what needs to be achieved while ensuring alignment with broader organizational goals.
Provide resources for employees
One resource that can be incredibly helpful is an employee resource group (ERG). ERGs are groups of employees who share a common background or identity, such as race/ethnicity, gender identity, or sexual orientation.
These groups provide a safe space where people can come together with others who share similar experiences and challenges.
Another useful resource is access to educational materials. This includes books, articles, videos, podcasts, and other forms of media that educate employees about issues related to diversity and inclusion.
It's also important to provide training opportunities that go beyond basic diversity training. Skill-based workshops on topics such as cultural competence or unconscious bias can help employees develop a deeper understanding of these concepts.
For underrepresented groups, gaining access to mentors or coaches who have experience working with diverse workplaces can be invaluable.
By talking with someone who has had similar experiences, they gain valuable insight into how best to navigate the complex dynamics of the workplace while staying true to themselves.
Make diversity training consistent, flexible, and accessible
When it comes to diversity training, consistency, and accessibility are key factors to ensure its effectiveness. This ensures that all team members have access to the same resources and information, regardless of their location or position in the organization.
One way to achieve this is by offering flexible training options, such as webinars or online courses that can be accessed at any time. These types of training allow learners to participate according to their own schedules, creating an inclusive learning environment for those unable to attend traditional face-to-face events.
In addition, consistent diversity training across all departments and teams helps reinforce the message of inclusion throughout the organization. Consistency ensures that all employees receive the same messages about the importance of an inclusive workplace culture.
When designing a diversity training program, it's important to remember that what works for one group may not be appropriate for another. If you are open-minded and adaptable, you can create a comprehensive program that addresses the needs of individuals from diverse backgrounds while promoting an inclusive culture in your organization.
Create engaging training materials
To run an effective diversity training program, you need to create engaging training materials that capture employee interest and attention. Therefore, it's important to think creatively about how to present your content in an interactive and engaging way.
One approach is to use a variety of multimedia resources, such as videos, images, infographics, or animations. These types of content are more visually appealing and memorable than plain text, making them ideal for communicating complex ideas or sensitive topics related to minorities, LGBTQ, and anti-racism.
Another strategy is to incorporate case studies or real-life scenarios into your training materials. This helps learners better understand the material as they see how it relates to practical situations they may encounter and how they can demonstrate inclusive behaviors in the future.
Finally, try to balance serious content with lighter moments during training so that information isn't lost to fatigue from heavy discussion topics.
Link diversity to business goals
Linking diversity to business goals is essential for any organization seeking to create an inclusive workplace. Diversity initiatives can lead to a more diverse workforce, which in turn can reduce racial bias and increase employee engagement.
To successfully link diversity to business goals, it's first important to identify those goals. For example, if the goal is to increase profitability, then it would be important to show how cultural diversity is linked to higher financial performance.
Once these goals are established, it's time to communicate them throughout the organization. HR professionals should ensure that team members understand how their contributions will help achieve them and encourage employees from diverse backgrounds to always feel valued and included.
Measuring progress toward these goals is critical so that HR can continually adjust strategies as needed. Metrics such as retention rates of underrepresented groups or employee satisfaction surveys that address inclusion training programs can be used to effectively track progress.
Ask for feedback and track progress
Once you have implemented diversity training in your workplace, it's important to ask employees for feedback and track progress.
This will allow you to evaluate the effectiveness of the training and make any necessary adjustments for future training.
Some tips on how to do this:
Solicit feedback through surveys or focus groups. Ask employees about their experience with the training, what they learned, and whether they feel better equipped to work in a diverse environment.
Track progress using metrics such as employee retention or culture change. Are colleagues from different backgrounds working better together and staying in their jobs longer?
Look for improvements in team dynamics or decision-making processes (e.g., promotions) that might indicate a positive impact of diversity training.
Don't stop at just one training activity! By continually asking for feedback and tracking progress, you'll ensure that your workplace remains inclusive and welcoming to all team members.
Tips, tricks, and inspiration delivered straight to your inbox.
Subscribe to learn more on how to break through the bustle.
Now Over to You
Diversity training is an essential part of creating a more inclusive workplace culture.
By giving employees the tools and knowledge they need to recognize and eliminate bias, companies can create a sense of belonging for all team members, regardless of their backgrounds.
By prioritizing diversity and inclusion through effective training programs that include sensitivity training courses as well as awareness-based or skill-based training, companies can retain more diverse employees and improve decision-making processes—ultimately leading to higher profitability.
If you found this useful, do check out our HR Glossary to learn about other important HR terms that you may encounter when working towards cultivating a diverse and inclusive company culture.